WARNING: EXPLICIT MATERIAL
David Caradine
Birth Name:
John Arthur Carradine
Birth Date:
December 8, 1936
Birth Place:
Los Angeles, California
Place of Death:
Room 352, Swissôtel Nai Lert Park Hotel, 2 Wireless Road, Bangkok, Thailand
Cause of Death:
Accidental asphyxiation
Cemetery Name:
Forest Lawn Memorial Park – Hollywood Hills
Claim to Fame:
Show Business
Probably the best known of the famous (or infamous) Carradine Family of actors, David Carradine was an American actor whose maverick roles ranged from a Kung Fu monk to the lead in Quentin Tarantino's Kill Bill. Unfortunately his penchant for bizarre and often dangerous sexual activities ended when David was found naked and hanging dead from a rope in the closet of his luxury Bangkok hotel room.
---
Fun Fact
The original actor picked for the now iconic role of "Bill" in Quentin Tarantino's Kill Bill series was Warren Beatty. Creative clashes occurred between Tarantino and Beatty as Tarantino requested Beatty play the role "like David Carradine" from his favorite TV show, Kung Fu. When Beatty told Tarantino he should just hire Carradine if he wanted the part acted like Carradine, Tarantino did just that, replacing Beatty with Carradine.
Did you know that David Carradine was a notoriously bad tipper, never tipping more than 3% according to his favorite bar? Oh yes he was …
Finally you probably didn't realize that Bruce Lee lost the title role of a Shaolin monk in the Wild West in the epic television series Kung Fu to David Carradine.
Cemetery Information:
Final Resting Place:
Forest Lawn Memorial Park – Hollywood Hills
6300 Forest Lawn Drive
Los Angeles, California, 90068
USA
North America
Map: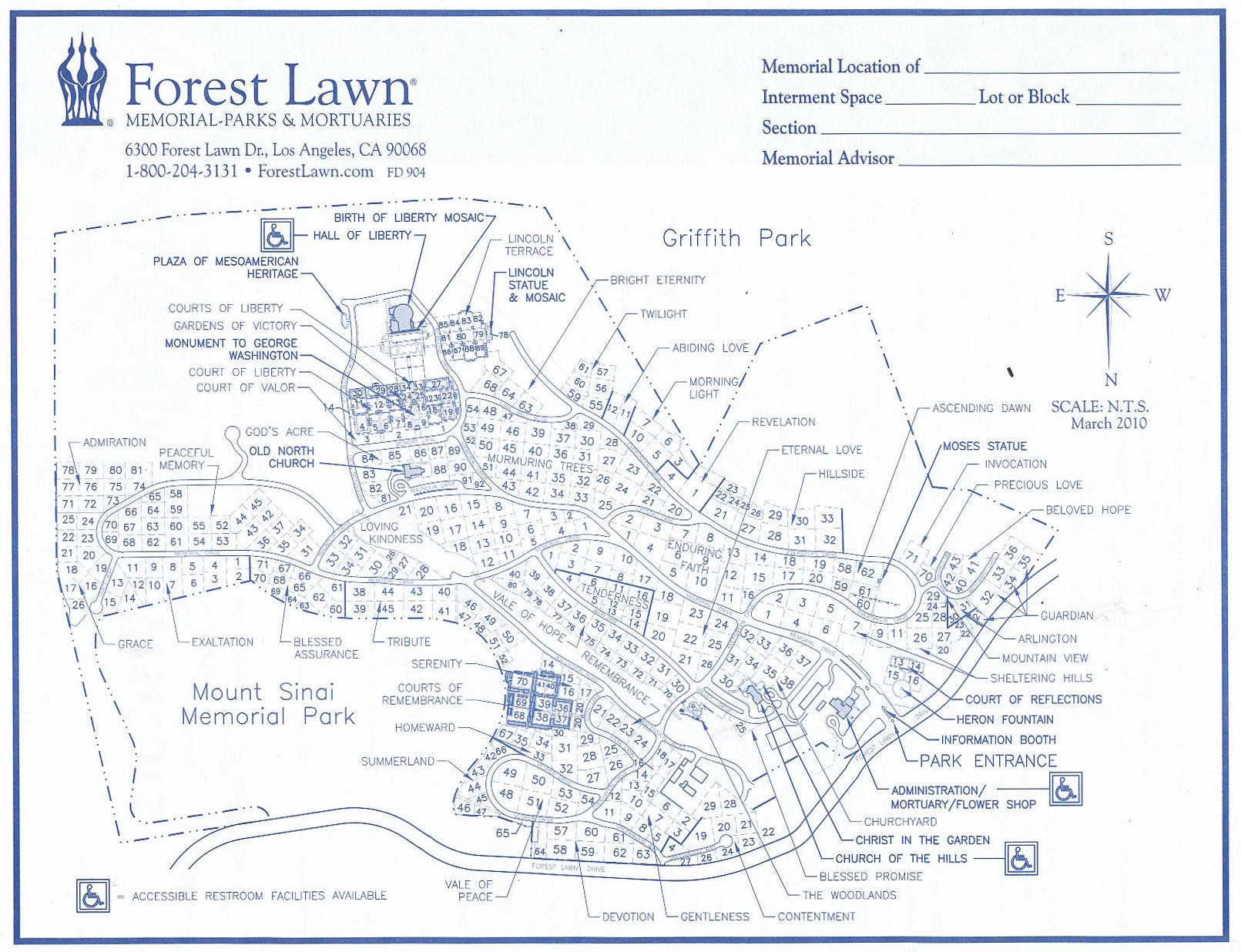 Cemetery map of Forest Lawn Memorial Park in Hollywood Hills, Los Angeles, California
Grave Location:
Lincoln Terrace, Lot 5144, Space 1
Grave Location Description
Lincoln Terrace is on the west side of the Hall of Liberty (where David's funeral took place). Walking up the steps towards the Lincoln Statue and Mosaic, walk over to the third terrace and turn right. David's final resting place is well marked with a large, flat bronze monument.
Grave Location GPS
34.14329, -118.31871
---
Visiting The Grave:
Photos:
Read More About David Caradine:
Videos Featuring David Caradine:
Back to Top