Brad Dexter
Birth Name:
Boris Michel Soso
Birth Date:
April 9, 1917
Birth Place:
Goldfield, Nevada
Death Date:
December 12, 2002
Place of Death:
Desert Regional Medical Center, Rancho Mirage, California
Cause of Death:
Emphysema
Cemetery Name:
Desert Memorial Park
Claim to Fame:
Show Business
Brad Dexter was an American actor and film producer whose very first film was the classic The Asphalt Jungle. From there he was known for tough-guy and western roles in such films as The Las Vegas Story (1951), Untamed (1955), Violent Saturday (1955) for director Richard Fleischer, House of Bamboo (1955) and the star-studded classic The Magnificent Seven (1960). He also made his mark by producing several films for Sidney J. Furie such as Lady Sings the Blues. In television he appeared in Wagon Train, Bat Masterson, Have Gun - Will Travel, Zane Grey Theatre, Behind Closed Doors, 77 Sunset Strip, Colt 45, The Man from Blackhawk, Tightrope, Bat Masterton, and Wanted: Dead or Alive starring Steve McQueen. He is also known for a short marriage to Peggy Lee and a close friendship with Marilyn Monroe. In his private life Dexter's tough-guy roles contrasted with his easygoing and friendly real-life personality.
---
Fun Facts
Brad Dexter saved Sinatra from drowning on May 10, 1964, during production of the World War II film None but the Brave (1965) on the island of Kauai, Hawaii. Sinatra and Ruth Koch, the wife of producer Howard Koch, were swimming when they were swept out to sea by the outgoing tide and nearly drowned. Sinatra's co-star Dexter and two surfers swam out and rescued them. Dexter was later awarded a Red Cross medal for his bravery. Grateful, Sinatra made him vice president of Sinatra Enterprises.
From January to November 1953, he was married to singer Peggy Lee. The union ended in divorce when she claimed that during their marriage he hardly worked.
Dexter was married to Star-Kist tuna heiress Mary Bogdanovich from January 27, 1971, until her death on June 12, 1994. Later in 1994, he married June Deyer and remained with her until his death.
Cemetery Information:
Final Resting Place:
Desert Memorial Park
31-705 Da Vall Drive
Cathedral City, California, 92262
USA
North America
Map: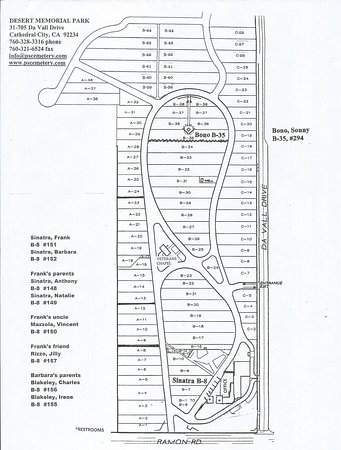 Grave Location:
Section B-2, Grave 28
Grave Location Description
As you enter the cemetery, park on the west side of Section B and look for the tree with the B-2 sign. On your right walk to the first row and Brad Dexter's simple flat monument is six spaces from the road.
Grave Location GPS
33.816355, -116.44188833333334
Photos:
Read More About Brad Dexter:
Videos Featuring Brad Dexter:
See More:
Back to Top