Brent Mydland
Birth Name:
Brent Mydland
Birth Date:
October 21, 1952
Birth Place:
Munich, West Germany
Death Date:
July 26, 1990
Place of Death:
3454 Sky Lane, Lafayette, California
Cause of Death:
Drug overdose - acute cocaine and morphine intoxication ("speedball")
Cemetery Name:
Oakmont Memorial Park
Brent Mydland was a talented keyboardist, vocalist, and songwriter best remembered as a member of The Grateful Dead from 1979 to 1990, a longer tenure than any other keyboardist (aka The Hot Seat) in the band. No previous keyboard player contributed any enduring original songs to the Dead's repertoire. Brent immediately made his impact felt with the songs "Far From Me" and "Easy to Love You," which appeared on the Grateful Dead's 1980 album "Go to Heaven," released almost exactly a year after he joined the band. On 1987's "In the Dark," Brent brought "Tons of Steel" to the table, and he co-wrote the house rocker that opened many an '80s show, "Hell in a Bucket," with Bob Weir and frequent collaborator John Perry Barlow.
---
Fun Fact
The keyboard position in the band is referred both by the band and fans alike as "The Hot Seat" due to the high mortality rate of those who've held that position. First held by Ron "Pigpen" McKernan (alcoholic induced gastrointestinal hemorrhage) and then joined by Keith Godchaux. After Donna and Keith Godchaux (auto accident) left the band Brent Mydland (drug overdose) was brought on for the longest tenure at the keyboards. His replacement was former Tubes member Vince Welnick who committed suicide. As of 2021 Bruce Hornsby is alive and doing well.
Cemetery Information:
Final Resting Place:
Oakmont Memorial Park
2099 Reliez Valley Road, , CA
Lafayette, California, 94549
USA
North America
Map: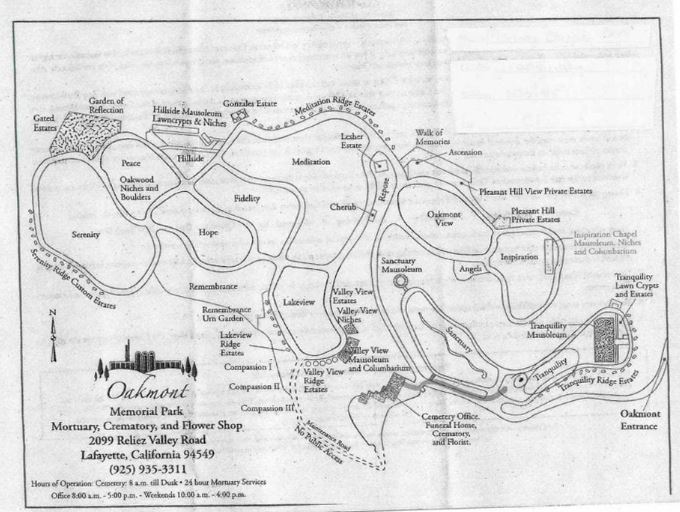 Grave Location:
Remembrance Section, Plot 265/7W, Lot C, Site 1
Grave Location Description
Brent is buried 7 rows from the top of the road to the Remembrance Section near a bench and under an oak tree.
Grave Location GPS
37.9475151, -122.1059692
---
Visiting The Grave:
Photos:
Read More About Brent Mydland:
Videos Featuring Brent Mydland:
See More:
Back to Top