Burt Reynolds
Birth Name:
Burton Leon Reynolds Jr.
Birth Date:
February 11, 1936
Birth Place:
Lansing, Michigan
Death Date:
September 6, 2018
Place of Death:
Jupiter Medical Center, Jupiter, Florida
Cause of Death:
Heart attack
Cemetery Name:
Hollywood Forever Cemetery
Claim to Fame:
Show Business
Burt Reynolds was an American actor and director, considered a sex symbol and icon of 1970s American popular culture. The wryly appealing Hollywood heartthrob carried on a long love affair with moviegoers even though his performances were often more memorable than the films that contained them. A self-mocking charmer with laugh-crinkled dark eyes, a rakish mustache and a hairy chest that he often bared onscreen, Mr. Reynolds did not always win the respect of critics. But for many years he was ranked among the top 10 movie draws worldwide, and from 1978 through 1982 he ruled the box office as few, if any, stars had done before. Reynolds first rose to prominence when he starred in television series such as Gunsmoke (1962–1965), Hawk (1966) and Dan August (1970–1971). Although Reynolds had leading roles in such films as Navajo Joe (1966) and 100 Rifles (1969), his breakthrough role was as Lewis Medlock in Deliverance (1972). Reynolds played the leading role – often a lovable rogue – in a number of subsequent box office hits, such as White Lightning (1973), The Longest Yard (1974), Smokey and the Bandit (1977), Semi-Tough (1977), The End (1978), Hooper (1978), Starting Over (1979), Smokey and the Bandit II (1980), The Cannonball Run (1981), Sharky's Machine (1981), The Best Little Whorehouse in Texas (1982), and Cannonball Run II (1984), several of which he directed himself. He was nominated twice for the Golden Globe Award for Best Actor – Motion Picture Musical or Comedy. Looking back in 2015, Mr. Reynolds expressed regret over the roles he didn't get and the chances he didn't take. It was not until he was almost 40, he wrote ruefully, that he decided he "wanted to be respected as an actor and began to think I might be good if I really worked at it." His best performance, he added, might well be "still ahead of me." "I may not be the best actor in the world," he concluded, "but I'm the best Burt Reynolds in the world."
---
Fun Facts
Naturally Burt attracted more than his fair share of the ladies. Reynolds was married to English actress Judy Carne from 1963 to 1965. He and American singer-actress Dinah Shore (20 years his senior) were in a relationship from early 1971 until 1975. In the mid-1970s, Reynolds briefly dated singer Tammy Wynette. He had a relationship from 1976 to 1980 (then off-and-on until 1982) with American actress Sally Field, during which time they appeared together in four films. In 2016, he regarded Field as the love of his life. Reynolds was married to American actress Loni Anderson from 1988 to 1994. They adopted a son, Quinton. He and Anderson separated after he fell in love with a cocktail waitress, Pam Seals, with whom he later traded lawsuits, which were settled out of court.
Burt Reynolds never won an Oscar, although he was nominated for best supporting actor (and won a Golden Globe) for his performance as a paternalistic director of pornographic movies in Paul Thomas Anderson's 1997 "Boogie Nights." "I once said I'd rather have a Heisman Trophy than an Oscar," Reynolds, who played football in college, later wrote. "I lied."
Reynolds and his "Stroker Ace" co-star, Loni Anderson, began living together in 1984 and wed in 1988. The marriage ended in 1993, in acrimony unusual even by Hollywood standards. Two decades later, the bitterness remained. "The truth is," Reynolds wrote in 2015, "I never did like her."
Cemetery Information:
Final Resting Place:
Hollywood Forever Cemetery
6000 Santa Monica Blvd.
Los Angeles, California, 90038
USA
North America
Map: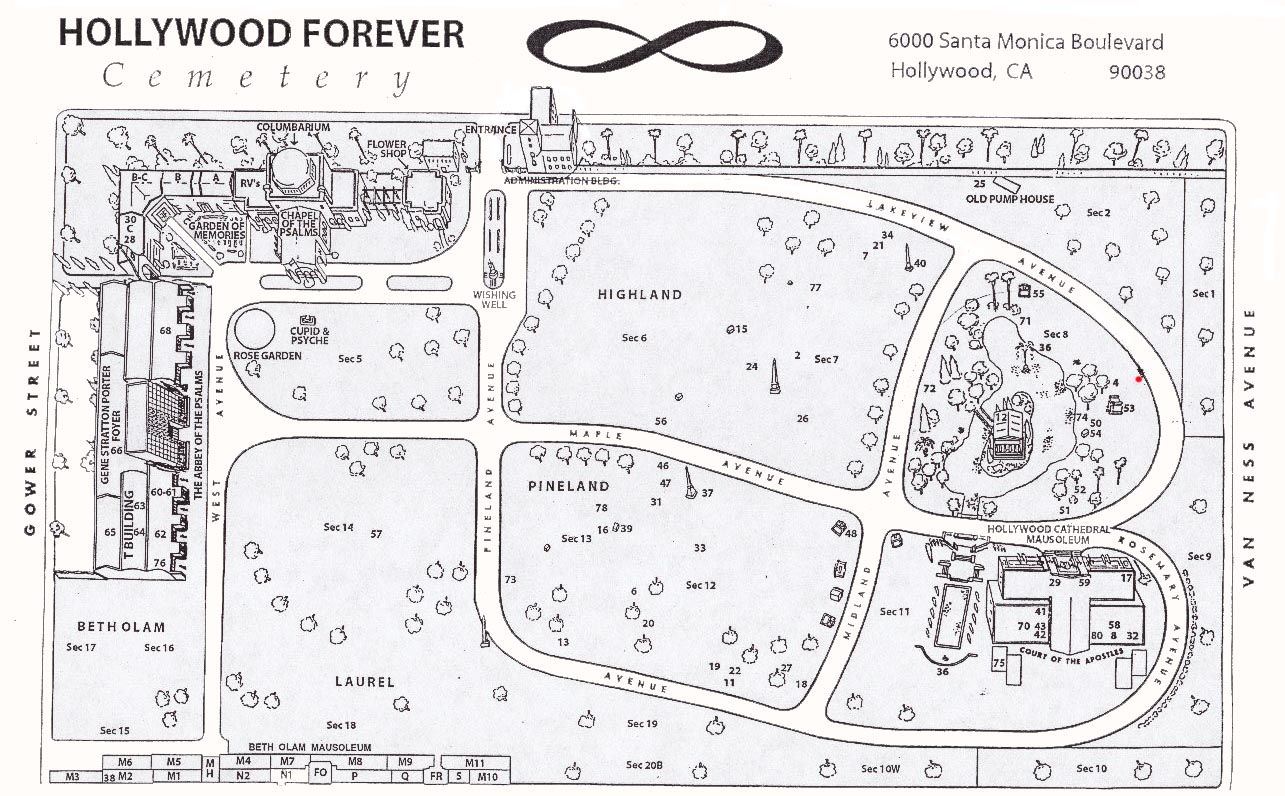 Map of Hollywood Cemetery Los Angeles, California
Grave Location:
Garden of Legends, Lot D, Grave 8
Grave Location Description
As you enter the cemetery take the first hard left and follow that road around the outside of the cemetery until you come to the middle of the lake on your right. Walk about 40 feet from the edge of the lake and take a quick look around for the statue of legendary actor Burt Reynolds.
Grave Location GPS
34.0894405,-118.3166684
---
Visiting The Grave:
Photos:
Read More About Burt Reynolds:
Videos Featuring Burt Reynolds:
See More:
Back to Top