Connee Boswell
AKA:
Connee Boswell Leedy
Birth Name:
Constance Foore Boswell
Birth Date:
December 3, 1907
Birth Place:
Kansas City, Missouri
Death Date:
October 11, 1976
Place of Death:
Mount Sinai Hospital, Manhattan, New York City
Cause of Death:
Stomach cancer
Cemetery Name:
Ferncliff Cemetery
Connee Boswell was an American jazz female vocalists, and first starting performing with her sisters as the trio The Boswell Sisters in the 1920s and 1930s. They became a highly influential singing group due to their recordings and film and television appearances. Connee is widely considered one of the greatest jazz female vocalists and was a major influence on Ella Fitzgerald. In 1936, Connee's sisters retired and Connee continued on as a successful solo artist selling a total of 75 million records. Interesting to note that Connee sang from a wheelchair, or seated position, during her career as a result of contracting poliomyelitis ('infantile paralysis') in childhood. The general public was not aware of her condition although Boswell herself did not keep this secret. She was frequently active in philanthropic efforts to bring awareness and support to those affected by disabilities, including support of the March of Dimes.
---
Fun Fact
When Connee went solo, her disability became more of an issue as she was the star and all the focus was on her. In Connee's own words, "When for a time I wasn't getting booked, I wanted to know why. I found out that the getting on and offstage was a pretty painful-looking procedure. People came to night clubs to enjoy themselves, to have fun. They wanted to get away from trouble. I could understand that well enough and that's why I went to work to smooth out my entrances and exits…. That's how I dreamed up the skirt-covered wheelchair I use for my appearances."
She wrote the following poem just five days before her death:
"My days are numbered and it's just as well. Just how soon no one can tell. I hope that it's soon for the pain is vile, A face filled with frowns instead of a smile. When the end comes I'll be at rest, And just remember, it's all for the best, And when I'm gone remember me when The sun shone brightly. And now, Amen."
Cemetery Information:
Final Resting Place:
Ferncliff Cemetery
280 Secor Road
Hartsdale, New York, 10530
USA
North America
Map: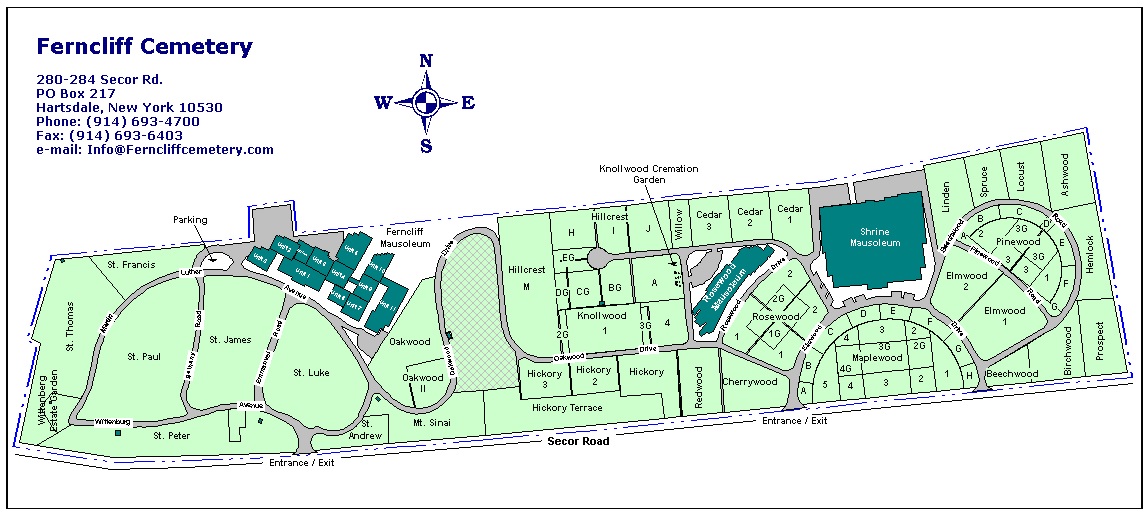 Grave Location:
Hillcrest J, Grave 227
Grave Location Description
After entering through the entrance between Cherrywood and Maplewood, take the first left. Then continue along this road heading west. Continue heading west at the next intersection, then turn right at the following intersection. Drive north past the Knollwood Cremation Garden and turn left. Hillcrest J will be on your right. Drive about 120 feet west and park your car in front of the middle of Section J. Connee Boswell's grave will be on your right on the road next to a large tree.
Grave Location GPS
41.02816778, -73.83160056
Photos:
Read More About Connee Boswell:
Videos Featuring Connee Boswell:
See More:
Back to Top