Daniel Boone
Birth Date:
November 2, 1734
Birth Place:
400 Daniel Boone Road, Birdsboro, Pennsylvania
Death Date:
September 26, 1820
Place of Death:
Nathan Boone House, 1868 Hwy F, Defiance, Missouri
Cause of Death:
Natural causes
Cemetery Name:
Frankfort Cemetery
Claim to Fame:
Historical Figure
Daniel Boone, a bonafide legend during his own lifetime, was an American pioneer and frontiersman whose exploits made him one of the first folk heroes of the United States. Boone became famous for his exploration and settlement of what is now Kentucky, which was then beyond the western borders of the Thirteen Colonies. Despite resistance from American Indians, for whom Kentucky was a traditional hunting ground, in 1775 Boone blazed the Wilderness Road through the Cumberland Gap and into Kentucky. There he founded Boonesborough, one of the first English-speaking settlements west of the Appalachian Mountains. By the end of the 18th century, more than 200,000 people had entered Kentucky by following the route marked by Boone.
---
IS HE REALLY BURIED HERE?
In 1845, the Boones' remains were disinterred and reburied in a new cemetery in Frankfort, Kentucky. Resentment in Missouri about the disinterment grew over the years, and a legend arose that Boone's remains never left Missouri. According to this story, Boone's tombstone in Missouri had been inadvertently placed over the wrong grave, but no one had corrected the error. Boone's Missouri relatives, displeased with the Kentuckians who came to exhume Boone, kept quiet about the mistake and allowed the Kentuckians to dig up the wrong remains. In 1983, a forensic anthropologist examined a crude plaster cast of Boone's skull made before the Kentucky reburial and announced it might be the skull of an African American. Black slaves were also buried at Tuque Creek, so it is possible that the wrong remains were mistakenly removed from the crowded graveyard. Both the Frankfort Cemetery in Kentucky and the Old Bryan Farm graveyard in Missouri claim to have Boone's remains.
Cemetery Information:
Final Resting Place:
Frankfort Cemetery
215 E Main Street
Frankfort, Kentucky, 40601
USA
North America
Map: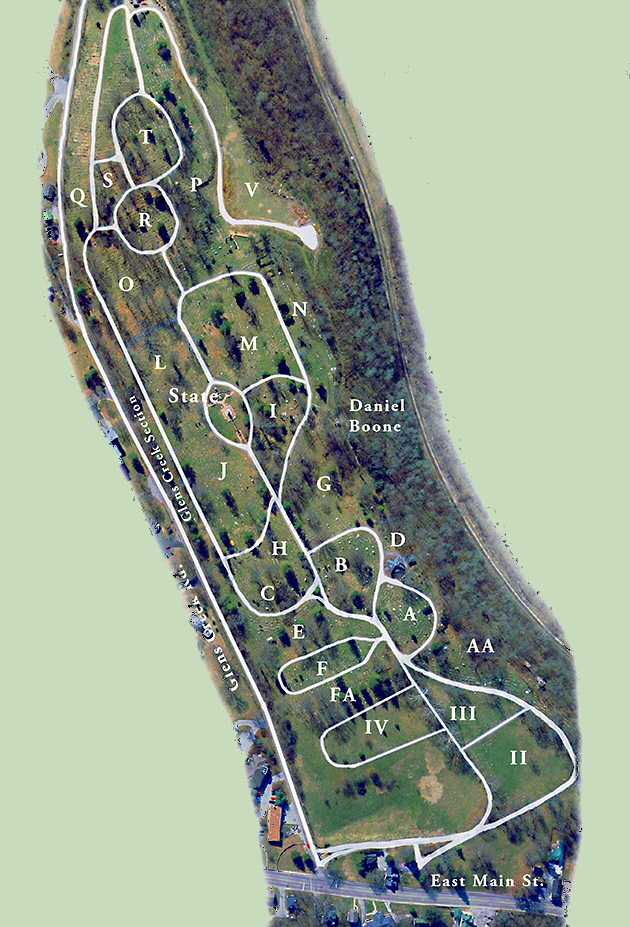 Grave Location:
Section G
Grave Location Description
DISPUTED – As you enter the cemetery follow the signs to the Daniel and Rebecca Boone grave site in Section G. Park on the road and walk down the path to what may be or may not be the final resting place of pioneer Daniel Boone and his wife.
Grave Location GPS
38.1938212539, -84.866098747
---
Visiting The Grave:
Photos:
Read More About Daniel Boone:
Videos Featuring Daniel Boone:
See More:
Back to Top