Eddie Rickenbacker
Birth Name:
Edward Vernon Rickenbacker
Birth Date:
October 8, 1890
Birth Place:
Columbus, Ohio
Death Date:
July 23, 1973
Place of Death:
Neumuenster Hospital, Zürich, Switzerland
Cause of Death:
Pneumonia
Cemetery Name:
Green Lawn Cemetery
Claim to Fame:
Historical Figure
Captain Edward V. Rickenbacker was called America's Ace of Aces during World War I, the highest scorer of American aerial victories over the Germans. He could just as easily have been labeled the 'luckiest man alive,' however, since he survived — by his own count — 135 brushes with death during his exciting lifetime. With 26 aerial victories, he was the United States' most successful fighter ace in the war and is considered to have received the most awards for valor by an American during the war. He was also a race car driver, an automotive designer, a government consultant in military matters and a pioneer in air transportation, particularly as the long-time head of Eastern Air Lines. At one time he even owned and raced at the Indianapolis Motor Speedway. Towards the end of his life as CEO of Eastern Air Lines, the company was the most profitable airline in the postwar era. However during the late 1950s Eastern Air Lines' fortunes declined, and Rickenbacker was forced out of his position as CEO in 1959. Rickenbacker also resigned as the chairman of the board in 1963, at the age of 73. After that, Captain and Mrs. Rickenbacker traveled extensively for a number of years and in the 1960s, Rickenbacker became a well-known speaker, sharing shared his vision for the future of technology and commerce.
---
The Tragic End for Adelaide Rickenbacker
Towards the end of his life, Eddie suffered a stroke in 1972 that left him in a coma. Although he had left a "living will," Adelaide refused to allow him to die, and worked with Eddie and his doctors to aid his recovery. A few months after Eddie's stroke, he accompanied Adelaide to Switzerland to have her failing vision treated. Unfortunately, he suffered a fatal heart attack, and she did not regain her sight. Blind and in failing health, Adelaide shot herself to death with a .32 caliber pistol at her Key Biscayne, Florida, home on February 2, 1977.
In another tragic event during his lifetime, On a hot July day, a black man named William Gaines asked for handouts from Willhelm Rickenbacher's sidewalk crew during their lunch break. Rickenbacher objected that "If I had any dinner to share with any person I would share it with my children"—and wouldn't let the matter drop. Gaines hit him over the head with a level, he later claimed in self-defense. Rickenbacher was in a coma for almost six weeks before his death on August 26, 1904. Gaines was convicted of manslaughter and sentenced to ten years in prison. Eddie was only 14 years old when his father was murdered
Fun Facts
Eddie Rickenbacker once owned the Bear Creak Ranch located at 601 Patio Ranch Road West in Hunt, Texas. Once used as a retreat for his hunting friends and Eastern executives, it is now called The Patio Ranch and still caters to those who wish to kill animals for fun.
Cemetery Information:
Final Resting Place:
Green Lawn Cemetery
1000 Greenlawn Avenue
Columbus, Ohio, 43223
USA
North America
Map: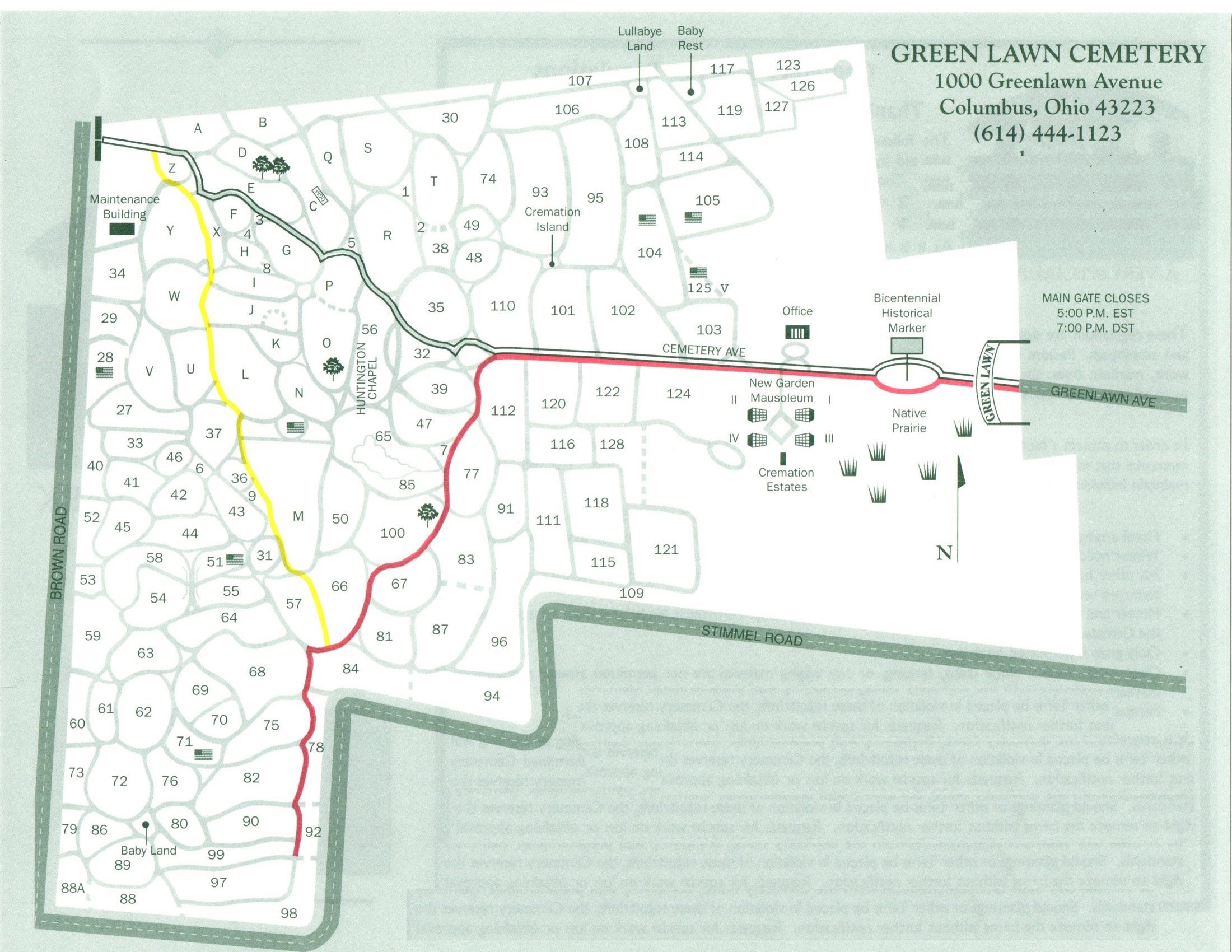 Cemetery map of Green Lawn Cemetery in Columbus, Ohio
Grave Location:
Section 58, Plot 31
Grave Location Description
As you enter the cemetery from the main gates, drive straight ahead and turn left at the end of Section 122. Now weave your way around another .25 mile past sections 77, 100 and 66. Be patient if you don't exactly see these sections as the cemetery was laid out by a drunken sailor with vision issues. You are looking for Section 58 which is bordered by sections 44, 51, 55, 54, 59 and 45. The large Rickenbacker family monument is right on the road with his smaller, personal headstone just behind the family monument.
Grave Location GPS
39.93723106527905, -83.03700569339708
Photos:
Read More About Eddie Rickenbacker:
Videos Featuring Eddie Rickenbacker:
See More:
Back to Top