George Huntington Hartford
Birth Name:
George Huntington Hartford
Birth Date:
September 5, 1833
Birth Place:
Augusta, Maine
Death Date:
August 29, 1917
Place of Death:
Spring Lake, New Jersey
Cause of Death:
Natural Causes
Cemetery Name:
Rosedale Cemetery
Claim to Fame:
Business and Finance
George Huntington Hartford headed The Great Atlantic and Pacific Tea Company, better known as A&P Super Market from 1878 to 1917. During this period, A&P created the concept of the chain grocery store and expanded into the country's largest retailer. By 1930, A&P operated approximately 16,000 stores and became the first retailer to report combined revenue of US$1 billion. By 1950, of every dollar the U.S. spends on food, about 10¢ is passed over A&P counters—a massive yearly total of $2.9 billion. Next to General Motors, the A&P sold more goods than any other company in the world. Unfortunately the last 25 years of A&P were not kind as they made one bad business decision after another and after 156 years in business, they closed the doors for good in 2015.
---
Fun Facts
Grandson George Huntington Hartford II was born April 18, 1911, in New York, and given the name of his grandfather, a tea merchant who founded the company that his sons would expand into a chain of full-service supermarkets. After graduating from Harvard University, Mr. Hartford – who had an annual income of $1.5 million from his grandfather's estate – joined the New York-based family company, expecting to be placed in upper management. Instead, his two uncles, who ran the company, assigned him to a rank-and-file role monitoring sales of bread and pound cake. "I had an income of over a million dollars a year. Can you imagine me sitting out with a bunch of clerks?" Mr. Hartford told author Lisa Gubernick for her 1991 biography, "Squandered Fortune." His uncles fired him after six months, and Mr. Hartford became a man of leisure – sailing, partying in New York's best clubs, and surrounding himself with drugs, women and alcohol.
Cemetery Information:
Final Resting Place:
Rosedale Cemetery
408 Orange Road
Montclair, New Jersey, 07042
USA
North America
Map: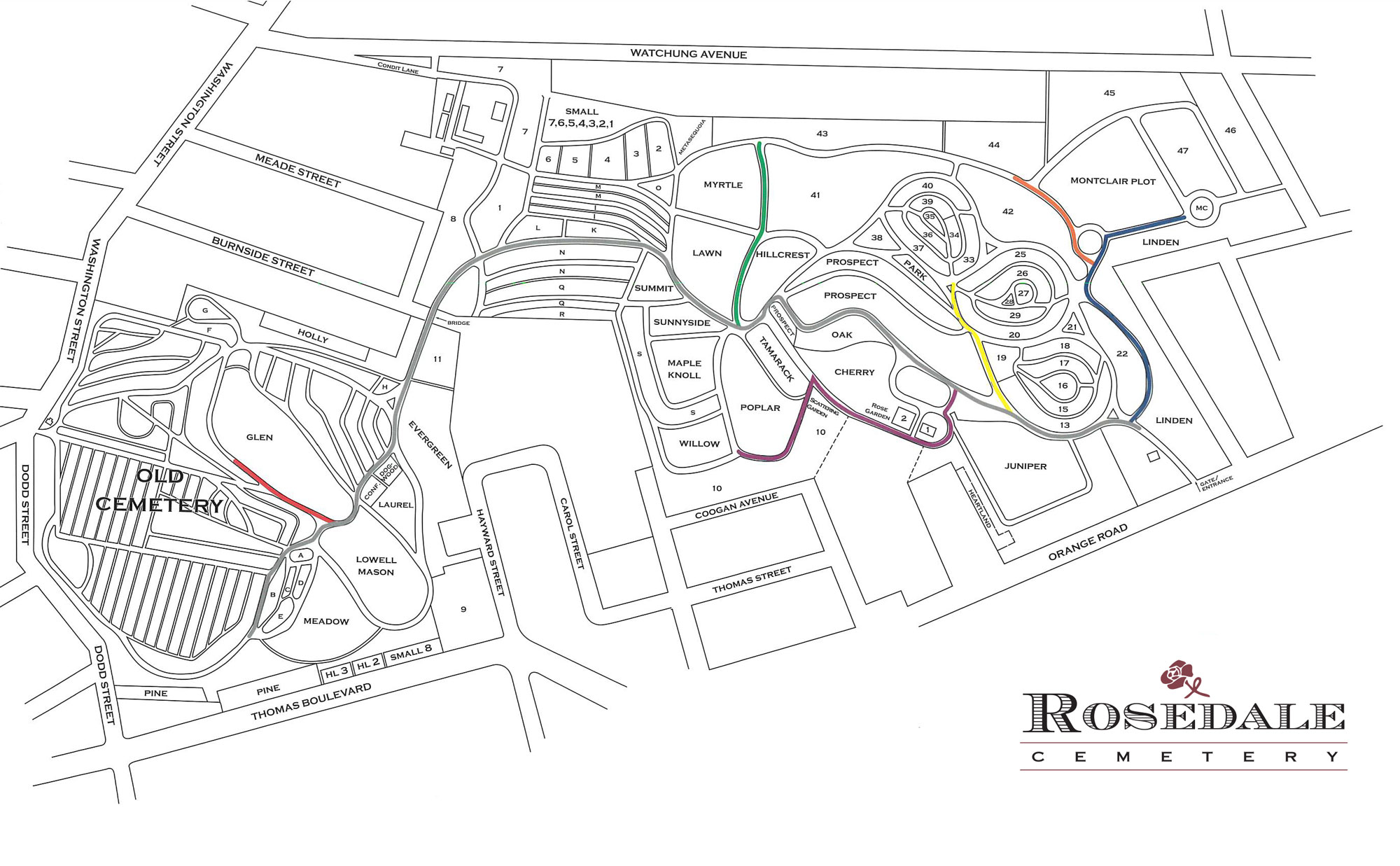 Grave Location:
Plot 42, Lot 8
Grave Location Description
As you enter the cemetery take the first right and drive a short distance until you see the white "Hartford" mausoleum (no relation). Make a sharp left with the Hartford mausoleum on your right and drive 200 feet and park. On your right you will see the massive 4-column mausoleum that is the final resting place of George Huntington Hartford and his wife Marie. Note none of the plots are marked so … good luck!
Grave Location GPS
40.790606325146946, -74.22309433264225
Photos:
Read More About George Huntington Hartford:
Videos Featuring George Huntington Hartford:
See More:
Back to Top