Gilbert Bécaud
AKA:
Monsieur 100,000 Volts
Birth Name:
François Gilbert Léopold Silly
Birth Date:
October 24, 1927
Birth Place:
Toulon, France
Death Date:
December 18, 2001
Place of Death:
On his houseboat, River Seine, Paris, France
Cause of Death:
Lung cancer
Cemetery Name:
Cimetière du Père Lachaise
Gilbert Bécaud was a French singer, composer, pianist and actor known as "Monsieur 100,000 Volts" for his energetic performances. His best-known hits are "Nathalie" and "Et maintenant", a 1961 release that became an English language hit as "What Now My Love". He remained a popular artist for nearly fifty years, identifiable in his dark blue suits, with a white shirt and "lucky tie"; blue with white polka dots. His favourite venue was the Paris Olympia under the management of Bruno Coquatrix. He debuted there in 1954 and headlined in 1955, attracting 6,000 on his first night, three times the capacity. Bécaud composed over 450 songs and sold millions of records over the years, and seemed almost never to spend an evening away from a stage - in one year he gave 249 concerts. He sang in six languages, a fact that helped his overseas tours, but was always happiest at the Olympia in Paris, where he topped the bill more than 30 times.
---
Fun Facts
In addition to being a top performer and concert draw, Gilbert Bécaud was a successful composer working with Edith Piaf and also collaborated with Neil Diamond on two of Diamond's biggest-selling hits, Love On The Rocks and September Morn. He later penned the song 'It Must Be Him' for the renowned singer Vikki Carr. The song went on to become a massive hit and Gilbert's creativity was well-appreciated. In fact he was covered by multiple artist both in England and the USA including Sammy Davis Jr, Liza Minnelli and Barbra Streisand.
Cemetery Information:
Final Resting Place:
Cimetière du Père Lachaise
16 Rue du Repos, 6ème division, Chemin Lesseps
Paris, , 75020
France
Europe
Map: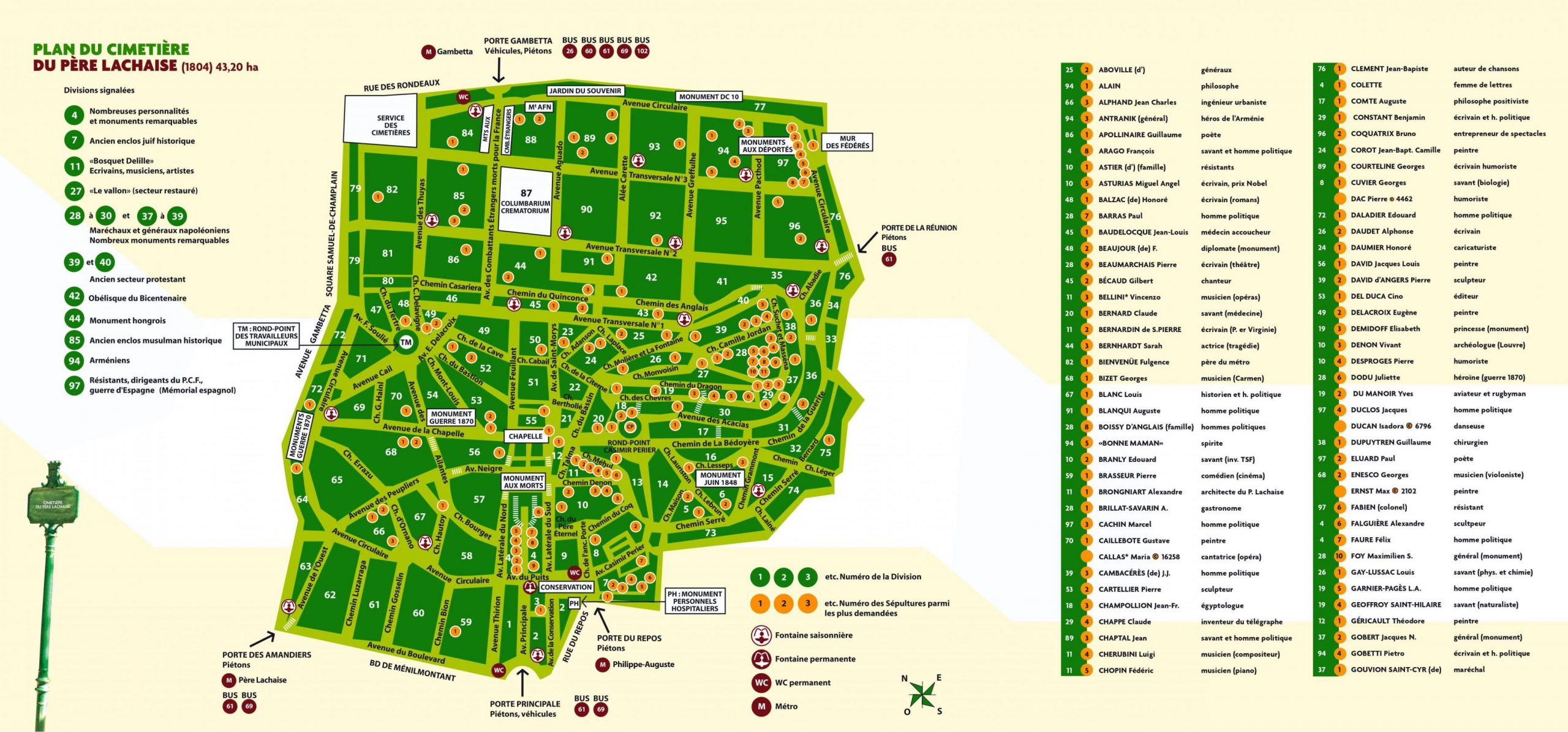 Cemetery map of Cimetière du Père Lachaise in Paris, France.
Grave Location:
Division 45, Avenue Transversale No. 1, Line 1
Grave Location Description
As you make your way through the cemetery, find Avenue Transversale No. 1 and Gilbert Bécaud is buried at the intersection of Avenue Transversale No. 1 and Chemin Laplace just 2 graves away from the French actress Marie Trintignant in Division 45.
Grave Location GPS
48.86132519612502, 2.3949360975121152
Photos:
Read More About Gilbert Bécaud:
Videos Featuring Gilbert Bécaud:
See More:
Back to Top