Harry Houdini
Birth Date:
March 24, 1974
Birth Place:
Budapest, Austria-Hungary
Death Date:
October 31, 1926
Place of Death:
Room 401, Grace Hospital, Detroit, Michigan
Cause of Death:
Peritonitis secondary to a ruptured appendix after a physical beating
Cemetery Name:
Machpelah Cemetery
Claim to Fame:
Other Entertainers
Harry Houdini is most often remembered as an escape artist and a magician. He was also an actor, a pioneering aviator, an amateur historian, businessman and performance artist of such great success that his name will live in perpetuity.
---
Fun Fact
So what ever happened to the college student who punched Houdini several times in the stomach resulting in the great magician's death nine days later?
According to the Dead Conjurers website, Joscelyn Gordon Whitehead was not a magician. He was the McGill University college student (who was in his 30s at the time) who punched Houdini several times in the abdomen in his dressing room in Montreal. This led to a ruptured appendix and Houdini's eventual death on October 31, 1926. Investigations following Houdini's death don't accuse Whitehead of any wrong doing, but in an affidavit to the insurance company Whitehead willingly admits to punching Houdini several times.
Whitehead was an odd figure. After the Houdini incident he left college. He became a recluse and a hermit. He died of malnutrition in 1954. He is buried in Montreal Canada at the Mt. Royal Cemetery in an unmarked grave. The exact location is the Hawthorne Dale Annex Plot, Lot # 188, Grave 75. It is an unmarked grave.
Cemetery Information:
Final Resting Place:
Machpelah Cemetery
8230 Cypress Hills Street
Flushing, New York, 11385
USA
North America
Map: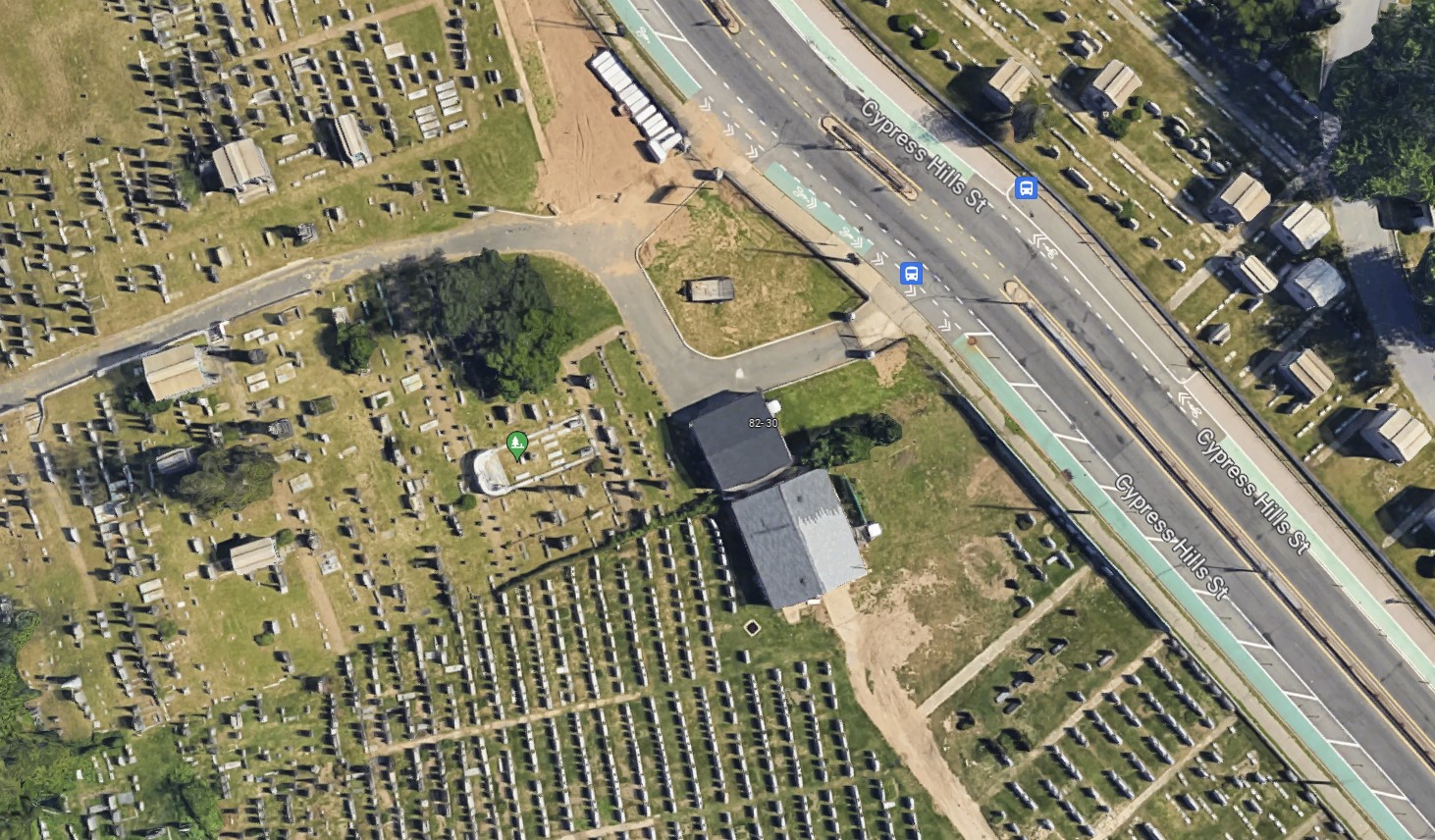 Map of Machpelah Cemetery in Queens, New York
Grave Location:
Weiss Family Plot
Grave Location Description
Hidden in plain sight is the Machpelah Cemetery, which has nothing but a small metal sign on a fence that identifies it. The gates are locked and building at the main entrance has been torn down. The only access is through the cemeteries that border it.
However if you can find the site of the former office (the foundation is still there) at the old entrance on Cypress Hills Street, Houdini's grave is about 75 feet straight in front of the old entrance.
Grave Location GPS
40.69365031179931, -73.88472510215564
---
Visiting The Grave:
Photos:
Read More About Harry Houdini:
Videos Featuring Harry Houdini:
See More:
Back to Top