WARNING: EXPLICIT MATERIAL
Hedy Lamarr
AKA:
The Most Beautiful Woman in Film
Birth Name:
Hedwig Eva Maria Kiesler
Birth Date:
November 9, 1914
Birth Place:
Vienna, Austria-Hungary
Death Date:
January 19, 2000
Place of Death:
968 Wesson Drive, Casselberry, Florida
Cause of Death:
Heart disease
Cemetery Name:
Der Wiener Zentralfriedhof
Claim to Fame:
Show Business
Hedy Lamarr, the raven-haired Viennese beauty who became one of the reigning temptresses in Hollywood films in the 1930's and 40's, especially as Delilah vamping Victor Mature's Samson was was an Austrian-born Austro-Hungarian-American film actress and inventor. She was a film star during Hollywood's golden age. After a brief early film career in Czechoslovakia, including the controversial Ecstasy (1933), she fled from her first husband, a wealthy Austrian ammunition manufacturer, and secretly moved to Paris. Traveling to London, she met Metro-Goldwyn-Mayer studio head Louis B. Mayer, who offered her a movie contract in Hollywood. She became a film star with her performance in Algiers (1938). Her MGM films include Lady of the Tropics (1939), Boom Town (1940), H.M. Pulham, Esq. (1941), and White Cargo (1942). Her greatest success was as Delilah in Cecil B. DeMille's Bible-inspired Samson and Delilah (1949). She also acted on television before the release of her final film, The Female Animal (1958). She was honored with a star on the Hollywood Walk of Fame in 1960. Interesting to note that at the beginning of World War II, she and avant-garde composer George Antheil developed a radio guidance system for Allied torpedoes that used spread spectrum and frequency hopping technology to defeat the threat of jamming by the Axis powers.
---
Fun Facts
It is important to note that the photos showing her memorial is the actual gravesite of Hedy Lamarr – not a cenotaph that everyone has called her memorial. Upon her passing, her son Anthony Loder spread a small amount of her ashes in Austria's Vienna Woods in accordance with her last wishes. In 2014, a memorial to Lamarr was unveiled in Vienna's Central Cemetery and her remaining ashes and urn were placed at the memorial.
Miss Lamarr was forever identified with "Ecstasy," a 1933 Czech film in which she appeared nude in a swimming scene and in a lovemaking sequence that was torrid for its time. The film was banned in many places in the United States for a number of years. But even though most Americans never saw it, "Ecstasy" excited their interest in the actress and shaped her career.
Her private life was messy and sad. In early 1939, she met Gene Markey, a writer and producer in Hollywood, and they eloped to Mexico. She divorced Mr. Markey the following year, complaining to a judge that they had been married for 14 months and that in all that time, he had spent only four evenings alone with her. The judge granted the divorce, but suggested that if she ever contemplated a future marriage, she should spend more than a month getting to know her man. In the spring of 1943 she married the British actor John Loder. She knew him six months before she married him. They were divorced three years later. Miss Lamarr's other marriages — to Teddy Stauffer, a former band leader who ran a nightclub in Acapulco, Mexico; Howard Lee, a Texas oilman; and Lewis W. Boles, a West Coast lawyer — all ended in divorce.
In 1974, she filed a $10 million lawsuit against Warner Bros., claiming that the running parody of her name ("Hedley Lamarr") in the Mel Brooks comedy Blazing Saddles infringed her right to privacy. Brooks said he was flattered; the studio settled out of court for an undisclosed nominal sum and an apology to Lamarr for "almost using her name". Brooks said that Lamarr "never got the joke".
Producer Louis B. Mayer named actress Hedy Lamarr after silent screen legend Barbara La Marr on behalf of his wife, a longtime admirer of La Marr.
Cemetery Information:
Final Resting Place:
Der Wiener Zentralfriedhof
1110 Wien
Simmeringer Hauptstraße 234, Vienna,
Austria
Europe
Map: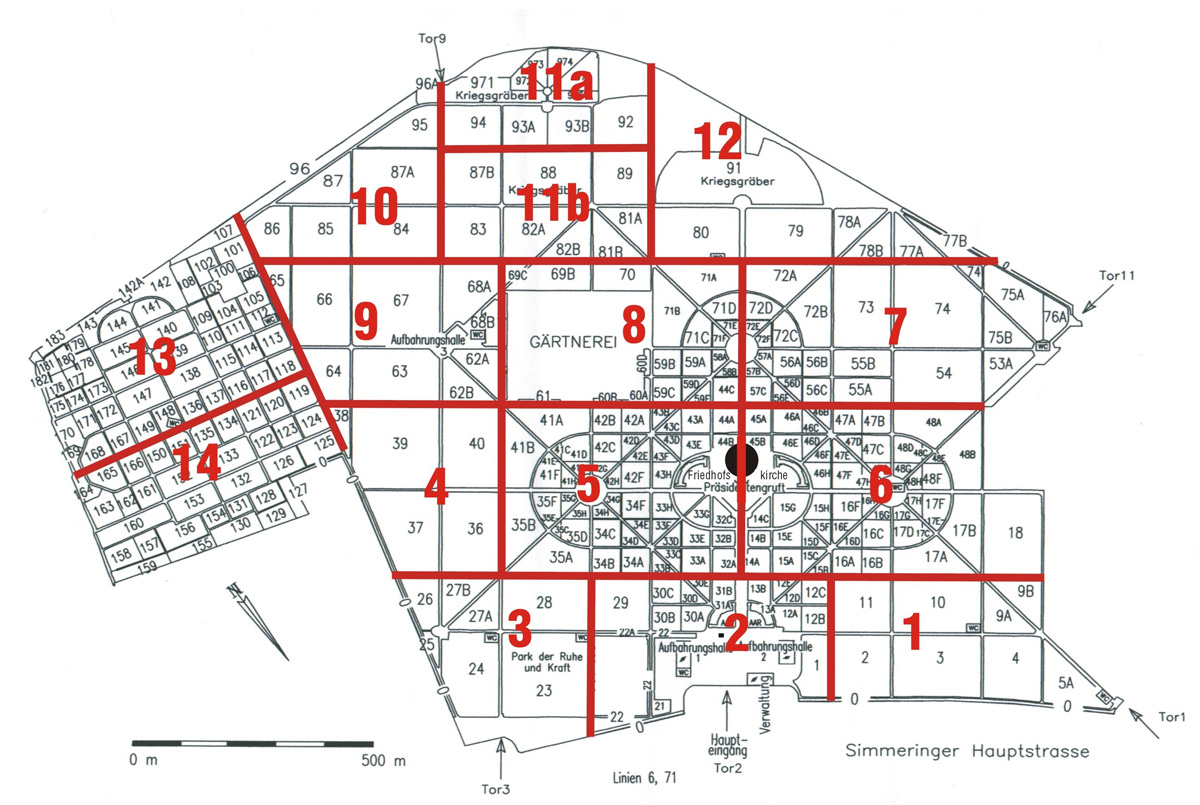 Map for Der Wiener Zentralfriedhof (Central Cemetery in Vienna) in Austria
Grave Location:
Gruppe 33 G, Grab Nr. 80
Grave Location Description
As you drive through the main gates you will come to an intersection with 3 options. Keep driving straight through one intersection and continue to the second intersection with 6 paths to choose. Follow the second road on your right (at a 90 degree angle) and continue driving to the next intersection. Turn right and look to your left in Gruppe 33 G on the road for a bench and the metal monument for the final resting place of actress and inventor Hedy Lamarr.
Grave Location GPS
48.15119923374645, 16.440054713057293
Photos:
Read More About Hedy Lamarr:
Videos Featuring Hedy Lamarr:
See More:
Back to Top