James Gamble
Birth Date:
April 3, 1803
Birth Place:
Enniskillen, Ireland
Death Date:
April 29, 1891
Place of Death:
2918 Werk Road, Cincinnati, Ohio
Cause of Death:
Natural causes
Cemetery Name:
Spring Grove Cemetery
Claim to Fame:
Business and Finance
In 1819, the George Gamble family set sail for American to seek their fortune in an area of Illinois that was being promoted. Because of illness of a son, they stopped and settled in Cincinnati, Ohio. A son, James Gamble, at 18 apprenticed in the soap business and eventually formed his own company. After marrying Ann Norris, he merged his company with that of William Proctor who married Ann's sister. And in 1837 that was the start of the Proctor and Gamble Company. In 1858–1859, sales reached $1 million. By that point, about 80 employees worked for Procter & Gamble. During the American Civil War, the company won contracts to supply the Union Army with soap and candles. In addition to the increased profits experienced during the war, the military contracts introduced soldiers from all over the country to Procter & Gamble's products. In the 1880s, Procter & Gamble began to market a new product, an inexpensive soap that floated in water. The company called the soap Ivory. Beginning in the 1880s, P&G advertised its wares in full-page advertisements in many general-interest magazines; by 1921, it had become a major international corporation with a diversified line of soaps, toiletries, and food products; in that year, its annual advertising budget reached $1 million. In the 1920s, P&G advertised its products on the new medium of radio, and from 1932 forward was one of the biggest sponsors of daytime serials, which soon acquired the nickname of soap operas. In the television era, P&G sponsored and produced some twenty soap operas across six decades before the last of its shows ended in 2010. Today Procter and Gamble employees over 101,000 employees with total sales exceeding $76 billion.
---
Fun Fact
James Gamble built his mansion at 2918 Werk Road in Cincinnati, Ohio. His son James Norris Gamble torn down that house and built an even grander mansion on the same site. It was vacant in it's last years and was torn down despite outcry from preservationists.
Cemetery Information:
Final Resting Place:
Spring Grove Cemetery
4521 Spring Grove Avenue
Cincinnati, Ohio, 45232
USA
North America
Map: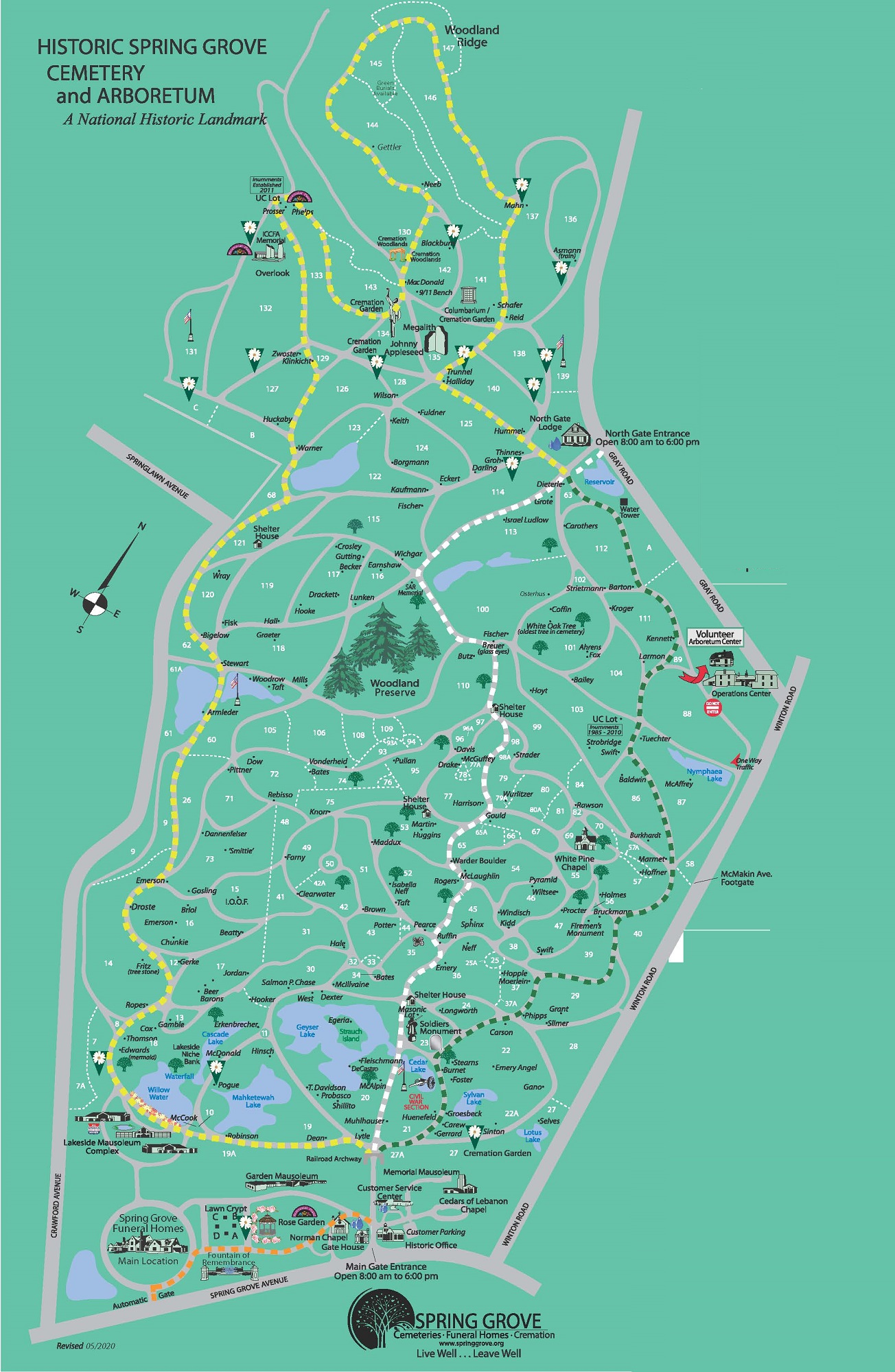 Grave Location:
Section 13, Grave 20, Lot 6
Grave Location Description
As you enter the cemetery from the main entrance (not the funeral home entrance) drive straight ahead and go under the railroad archway. Make an immediate left and drive around past Sections 19, 10 and 18 until you see Section 13 on your right. The Gamble Family monument can be seen above the treetops in the center of the small section.
Grave Location GPS
39.1669632404636, -84.52880991891686
Photos:
Read More About James Gamble:
Videos Featuring James Gamble:
See More:
Back to Top