Lemmy Kilmister
Birth Name:
Ian Fraser Kilmister
Birth Date:
December 24, 1945
Birth Place:
Burslem, Stoke-on-Trent, United Kingdom
Death Date:
December 28, 2015
Place of Death:
Los Angeles, California
Cause of Death:
Prostate cancer, cardiac arrhythmia, and congestive heart failure
Cemetery Name:
Forest Lawn Memorial Cemetery Hollywood Hills
Inspired by the Beatles and worked as a roadie for the Jimi Hendrix Experience in the 1960s, Lemmy Kilmister was the pure embodiment of the rock 'n' roll spirit. A fixture at the Rainbow on Hollywood Blvd when not on the road, Lemmy had his first taste of success as a member of Hawkwind, where he developed a distinctive bass style and sang lead vocals on the 1972 hit "Silver Machine." In 1975, Kilmister founded Motorhead, a band that has had an enormous influence on the heavy metal genre, largely because of Kilmister's furious bass playing, guttural vocals and innovative songwriting. His unique style brought punk influences to heavy metal, resulting in metal classics such as "Ace of Spades" and "Overkill." Kilmister also co-wrote songs for Ozzy Osbourne's 1991 album, "No More Tears," including the No. 2 hit "Mama, I'm Coming Home" and the Grammy-winning "I Don't Want To Change the World." The intimidating warrior with a wart and rasping voice, always with a bottle of whiskey in his hand and a cigarette in his mouth was also a really kind guy; one of the nicest in the business.
---
The last two years of his life, Motorhead frontman Lemmy Kilmister was plagued with health problems. Still, the rock and roll legend, who seemingly spent half his career with a tall glass of Jack Daniels lightly flavored with Coca-Cola in his hand, appeared to be indestructible. And up to the very end he strived to live up to the role, performing a series of eardrum-bursting concerts in Europe during the final month of his life, not knowing his body was riddled with an aggressive form of cancer. And even though he felt like shit the entire time, he still planned to return to Europe in January to continue touring.
The last show in Europe was on December 11th. On the 13th there was a huge birthday celebration at the Whiskey but Lemmy was only strong enough to sit and enjoy the show. Two weeks later, doctors found two nodules of cancer in the brain and one in the neck. On the 26th, the doctor met with the family and explained that it was terminal cancer, that he could live between 2 and 6 months. Lemmy died two days later at home.
Cemetery Information:
Final Resting Place:
Forest Lawn Memorial Cemetery Hollywood Hills
6300 Forest Lawn Drive
Los Angeles, California, 90068
USA
North America
Map: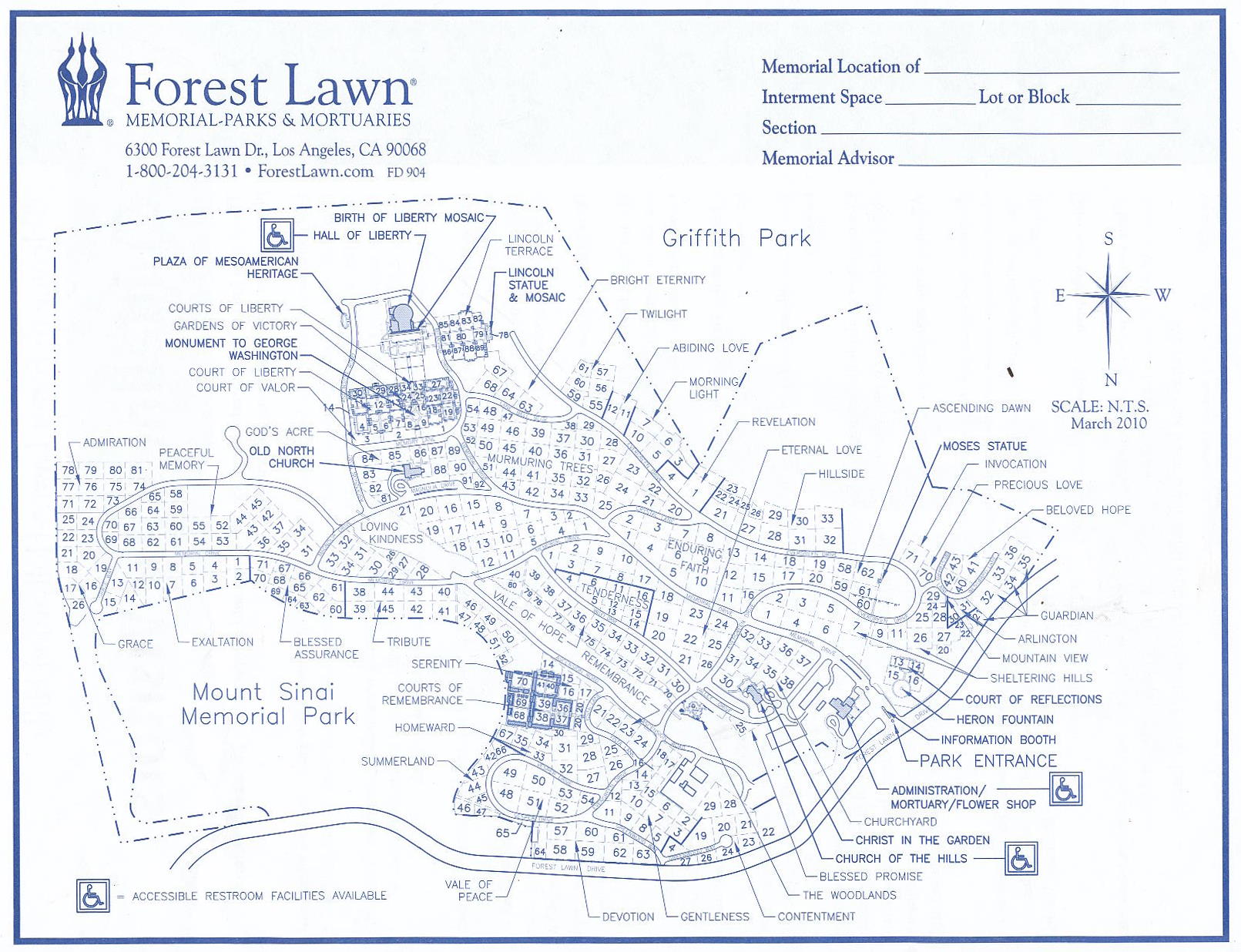 Grave Location:
Courts of Remembrance, Columbarium of Sacred Trust, Outdoor Garden Niche 66400
Grave Location Description
As you drive through the entry gates make your way towards the church and the outdoor mausoleum on your left. Park in front of the mausoleum (you will see the Bette Davis crypt on your left) and wander through the middle until you see Ronnie James Dio's large sarcophagus. Lemmy is directly opposite in a small niche at the ground level.
Grave Location GPS
34.1496468,-118.3200302
Photos:
Read More About Lemmy Kilmister:
Videos Featuring Lemmy Kilmister:
See More:
Back to Top