Luther Vandross
Birth Name:
Luther Ronzoni Vandross Jr.
Birth Date:
April 20, 1951
Birth Place:
Bellevue Hospital, New York, New York
Place of Death:
JFK Medical Center, Edison, New Jersey
Cause of Death:
Heart attack
Cemetery Name:
George Washington Memorial Park
Luther Vandross was an American soul and R&B singer, songwriter, and record producer. Throughout his career, he achieved eleven consecutive RIAA-certified platinum albums and sold over 40 million records worldwide. After a short stint at college and drifting through numerous groups and as a backup singer, in 1974 after a short stay with David Bowie, Luther worked with a vast array of award-winning recording artists including Roberta Flack, Chaka Khan, Ben E. King, Bette Midler, Diana Ross, Carly Simon, Barbra Streisand, Cat Stevens, Gary Glitter, Ringo Starr, Sister Sledge, and Donna Summer. Across the next decade, Vandross would top the US R&B charts six more times - so successful was he, and, at times, so large his girth, that he was nicknamed "the Pavarotti of pop". British audiences embraced him in the late 1980s: Never Too Much hit the British top 20 eight years after it was an American hit. At one point, he had three albums simultaneously in the top 100. Vandross's greatest hits of that era - Stop To Love, There's Nothing Better Than Love, Any Love, Here And Now, Power Of Love/Love Power - established him as the most widely admired male soul singer of the post-disco era. Vandross continued to enjoy healthy sales in the early 1990s, but his glacial pop/soul style became increasingly predictable and he was soon overshadowed by a younger, more hip-hop oriented breed of male R&B singer. His last British hit was Endless Love, a duet with Mariah Carey in 1994. All in all, Vandross has been recognized as one of the 200 greatest singers of all time (2023) by Rolling Stone, as well as one of the greatest R&B artists by Billboard. In addition, NPR named him one of the 50 Great Voices. He was the recipient of eight Grammy Awards, including Song of the Year in 2004 for a track recorded not long before his death, "Dance with My Father". In 2021, he was posthumously inducted into the National Rhythm & Blues Hall of Fame.
---
Fun Facts
In 1974, Vandross's friend, the guitarist Carlos Alomar, invited him to watch the recording of David Bowie's Young Americans album, on which Alomar was working. Bowie overheard Vandross singing and hired him on the spot to sing and arrange background vocals on the record. He ended up co-writing, with Bowie and John Lennon, the hit song, Fame.
Commercial jingles for, among others, Kentucky Fried Chicken, Pepsi Cola, and the US armed forces made him rich before he launched his solo career.
Vandross was never married and had no children and kept is personal life very private. But to answer your next question: yes … yes he was.
When Vandross was born, the doctor asked his mother what the child`s first and middle names were. She had already picked Luther for a first name but hadn`t thought of a middle name; there happened to be a box of Ronzoni spaghetti on the table next to her bed, so she told the doctor that his middle name was Ronzoni, and that is the name on his birth certificate.
Cemetery Information:
Final Resting Place:
George Washington Memorial Park
234 Paramus Road
Paramus, New Jersey, 07652
USA
North America
Map: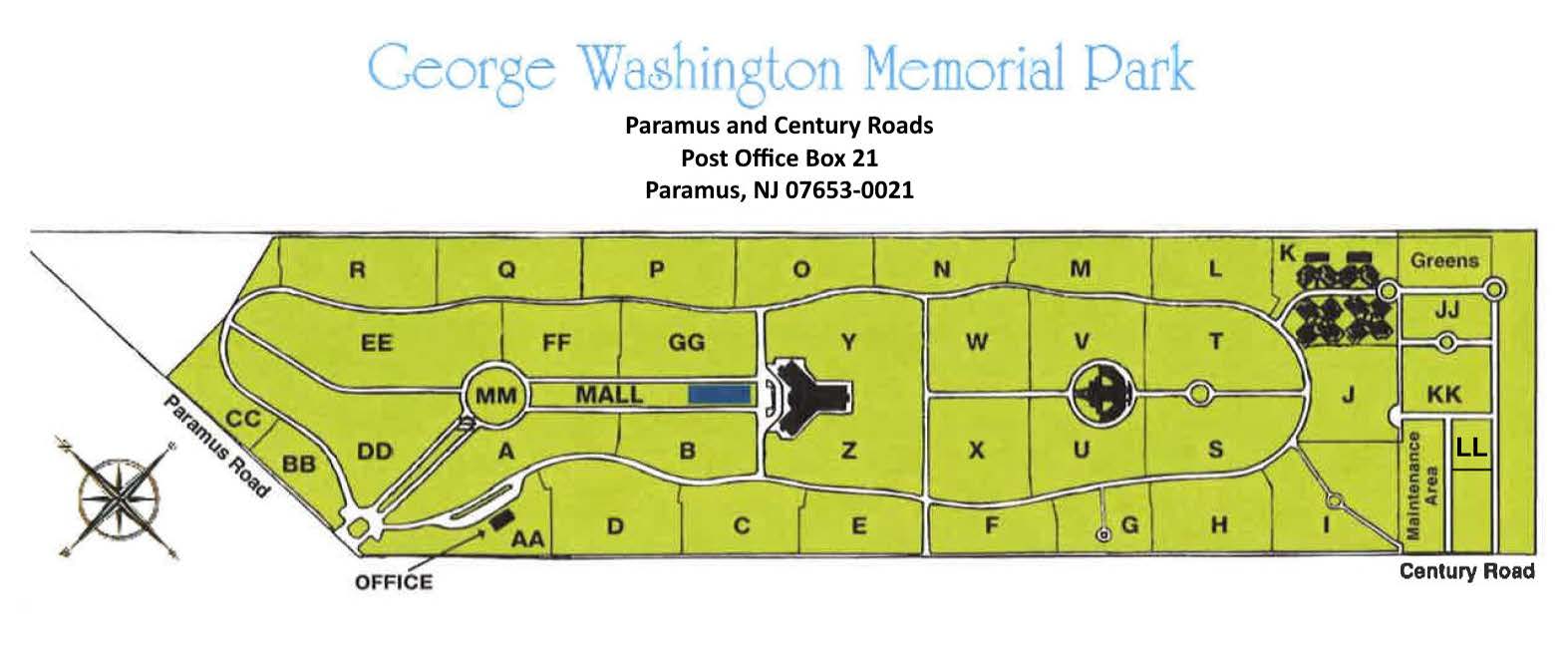 Map of George Washington Memorial Park in Pararmus, New Jersey
Grave Location:
Section K, All Faiths on the Hill Mausoleum, Building 3, Section B, Row A, Tier 4
Grave Location Description
As you enter the cemetery gates, make your way to the far left road and drive to the back of the cemetery. Just before the road veers right to return to the entrance, make a left and park on the right. Walk towards the mausoleum section on the left and walk towards the center. Looking across the courtyard you will see the grave of singer / songwriter Luther Vandross on the outside column. For an added bonus look 2 niches above Luther to see the final resting place of musician Marvin Isley of the Isley Brothers.
Grave Location GPS
40.9375291, -74.0808036
Photos:
Read More About Luther Vandross:
Videos Featuring Luther Vandross:
See More:
Back to Top