Mark Sandman
Birth Date:
September 24, 1952
Birth Place:
Newton, Massachusetts
Place of Death:
Giardini del Principe, Palestrina, Italy
Cause of Death:
Heart attack
Cemetery Name:
Sharon Memorial Park
Mark Sandman was an American singer, songwriter, multi-instrumentalist and record label founder best remembered as the bass player and lead singer for the alt indie rock band Morphine. Sandman possessed a distinctive, deep bass-baritone voice and a mysterious demeanor as he fronted a band lacking guitars or keyboards, yet still created a unique yet accessible smoky, addictive grooves achieved with Mark's two-string bass and Dana Colley's baritone saxophone - and tales of low-register living. He was an indie rock icon and longtime fixture in the Boston/Cambridge music scene and was also a member of the blues-rock band Treat Her Right and founder of Hi-n-Dry, a recording studio and independent record label. He was highly regarded by many other bass players for his unique "slow and murky" style, with Les Claypool, Mike Watt, and Josh Homme all citing Sandman as an influence.
---
How did Mark Sandman pass away?
Morphine singer-bassist Mark Sandman died of cardiac arrest onstage in Palestrina, Italy, on July 3, 1999. That much we do know.
At the beginning of "Supersex," the second song of their set, as the band was doing the introduction Dana Colley looked over to his right and in his words, "… and I just see him, his knees buckle. He fell down, he fell back, with his bass on, and the whole place just came to a complete hush." An ambulance rushed Mark Sandman to the nearest hospital but he was already dead from a massive heart attack. He was 46 with no history of heart trouble.
Naturally the rumors got started that a band with the name Morphine with the dark, penetrating lyrics of Sandman – well obviously it was drugs … right? Well by that logic then the hockey players on the New Jersey Devils hockey team must all be practicing satanist. The fact is Sandman had no love of hard drugs or addiction. He was a driven, control freak (in a good way) who was running a band, writing all the music, overseeing a record label and recording studio and just signed with Dreamworks and was under a lot of pressure to deliver on their 5th album. He also had a 4-pack a day smoking habit and it was 100 degrees when Morphine took the stage in Palestrina, Italy that night. Sadly that combination was instantly fatal and he died on stage at the age of 46.
Cemetery Information:
Final Resting Place:
Sharon Memorial Park
120 Canton Street
Sharon, Massachusetts, 02067
USA
North America
Map: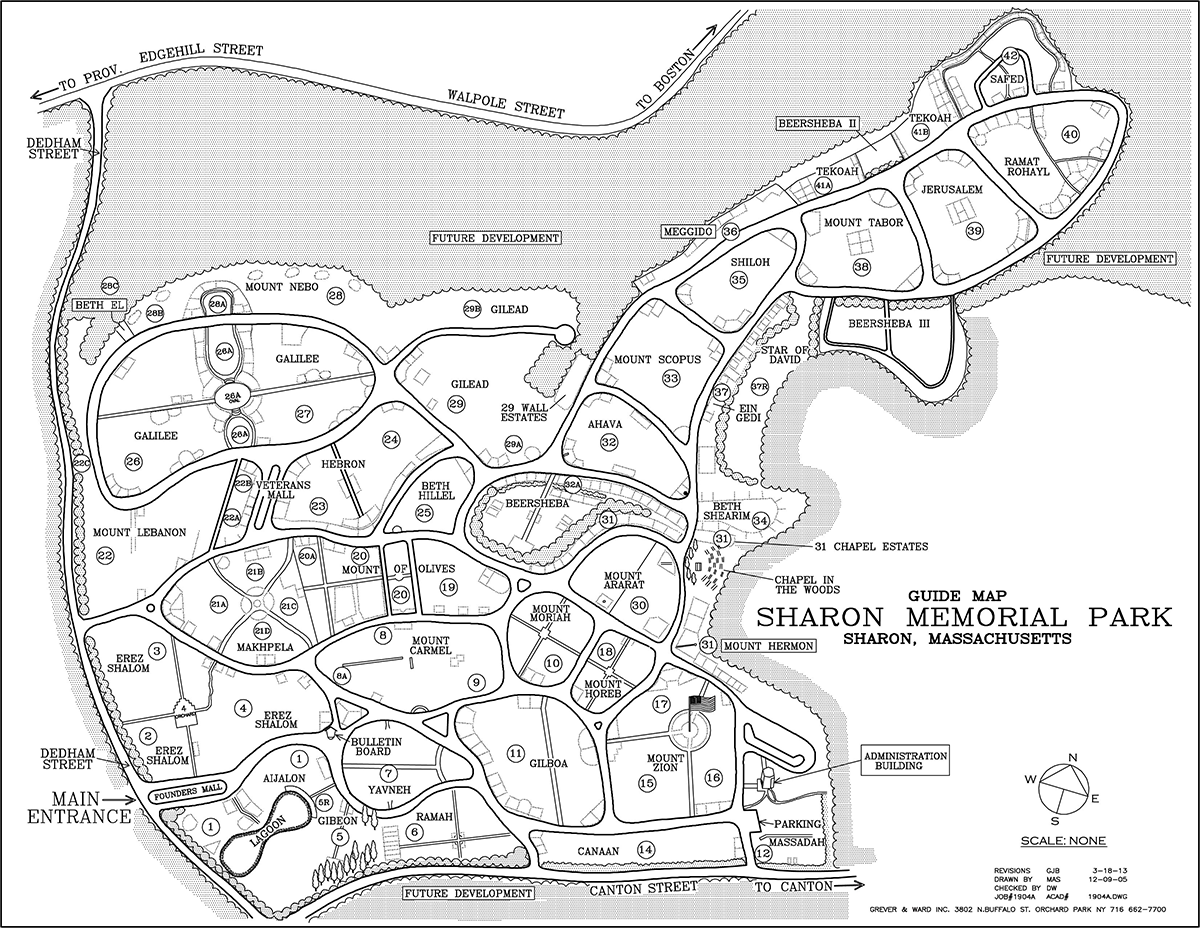 Grave Location:
Galilee (Section 27), Lot 180, Space 1
Grave Location Description
As you drive through the main gates with the administration office on your right, continue and veer slightly to the left. Continue to drive past Mount Ararat (Section 30) and Beth Hillel (Section 25) on your right and when you come to Hebron (Section 23) drive to the end and turn right at Veteran's Mall. Follow that narrow section to the end and directly across from the end of Veteran's Mall is Galilee (Section 27). Walk up this section 15 graves and you will find the graves of Mark Sandman and his two brothers, Jonathon and Roger, who both died tragically young.
Grave Location GPS
42.146477743259126, -71.17476769076184
---
Visiting The Grave:
Photos:
Read More About Mark Sandman:
Videos Featuring Mark Sandman:
See More:
Back to Top