WARNING: EXPLICIT MATERIAL
Martha Moxley
Birth Name:
Martha Elizabeth Moxley
Birth Date:
August 16, 1960
Birth Place:
San Francisco, California
Death Date:
October 30, 1975
Place of Death:
36 Walsh Lane, Greenwich, Connecticut
Cause of Death:
Homicide by blunt trauma
Cemetery Name:
Putnam Cemetery
Claim to Fame:
Crime and their Victims
Martha Moxley was a 15-year-old American high school student from Greenwich, Connecticut, who was murdered in 1975. Moxley was last seen alive spending time at the home of the Skakel family, across the street from her home in Belle Haven. Michael Skakel, also aged 15 at the time, was convicted in 2002 of murdering Moxley and was sentenced to 20 years to life in prison. What we do know: On Oct. 31, 1975, the body of Martha Moxley was found under a pine tree at the edge of her family's property, diagonally across from the Skakel home in the Greenwich enclave of Belle Haven. She had been beaten about the head 15 times with a #6 Toney Penna woman's model golf club with such savagery that the golf club shattered in the attack. She was also stabbed through the neck with the shaft. Police found two of the golf club's pieces nearby. The third—part of the handle and shaft—was never recovered. Despite the conviction of Michael Skakel not once, but twice he was subsequently released from prison 2013 after a judge ruled a third trial would not justified given the passage of time and many witnesses have since died. What we can say with nearly 100% certainty is that Michael and/or his older brother Tommy, with the possible assistance of their cousin Jimmy Terrien—all of them nephews of Ethel Kennedy—murdered Moxley. Proving once again that there are two justice systems - one for the rich and one for everyone else. Today Michael Skakel is a free man who is believed to be living in Florida while his brother Tommy lives in Massachusetts.
---
And the Mystery Continues …
After the second guilty conviction of Michael Skakel, Robert F. Kennedy Jr. released his own book on the case, entitled "Framed. Why Michael Skakel Spent Over a Decade in Prison for a Murder He Didn't Commit." Kennedy said his cousin was innocent and that the likely suspects were two black teenagers from New York who had been in the neighborhood on "Mischief Night" and according to a friend had said they wanted to attack a girl "cave-man style." It is ludicrous to believe two random black teenagers would board a train from NYC to Greenwich, Connecticut and then walk all the way to the private, well guarded enclave of Belle Haven without a single police officer or "concerned" citizen calling security in the all-white, rich residential neighborhood. But this is the kind of "spaghetti-on-the-wall" defense one would expect of the Kennedy Family. By the way, Robert F. Kennedy Jr. is the same Kennedy who is a noted conspiracy theorist and a prominent anti-vaxxer whose claims have been debunked on multiple fronts. He has also been banned from multiple social media outlets.
Ethel Kennedy wrote a long, handwritten letter to the judge bluntly asking that the scales of justice be tipped in the favor of her nephew Michael Skakel asking, "With a heavy heart, yet with hope borne of the morning sun I write to ask that your compassion will tip the scales in your decision regarding my nephew, Michael Skakel."
Sutton Associates, a private-detective firm hired by Rushton Skakel, Michael's father, to divert attention from his son Tommy, found that the Skakel boys were lying contrary to what Rushton hoped would be a report to exonerate his family.
Many of the Skakel Family are buried in the same cemetery as Martha and her father.
Cemetery Information:
Final Resting Place:
Putnam Cemetery
35 Parsonage Road
Greenwich, Connecticut, 06830
USA
North America
Map: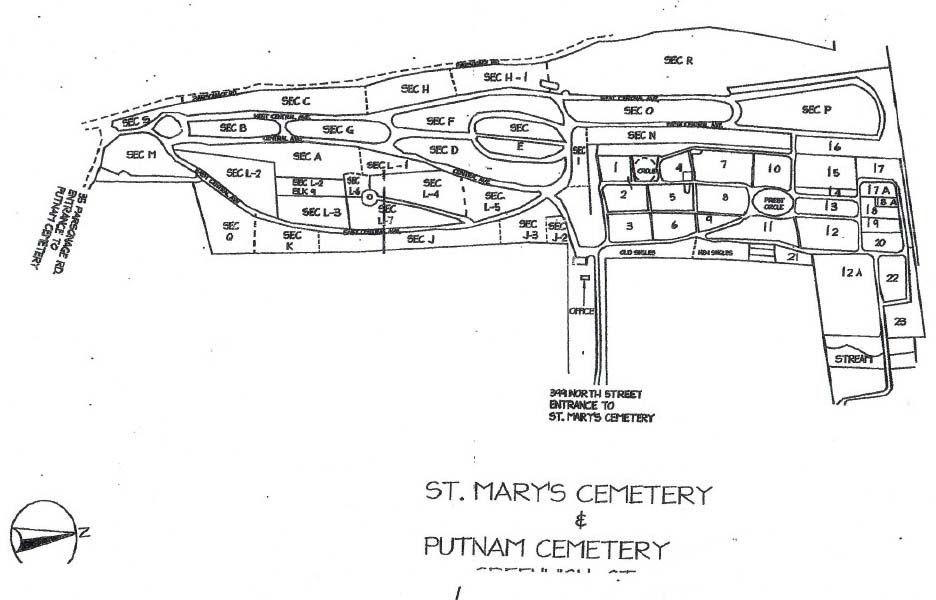 Map of Putnam Cemetery in Greenwich, Connecticut
Grave Location:
Section L-4, Moxley Family Plot
Grave Location Description
From the entrance of the cemetery take the right-most road that runs along the flat part of the cemetery and curves around to the left. At the first opportunity (800 feet) turn left onto a dead end road with a roundabout. Park one-quarter of the way around the roundabout and park. Look to your right 5 rows up into the hill and you will see the black, upright Moxley monument indicating the final resting place for Martha and her father.
Grave Location GPS
41.05812770502989, -73.62178645173668
Photos:
Read More About Martha Moxley:
Videos Featuring Martha Moxley:
See More:
Back to Top