Michael Clarke Duncan
Birth Name:
Michael Clarke Duncan
Birth Date:
December 10, 1957
Birth Place:
Chicago, Illinois
Death Date:
September 3, 2012
Place of Death:
Cedars-Sinai Medical Center, Los Angeles, California
Cause of Death:
Complications from a heart attack
Cemetery Name:
Forest Lawn Memorial Park – Hollywood Hills
Claim to Fame:
Show Business
Remembered for his huge size and deep, resonant voice, American actor Michael Clarke Duncan's breakout role came as John Coffey in The Green Mile (1999), for which he was nominated for the Academy Award for Best Supporting Actor and other honors. In addition to The Green Mile he enjoyed success playing Kingpin in Daredevil and Spider-Man: The New Animated Series (both 2003), Armageddon (1998), The Whole Nine Yards (2000), Planet of the Apes (2001), The Scorpion King (2002), Sin City (2005), and Talladega Nights: The Ballad of Ricky Bobby (2006). Standing at an imposing 6 feet 5 inches, Duncan often gave surprising depth to roles that seemed to hinge on his large size — at times during his career, he weighed more than 300 pounds.
---
Fun Facts
Michael Clarke Duncan credited his casting in The Green Mile to Bruce Willis, with whom he had worked on the film Armageddon one year earlier. According to Duncan, Willis introduced him to the screen writer after hearing of the open call for John Coffey. Basketball player Shaquille O'Neal was offered the role of John Coffey but turned it down.
To say that Michael Clarke Duncan's family intensely dislikes MCD's alleged fiancée at the time of his heart attack is to put it mildly. At the time of his passing months after the actual heart attack, sister Judy Duncan says her suspicions about Omarosa intensified when MCD was hospitalized following his heart attack. She stated that Omarosa was fixated on MCD's money when he was on life support and Omarosa had already sold a significant amount of MCD's personal effects (watches, cars, his 'Green Mile' director's chair, awards). Judy stated that Omarosa sold the stuff without the family's knowledge or consent.
Duncan, who due to his large size (6'5″ and 315 lbs) worked a lot of security jobs early during his early years and was a bodyguard for celebrities like Will Smith, Martin Lawrence, Jamie Foxx, LL Cool J, and The Notorious B.I.G. He quit being a security guard in 1997 after the death of Notorious B.I.G.
Michael Clarke Duncan's final residence and where he suffered his heart attack is in Woodland Hills at 5616 Farralone Ave, Los Angeles, CA 91367 .
Cemetery Information:
Final Resting Place:
Forest Lawn Memorial Park – Hollywood Hills
6300 Forest Lawn Drive
Los Angeles, California, 90068
USA
North America
Map: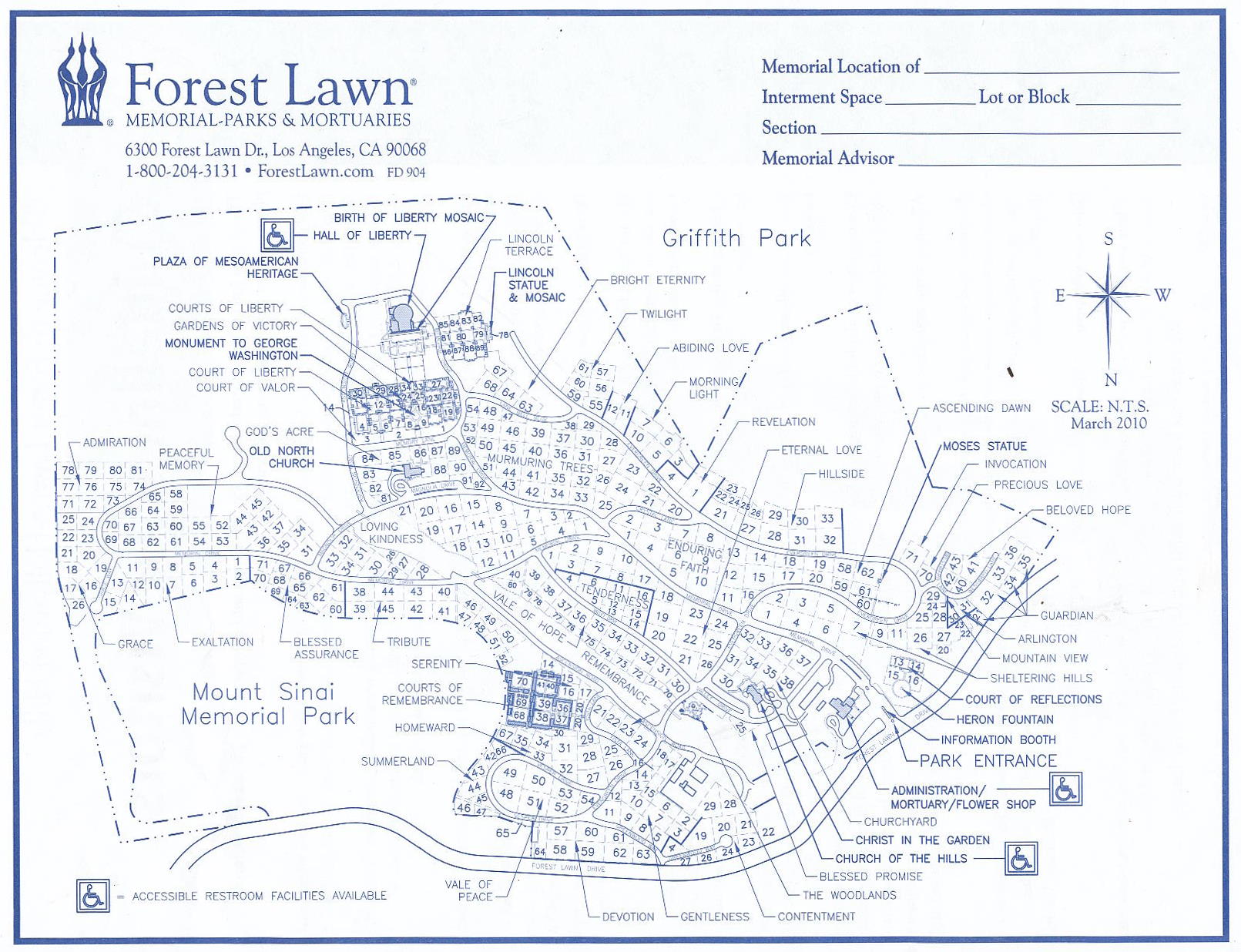 Grave Location:
Courts of Remembrance, Sanctuary of Treasured Love, Wall Crypt 2949
Grave Location Description
As you enter the cemetery gates drive ahead and turn left on Evergreen Drive. With the White Church on your left continue driving and then turn right on Vista Lane and park in front of the large outdoor mausoleum. As you walk to the entry way (with actress Betty Davis crypt on your left) continue walking straight ahead through three corridors and then turn right. Walk down the steps to the fourth corridor and right in front of you you will see the crypt of Debbie Reynolds and Carrie Fisher. Just before their shared crypt you will turn left into the Sanctuary of Treasured Love and walk half-way down and you will see Michael Clarke Duncan's memorial at eye level.
Grave Location GPS
34.149400796307, -118.3195038024
---
Visiting The Grave:
Photos:
Read More About Michael Clarke Duncan:
Videos Featuring Michael Clarke Duncan:
See More:
Back to Top