Michel Berger
Birth Name:
Michel Jean Hamburger
Birth Date:
November 28, 1947
Birth Place:
Neuilly-sur-Seine, France
Death Date:
August 2, 1992
Place of Death:
La Grande Baie, Ramatuelle, France
Cause of Death:
Heart attack
Cemetery Name:
Cimetière de Montmartre
Michel Berger was a popular French singer and songwriter and a leading figure of France's pop music scene for two decades as a singer. As a songwriter he was active for such artists as his wife France Gall, Françoise Hardy and Johnny Hallyday. Berger first became known to the French public in the 1960s as singer of hit song Salut les copains, after which he became record producer and songwriter. In the early 1970s he produced the early albums of Véronique Sanson, and Allah once again in 1989. In 1973, he was responsible for producing the album Message personnel, the title track of which relaunched Françoise Hardy's career. He also produced the single Je suis moi for Hardy. Berger started writing for France Gall in 1974, produced all her albums from 1975 on, and married her the following year. In 1978, he composed the musical: Starmania, with lyrics by Luc Plamondon. The musical starred Gall, Claude Dubois, Daniel Balavoine, Diane Dufresne, Nanette Workman, Éric Estève and Fabienne Thibeault and was a big success in France in the 1980s and 1990s. Unfortunately his career stalled when his next two productions failed and he was under pressure to deliver another best seller. But at the age of 44, Berger suffered a heart attack while playing tennis, and despite the pleas of friends and family, he made his way up the hill to his home in Ramatuelle, France and suffered two more heart attacks in bed. He died waiting for the ambulance that was stuck in traffic from all the tourist in St. Tropez.
---
Not-So-Fun Facts
When we think of Michel Berger, it is impossible to dissociate him from France Gall, who was his muse and his wife for years. But what few people probably know is that before his death the singer had started an affair with a German model, Beatrice Grimm. Many believe the stress of keeping the affair secret, the pressure to deliver new material and the fact that he stopped taking his medications for high blood pressure all contributed to his untimely death.
As the story goes, the singer took advantage of a few days of rest in his house in Ramatuelle with his partner, France Gall, and several of their friends. As often, he played several games of tennis against Marie-Françoise Buart, better known to the general public as Framboise Holtz, without knowing that he was going to lose his life only a few hours later. Exhausted, he collapsed on the court victim of a first heart attack. "At one point, Michel abandons the game " said composer and friend Michel Pelay. He sat on a bench along the court and then gets up saying to us: 'It's really not okay, I'm going back home'. "We don't worry more than that, because we know he's a little tired at that time."
His relatives and especially France Gall failed to reason with him to call emergency services so that they could examine him. Victim of two new heart attacks in the evening, Michel Berger died at the age of 44, struck down in the middle of vacation. "The cardiologist tells us that he had three heart attacks before the arrival of help, which took an hour to come because of the traffic jams in Saint-Tropez", continued those close to the singer. Upon arrival Michel was already dead.
Upon examination, doctors estimated he had maybe 15 days left to live due to the universal blockage to his heart.
Cemetery Information:
Final Resting Place:
Cimetière de Montmartre
20 Avenue Rachel
Paris, , 75018
France
Europe
Map: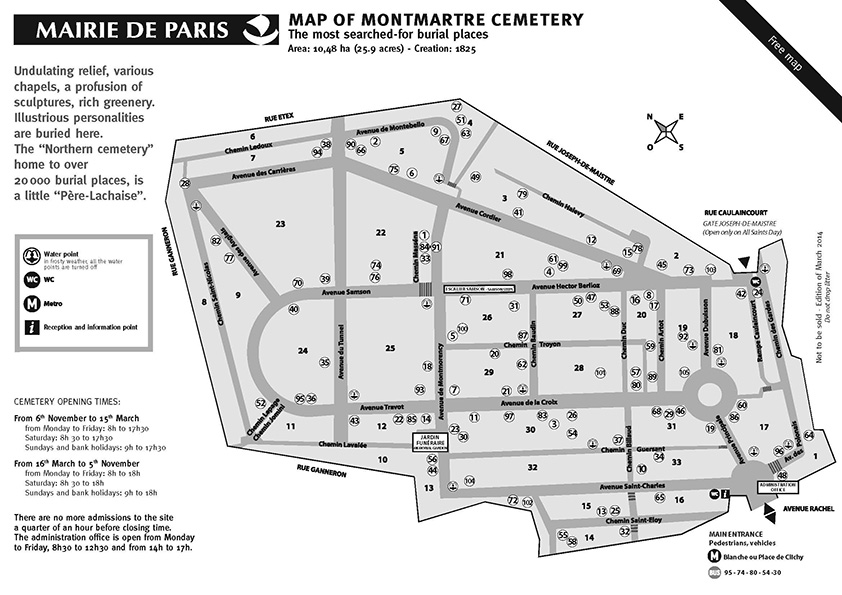 Map of Cimetière de Montmartre in Paris, France
Grave Location:
Division 29
Grave Location Description
Three graves from the intersection of Avenue de la Croix and Avenue Montmorency on the road directly across from Division 30 in roughly the center of the cemetery.
Grave Location GPS
48.88748450286802, 2.3295625324219738
Photos:
Read More About Michel Berger:
Videos Featuring Michel Berger:
See More:
Back to Top