Mickey Rooney
Birth Name:
Ninnian Joseph Yule Jr.
Birth Date:
September 23, 1920
Birth Place:
Brooklyn, New York
Death Date:
April 6, 2014
Place of Death:
3522 Wrightwood Court, Studio City, California
Cause of Death:
Heart disease
Cemetery Name:
Hollywood Forever Cemetery
Claim to Fame:
Show Business
Star of stage, screen and television Mickey Rooney was know for his energy, charisma, versatility and longivity who died with only $18,000 to his name. During his lifetime he racked up over 300 television and movie roles, 8 marriages (including Eva Gardner), 2 bankruptcies, and 1 murdered estranged wife.
---
Fun Fact
Mickey was the last living actor who had  appeared in a movie without sound.
Together, Garland and Rooney made movies at a nonstop pace throughout their teen years. And when we say "nonstop pace," we mean that they'd finish one movie and start another hours later. The kids were expected to work 18-hour days, six days a week, all while looking so wholesome that you could eat cookies off their foreheads. The problem, as MGM soon figured out, was that children need pharmaceutical help to work those kinds of hours. It wasn't long before the kids were given amphetamines to keep them going during the day, and sleeping pills to calm them down at night. They were literally given sleeping pills and a cot in the studio lot "hospital" and then woken after 4 hours of sleep to work another 72 hours straight.
Cemetery Information:
Final Resting Place:
Hollywood Forever Cemetery
6000 Santa Monica Blvd.
Los Angeles, California, 90038
USA
North America
Map: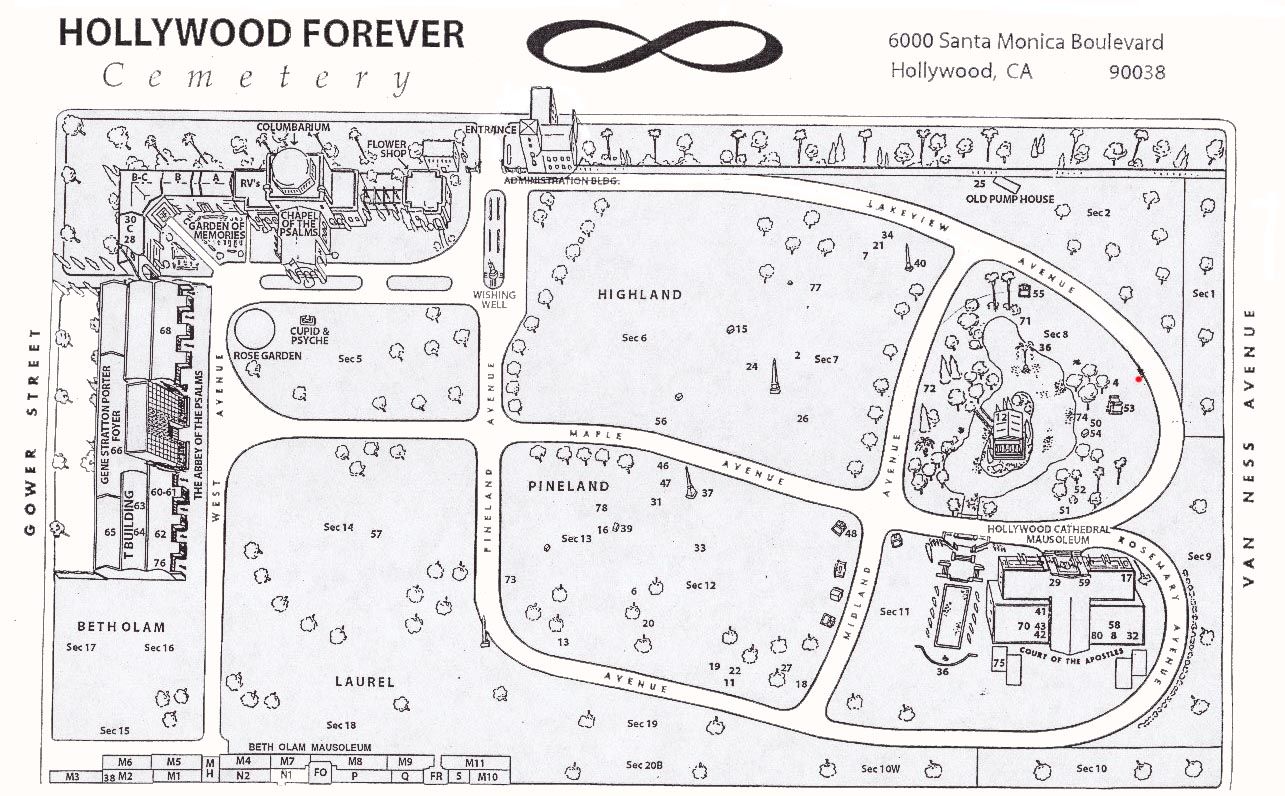 Map of Hollywood Forever Cemetery in Hollywood, California.
Grave Location:
Cathedral Lake View, Elevation 15, Couch B-1501
Grave Location Description
Drive to the left of the cemetery to the Cathedral Mausoleum facing the lake. Mickey's grave is on the outside of the mausoleum on the right.
Grave Location GPS
34.0884461,-118.3167712
---
Visiting The Grave:
Photos:
Read More About Mickey Rooney:
Videos Featuring Mickey Rooney:
See More:
Back to Top