Miles Davis
Birth Name:
Miles Dewey Davis III
Birth Place:
Alton, Illinois
Death Date:
September 28, 1991
Place of Death:
St. John's Hospital, Santa Monica, California
Cause of Death:
Stroke, pneumonia, and respiratory failure
Cemetery Name:
Woodlawn Cemetery
There are few musical geniuses in this world, but as jazz trumpeter, composer and bandleader Miles Davis is one of the most influential and acclaimed figures in the history of jazz and 20th-century music. His sound, technique and restless innovation as an individual performer and as a leader of jazz bands and groups won him recognition as perhaps the foremost setter of style and fashion in what is often called America's only indigenous musical art form.
---
The rest of the story …
Injuries and health problems had plagued Miles Davis for years. He had undergone treatment for diabetes, had problems with a hip joint that were attributed to sickle cell anemia and broke both legs in a 1972 automobile accident. By his own admission, Davis overcame heroin addiction in the 1950s, but later used cocaine for a time.
Even though his Wikipedia entry is wiped clean of any controversy, let's make this perfectly clear – Miles Davis was an asshole. For example, his treatment of women is contemptible: he wasn't averse to slugging them to keep them in line. The women in his life rarely brought it up—perhaps to salvage their own dignity, or maybe because of fear of reprisals. But in a rare interview with The New York Times, his first wife, Frances Davis, recalled, "I actually left running for my life—more than once."
Even at the end of his life he held everyone in contempt. After a routine check-up at St. John's Hospital in Santa Monica, California doctors suggested he have a tracheal tube implanted to relieve his breathing after repeated bouts of bronchial pneumonia. The suggestion provoked an such a profound outburst from Davis that it led to an intracerebral hemorrhage followed by a coma. He died two weeks later.
Cemetery Information:
Final Resting Place:
Woodlawn Cemetery
4199 Webster Avenue
Bronx, New York, 10470
USA
North America
Map: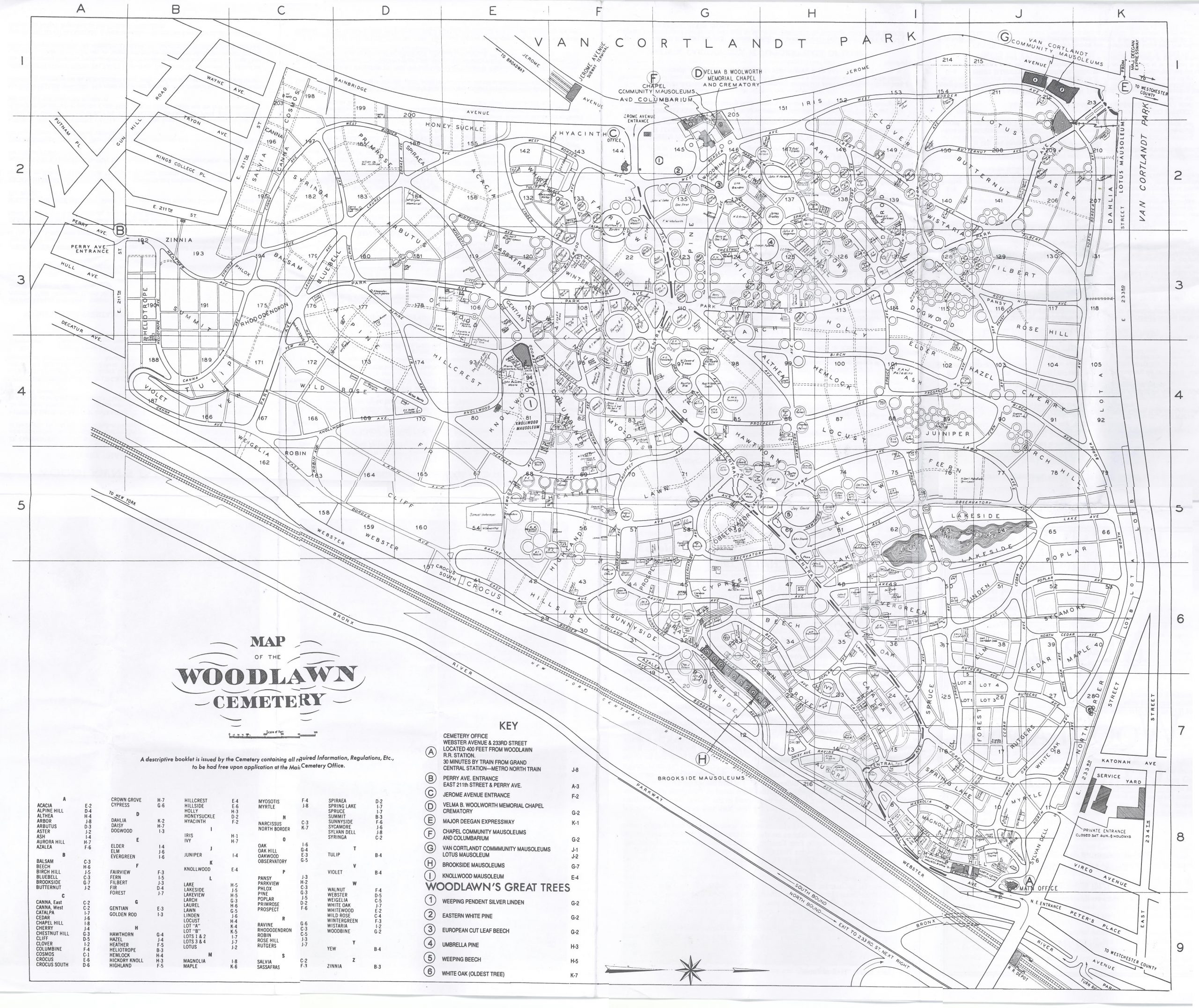 Grave Location:
Jazz Corner
Grave Location Description
The above ground crypt of Miles Davis is located at the intersection of Alpine, Fir and Heather Avenue across from Duke Ellington and Lionel Hampton. This area of the cemetery is called Jazz Corner as there are literally 10+ jazz giants buried within 100 feet of Miles Davis' grave.
Grave Location GPS
40.8850364,-73.8718262
---
Visiting The Grave:
Photos:
Read More About Miles Davis:
Videos Featuring Miles Davis:
See More:
Back to Top