Ric Ocasek
Birth Name:
Richard Theodore Otcasek
Birth Date:
March 23, 1944
Birth Place:
Baltimore, Maryland
Death Date:
September 15, 2019
Place of Death:
140 E. 19th Street, Gramercy Park, New York City, New York
Cause of Death:
Hypertensive heart and coronary artery disease
Cemetery Name:
Nine Partners Cemetery
Musician, primary vocalist, rhythm guitarist, songwriter, record producer, and frontman for the American new wave band The Cars, Ric Ocasek led the Cars to huge international success from 1978 until 1988. The Cars reached their highest UK chart position, No 3, with My Best Friend's Girl in November 1978 and enjoyed hits with Just What I Needed, Let the Good Times Roll, You Might Think, Let's Go and, best and biggest of all, the aching ballad Drive (sung by the late Benjamin Orr). In addition to his work with The Cars, Ocasek recorded seven solo albums, and his song "Emotion in Motion" was a top 20 hit in the United States in 1986. Ocasek also worked as a record producer for artists such as Motion City Soundtrack, Suicide, Bad Brains, Weezer, Nada Surf, Guided by Voices, and No Doubt. In 2018, Ocasek was inducted into the Rock and Roll Hall of Fame as a member of The Cars.
---
Fun Facts
In 2010, Ocasek reunited with the surviving original members of the Cars to record their first album in 24 years. The album, entitled Move Like This, was released on May 10, 2011. Not long after the album's release and its minimal supporting tour, the Cars resumed their hiatus, and reunited once again in April 2018 for a performance at the ceremony of their induction into the Rock and Roll Hall of Fame.
The Cars have a really bad reputation as being one of the worst live bands in concert. During their 10-year run, they only played an estimated 150 concerts total. Contrast with Ramones who played live over 2,000 time during their career or Metallica, who was known to play 300+ dates a year during their heydays.
Ocasek was found dead on September 15, 2019 by his estranged wife, Paulina Porizkova, at his New York City townhouse, which they still shared following their separation in 2017. He had been recovering nicely from surgery when Paulina, his primary caregiver, found him unresponsive. Porizkova and Ocasek were still in the process of their divorce, but he had disinherited her in a new will, alleging that before his recent surgery she had abandoned him. He also disinherited two of his six sons (Chris and Adam). The dispute between Porizkova and the Ocasek estate was resolved in about 35 seconds when she was awarded a portion of his estate under New York Law.
Paulina Porizkova has since resumed her highly lucrative career as a top model.
Cemetery Information:
Final Resting Place:
Nine Partners Cemetery
Church Street
Milbrook, New York, 12545
USA
North America
Map: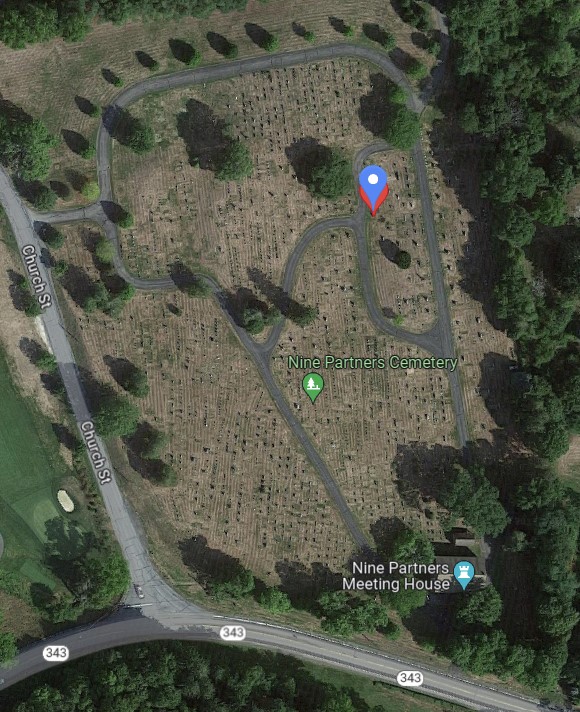 Map of Nine Partners Cemetery in Milbrook, New York
Grave Location:
Plot O
Grave Location Description
As you enter the cemetery from the Church Street entrance, turn right then an immediate left and drive to the end of the road at the 3-way intersection. New wave 80s icon and frontman for the Cars is buried about 30 feet from the intersection up the slight hill.
Grave Location GPS
41.77716270549031, -73.68789935029093
---
Visiting The Grave:
Photos:
Read More About Ric Ocasek:
Videos Featuring Ric Ocasek:
See More:
Back to Top