Ronnie James Dio
Birth Name:
Ronald James Padavona
Birth Date:
July 10, 1942
Birth Place:
Portsmouth, New Hampshire
Place of Death:
M.D. Anderson Clinic, Houston, Texas
Cause of Death:
Stomach cancer
Cemetery Name:
Forest Lawn Memorial Park – Hollywood Hills
Ronnie James Dio was an American heavy metal singer, songwriter and composer who is considered by many to be one of the great heavy metal vocalist. He fronted or founded numerous groups throughout his career, including Elf, Rainbow, Black Sabbath, Dio, and Heaven & Hell. His successful career began in 1967 when he formed the rock band Elf, which became a regular opening act for Deep Purple. In 1975, Deep Purple guitarist Ritchie Blackmore founded the band Rainbow and hired Dio to be his lead singer; during his tenure, the band released three studio albums. Dio quickly emerged as one of heavy rock's pre-eminent vocalists. In 1979, Dio replaced Ozzy Osbourne as Black Sabbath's lead singer and appeared on three studio albums with the band, all three of which met with success: Heaven & Hell (1980), Mob Rules (1981) and Dehumanizer (1992). In 1982, he left to form the band Dio, which itself had two albums certified platinum by the RIAA. In 2006, he founded the band Heaven & Hell with ex-bandmate Tony Iommi. He was awarded the "Metal Guru Award" by Classic Rock Magazine in 2006. He was also named the "Best Metal singer" at the Revolver Golden Gods Awards in 2010 and ranked as the genre's best vocalist in 2013 by music journalist Sacha Jenkins.
---
Fun Facts
While Ronnie James Dio is regarded as one of the greatest and most influential heavy metal artists of all time, he may be best remembered for popularizing the "Metal Horns" or "Throwing Horns" hand gesture in metal culture. According to a version provided by the singer himself, the act derives directly from the classic Italian apotropaic gesture, which his grandmother did on a regular basis.
The first time Dio quit or thrown out of Black Sabbath was in 1982 when conflict arose over the mixing of the Live Evil album. Iommi asserted that the album's engineer began complaining to him that he would work all day long on a mix, only to have Dio return to the studio at night to "do his own mix" in which his vocals were more prominent. This was denied by Dio. The conflict led to Dio and Appice ultimately quitting the band later that year.
Rainbow, the band he joined led by Ritchie Blackmore, was named after the infamous rock star watering hole, the Rainbow Bar and Grill on the Sunset Strip in Los Angeles. Coincidentally, it was where Dio met his wife Wendy, who was a waitress at the establishment and who was introduced to Dio by Blackmore who knew Wendy back in her native England.
Cemetery Information:
Final Resting Place:
Forest Lawn Memorial Park – Hollywood Hills
6300 Forest Lawn Drive
Los Angeles, California, 90068
USA
North America
Map: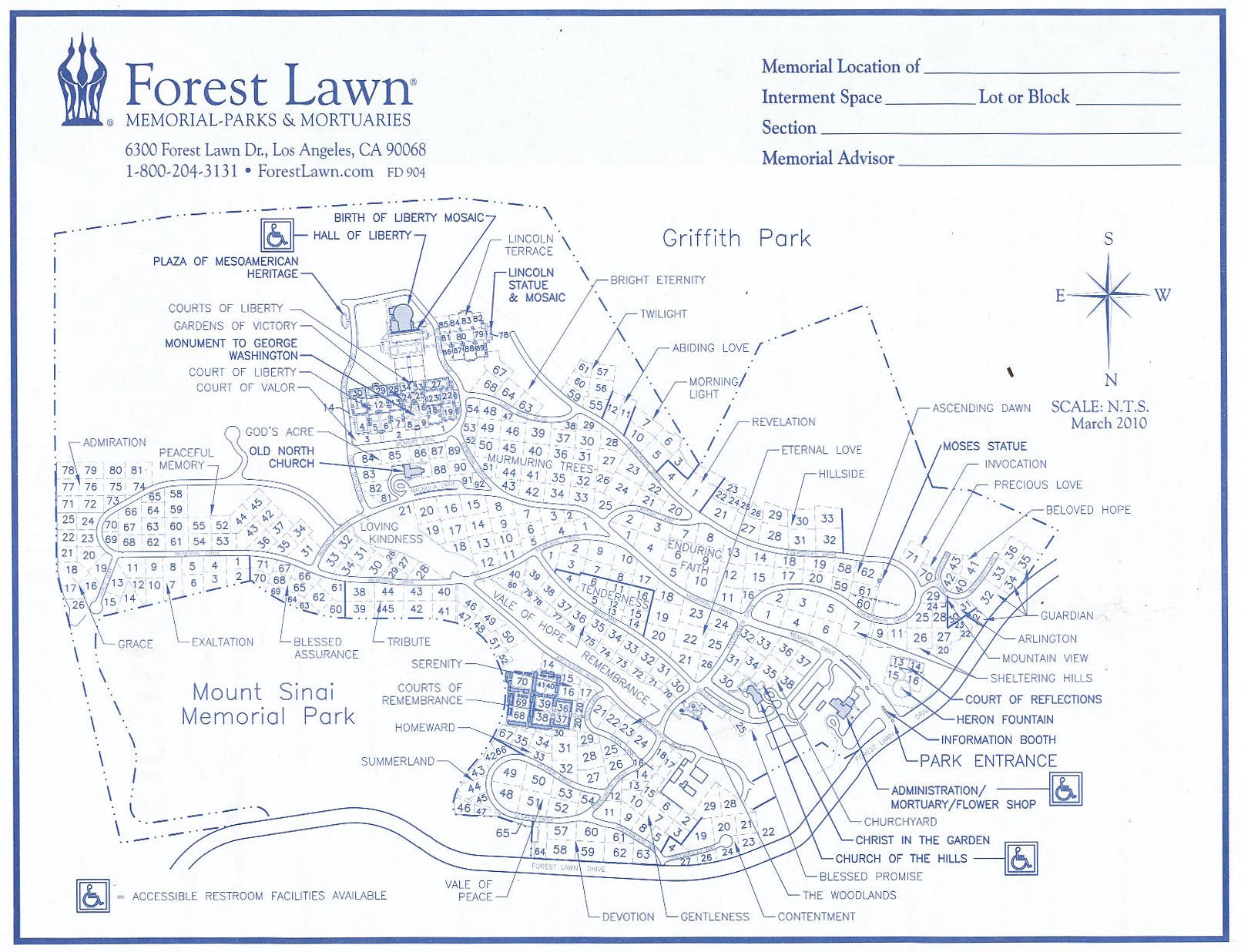 Grave Location:
Courts of Remembrance, Distinguished Memorial, Sarcophagus 77
Grave Location Description
As you enter the cemetery gates drive ahead and turn left on Evergreen Drive. With the White Church on your left continue driving and then turn right on Vista Lane and park in front of the large outdoor mausoleum. As you walk to the entry way (with actress Betty Davis crypt on your left) continue walking straight ahead through three corridors. Look to your right and along the wall you will see the large Ronnie James Dio sarcophagus complete with throwing horns vases on both sides of his final resting place. While in the neighborhood don't forget to visit Lemmy nearby.
Grave Location GPS
34.1498058348, -118.3196120445
---
Visiting The Grave:
Photos:
Read More About Ronnie James Dio:
Videos Featuring Ronnie James Dio:
See More:
Back to Top