Saint Mungo
Birth Place:
Culross, Fife
Death Date:
January 13, 614
Place of Death:
Glasgow, Kingdom of Strathclyde
Cause of Death:
Natural causes
Cemetery Name:
Glasgow Cathedral
Claim to Fame:
Historical Figure
Kentigern, known as Mungo, was a missionary in the Brittonic Kingdom of Strathclyde in the late sixth century, and the founder and patron saint of the city of Glasgow. On the spot where Mungo was buried now stands the cathedral dedicated in his honor. His shrine was a great center of Christian pilgrimage until the Scottish Reformation. His remains are said to still rest in the crypt. A spring called "St. Mungo's Well" fell eastwards from the apse.
---
Fun Fact
Mungo's mother Teneu was a princess, the daughter of King Lleuddun who ruled a territory around what is now Lothian in Scotland. She became pregnant after being raped by Owain mab Urien according to the British Library manuscript. However, other historic accounts claim Owain and Teneu had a love affair whilst he was still married to his wife Penarwen and that her father, King Lot, separated the pair after she became pregnant (are you still following this?). Later, allegedly, after Penarwen died, Tenue returned to King Owain and the pair were able to marry before King Owain met his death battling Bernicia in 597 AD. Her furious father had her thrown from the heights of Traprain Law. Surviving, she was then abandoned in a coracle in which she drifted across the Firth of Forth to Culross in Fife. It is there that Mungo was born … or so they say.
Cemetery Information:
Final Resting Place:
Glasgow Cathedral
Castle Street
Glasgow, , G4 0QZ
United Kingdom
Europe
Map: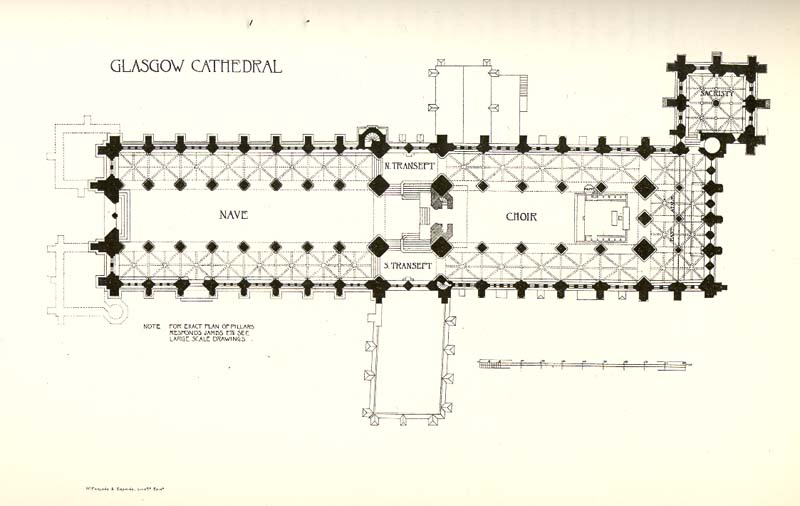 Glasgow Cathedral floor plan
Grave Location:
Saint Mungo's Tomb
Grave Location Description
As you enter the cathedral, stay to the center until you come to the tomb of Saint Mungo.
Grave Location GPS
55.863034742045954, -4.2345876665684745
Photos:
Read More About Saint Mungo:
Videos Featuring Saint Mungo:
See More:
Back to Top