Sarah Bernhardt
Birth Name:
Henriette-Rosine Bernard
Birth Date:
October 23, 1844
Birth Place:
5 rue de l'École-de-Médicine, Paris, France
Death Date:
March 26, 1923
Place of Death:
Paris, France
Cause of Death:
Kidney disease
Cemetery Name:
Cimetière du Père Lachaise
Claim to Fame:
Show Business
Sarah Bernhardt was a French stage actress who starred in some of the most popular French plays of the late 19th and early 20th centuries, including La Dame Aux Camelias by Alexandre Dumas; Ruy Blas by Victor Hugo, Fédora and La Tosca by Victorien Sardou, and L'Aiglon by Edmond Rostand. She also played male roles, including Shakespeare's Hamlet. Rostand called her "the queen of the pose and the princess of the gesture", while Hugo praised her "golden voice". She made several theatrical tours around the world, and was one of the first prominent actresses to make sound recordings and to act in motion pictures. Hailed as "the Divine Sarah," Sarah Bernhardt is recognized as the first international stage star and considered by many to be the finest actress in the world. She debuted in the title role of Racine's Iphigénie in 1862 and built a reputation as a versatile actress with an expressive voice and poetic gestures. Throughout the 1880s and 1890s, she pursued multiple careers, buying a series of French theaters to produce modern experimental plays while touring Europe, the United States, Latin America, and Canada. She also wrote, painted, and sculpted. During a 1905 performance in Rio de Janeiro, Bernhardt badly injured her knee, which finally required amputation in 1915. Despite her injury, Bernhardt performed on stage and in films until weeks before her death.
---
Fun Facts
Over the course of her life, Sarah Bernhardt turned many more co-stars into lovers. She was also muse to many, including Oscar Wilde, Edmond Rostand, and Marcel Proust. She evolved from muse to maker, developing her talents in writing, painting, and sculpture. Louise Abbéma, an expressionist painter with whom Sarah had her most notable same-sex affair, was a fan of her work.
She is also linked with the success of artist Alphonse Mucha, whose work she helped to publicize. Mucha would become one of the most sought-after artists of this period for his Art Nouveau style.
Cemetery Information:
Final Resting Place:
Cimetière du Père Lachaise
16 Rue du Repos, 6ème division, Chemin Lesseps
Paris, , 75020
France
Europe
Map: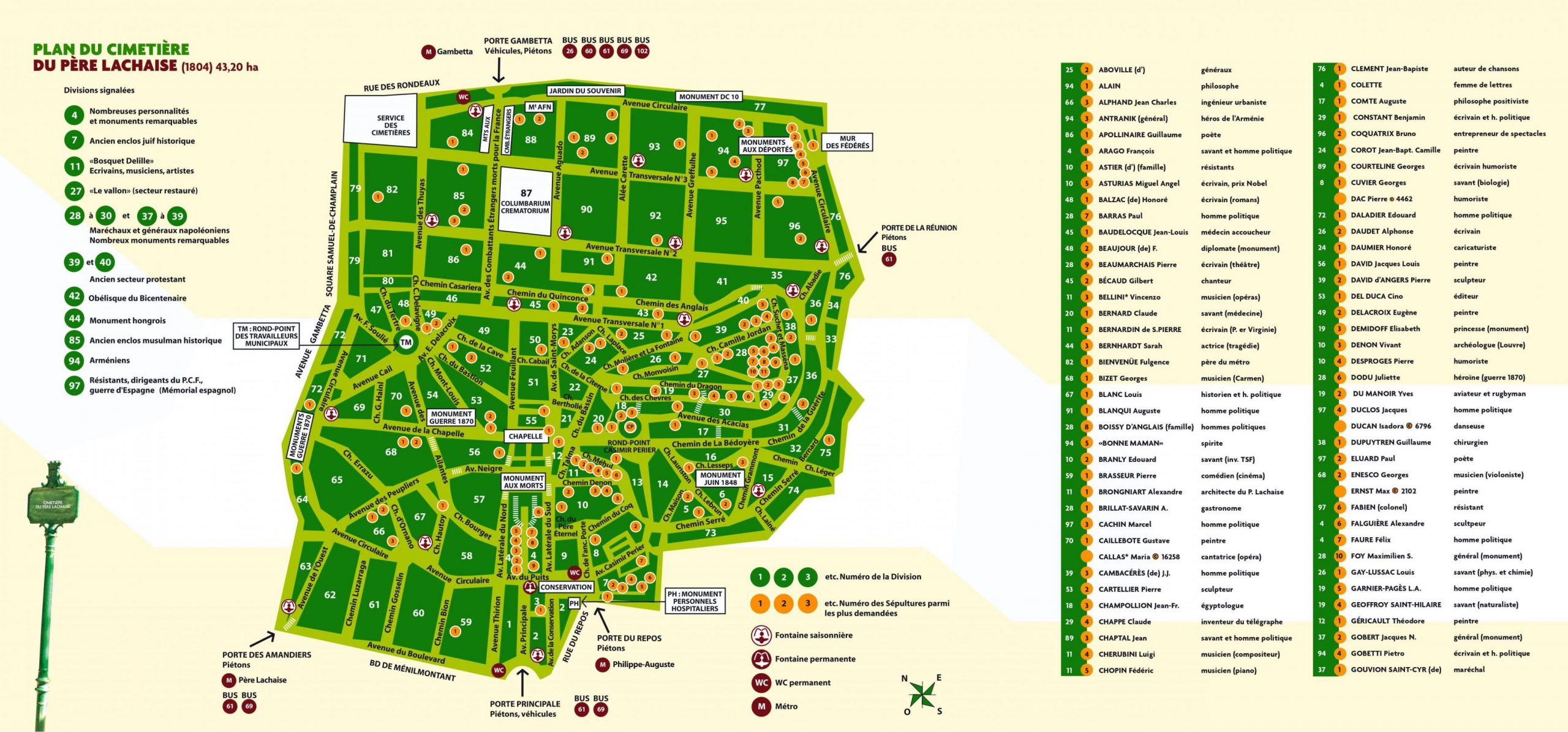 Grave Location:
Division 44, Plot 6
Grave Location Description
Her final resting place is literally in the very center of the cemetery. As you make your way look for the intersection of Chemin du Quinconce, Chemin du Anglais and Chemin du LaPlace. From Chemin du Quinconce turn left and look for a very narrow path one full row off the road. Sarah Bernhardt's grave in nestled in-between several large tombs and may take a little effort on your part to find her.
Grave Location GPS
48.861206376275796, 2.395273221493363
Photos:
Read More About Sarah Bernhardt:
Videos Featuring Sarah Bernhardt:
See More:
Back to Top