Teresa Wright
Birth Name:
Muriel Teresa Wright
Birth Date:
October 27, 1918
Birth Place:
Harlem, New York
Death Date:
March 6, 2005
Place of Death:
Yale-New Haven Hospital, New Haven, Connecticut
Cause of Death:
Heart attack
Cemetery Name:
Evergreen Cemetery
Claim to Fame:
Show Business
Perhaps one of the greatest actresses you never heard of, Teresa Wright should be remembered for as the only performer to have received Academy Award nominations for her first three films. She was nominated twice for the Academy Award for Best Supporting Actress: in 1941 for her debut work in The Little Foxes, and in 1942 for Mrs. Miniver, winning for the latter. That same year, she received a nomination for the Academy Award for Best Actress for her performance in The Pride of the Yankees, opposite Gary Cooper. She is also known for her performances in Alfred Hitchcock's Shadow of a Doubt (1943) and William Wyler's The Best Years of Our Lives (1946). In fact, the first six films she starred in are all considered Hollywood film classics. In addition to film work, Wright received three Emmy Award nominations for her performances in the Playhouse 90 original television version of The Miracle Worker (1957), in the Breck Sunday Showcase feature The Margaret Bourke-White Story, and in the CBS drama series Dolphin Cove (1989). She earned the acclaim of top film directors, including William Wyler, Alfred Hitchcock, Elia Kazan and Francis Ford Coppola. If one is known for the company you keep, then Teresa Wright was in very good company acting opposite to Marlon Brando, Lew Ayres, Bette Davis, Gary Cooper, Fredric March, Myrna Loy and Greer Garson. Her final film role before her passing was as Miss Birdie in John Grisham's The Rainmaker (1997).
---
Fun Facts
Upon signing a five-year Hollywood contract with the Goldwyn Studios, Teresa Wright asserted her seriousness as an actress with her  contract containing this clause which was unique even by Hollywood standards:
The aforementioned Teresa Wright shall not be required to pose for photographs in a bathing suit unless she is in the water. Neither may she be photographed running on the beach with her hair flying in the wind. Nor may she pose in any of the following situations: In shorts, playing with a cocker spaniel; digging in a garden; whipping up a meal; attired in firecrackers and holding skyrockets for the Fourth of July; looking insinuatingly at a turkey for Thanksgiving; wearing a bunny cap with long ears for Easter; twinkling on prop snow in a skiing outfit while a fan blows her scarf; assuming an athletic stance while pretending to hit something with a bow and arrow.
Cemetery Information:
Final Resting Place:
Evergreen Cemetery
769 Ella T Grasso Blvd
New Haven, Connecticut, 06519
USA
North America
Map: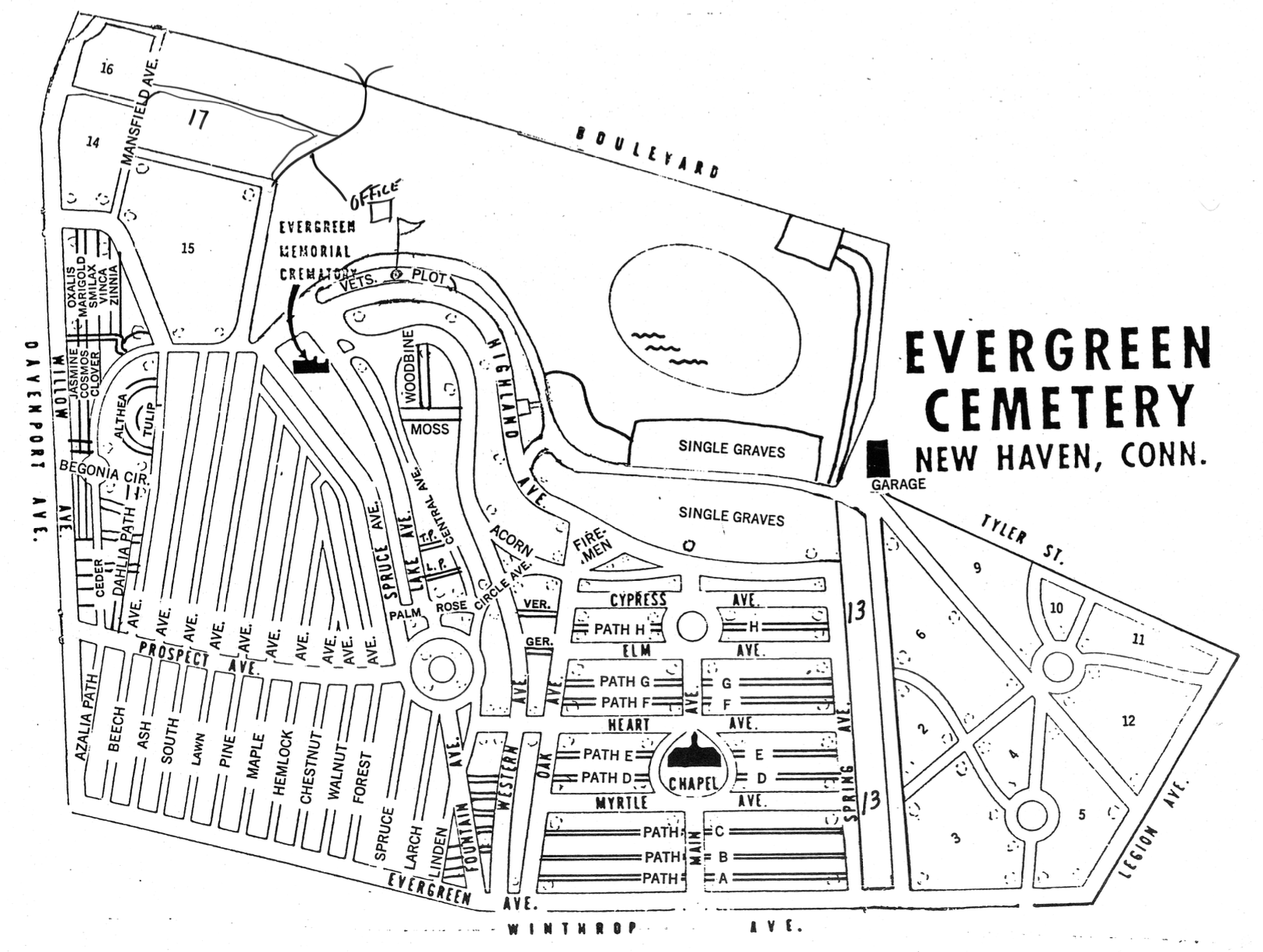 Map of Evergreen Cemetery in New Haven, Connecticut
Grave Location:
Section 14
Grave Location Description
As you enter the cemetery from Ella T Grasso Blvd take the first right and drive to the end of the road at the border fence. Turn left and drive approximately 200 feet to the corner of Section 14. Look to your left and you will see the upright monument to Yale University School of Medicine. It is here that Teresa was laid to rest after donating her body to science. Her grave is unmarked.
Grave Location GPS
41.298507, -72.947250
---
Visiting The Grave:
Photos:
Read More About Teresa Wright:
Videos Featuring Teresa Wright:
See More:
Back to Top