Tommy Sullivan
Birth Name:
Thomas W. Sullivan
Birth Place:
Boston, Massachusetts
Death Date:
December 22, 1957
Place of Death:
Sidewalk, 646 E 5th Street, Boston, Massachusetts
Cause of Death:
Homicide - gunshot wounds
Cemetery Name:
New Calvary Cemetery
Claim to Fame:
Crime and their Victims
Tommy Sullivan was a local light heavyweight sensation known for his almost mythical physical strength and a hard-charging, teeth-clenching, just-try-and-stop-me fighting style. Often heard hollering, "Come on, come on!" at his opponent, "My mother and father tell me to win in a hurry. 'Don't fool around,' says my dad. 'Get it over with.' " He was gunned down by the members of the local McLaughlin Irish mob and though it considered "unsolved", everyone in Southie knew who did it and revenge was brutal.
---
In retaliation for extorting money from his friend, Sullivan had committed the ultimate crime – he had bested the sluggish Edward "Punchy' McLaughlin in a barroom brawl. Two weeks later Tommy was gunned down just down the street from the home he shared with his mother. Too grief-stricken to attend her son's funeral out of Gate of Heaven church, they rerouted the funeral procession in front of Mary's home. On Jan. 3, 1958, 11 days after Harold Hannon, Jimmy O'Toole and Punchy McLaughlin gunned Tommy down, Mrs. Sullivan died of a broken heart at the age of 83.
Hannon didn't survive the Irish Gang War. Hannon and his friend Willie Delaney were set up by Buddy McLean and the feared Joe "The Animal" Barboza in August of 1964. A good looking lady willing to have sex with both men lured them back to an apartment. Hannon suffered a horrific death. They had come to get revenge for Tommy Sullivan murder 7 years before. While Hannon was tortured for hours, McLean decided to go easier on Willie Delaney, who just happened to be with Hannon. He gave Delaney a bottle of liquor and a handful of sleeping pills before strangling him. Hannon was tossed in the river and medical examiners concluded that a blowtorch had been used on his genitals.
Cemetery Information:
Final Resting Place:
New Calvary Cemetery
800 Harvard Street
Mattapan, Massachusetts, 02124
USA
North America
Map: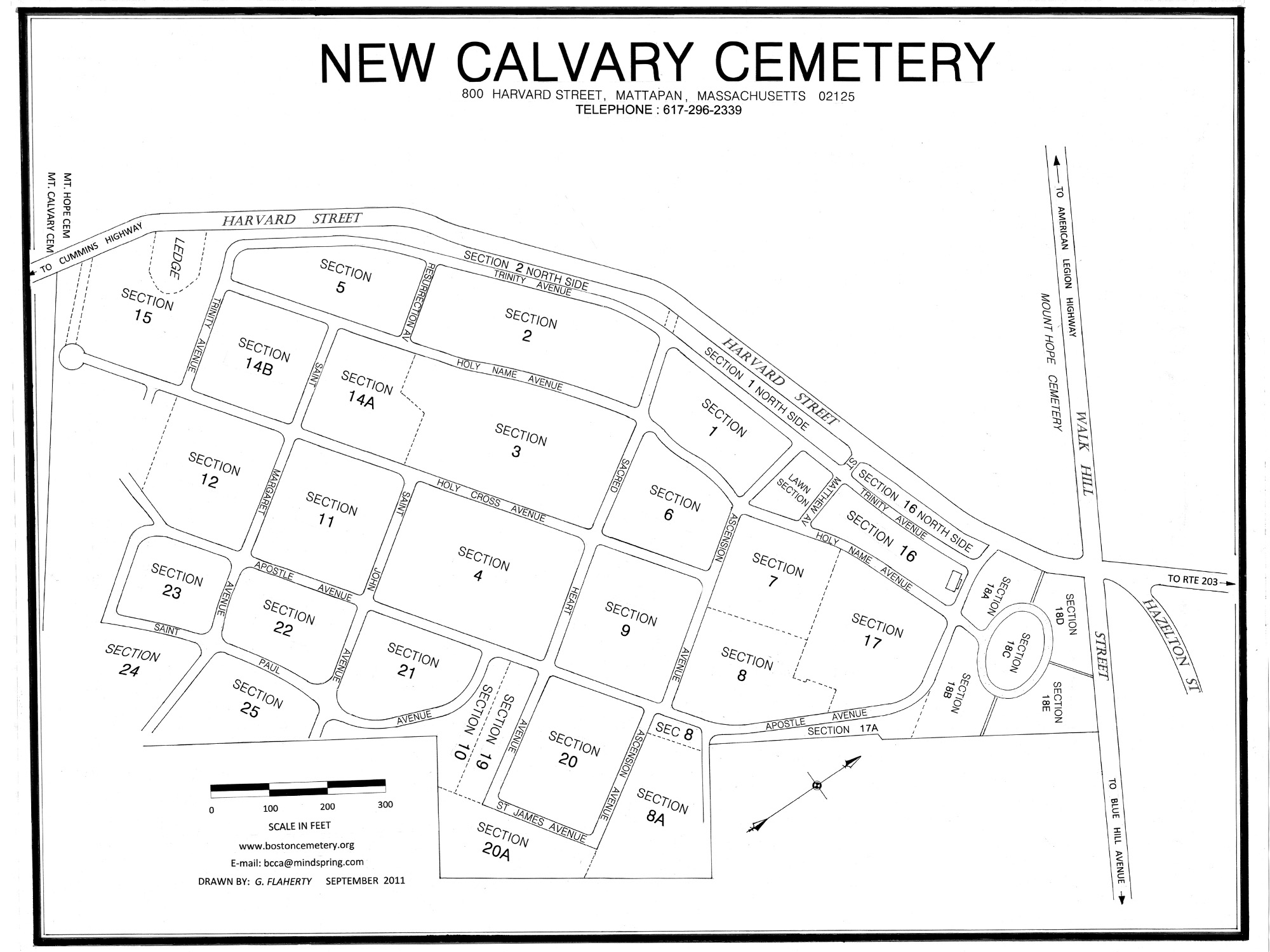 Grave Location:
Section 1, Grave 851
Grave Location Description
As you enter the cemetery from Harvard Street, turn right just after the office onto Holy Name Avenue. Continue past Ascension Avenue and park 100 feet down on the right after the intersection (that's Section 1 on your right). Look for the "Carroll" monument on the road 10 feet from the tree and go behind that monument and walk down the row at an angle and you will see the Sullivan Family grave with both Tommy and his mother Mary (who died 11 days after his murder from a broken heart).
Grave Location GPS
42.28092797, -71.10278531
---
Visiting The Grave:
Photos:
Read More About Tommy Sullivan:
Videos Featuring Tommy Sullivan:
See More:
Back to Top