Webb Pierce
Birth Name:
Michael Webb Pierce
Birth Date:
August 8, 1921
Birth Place:
West Monroe, Louisiana
Death Date:
February 24, 1991
Place of Death:
821/825 N Curtiswood Lane, Nashville, Tennessee
Cause of Death:
Pancreatic cancer
Cemetery Name:
Woodlawn Memorial Park
Webb Pierce was one of the most popular honky-tonk vocalist, songwriter and guitarist of the 1950s, charting more number one hits than any other country artist during the decade. Webb's biggest hit was "In the Jailhouse Now", which charted for 37 weeks in 1955, 21 of them at number one. Pierce also charted number one for several weeks each with his recordings of "Slowly" (1954), "Love, Love, Love" (1955), "I Don't Care" (1955), "There Stands the Glass" (1953), "More and More" (1954), "I Ain't Never" (1959), and his first number one "Wondering", which stayed at the top spot for four of its 27 weeks' charting in 1952. Other hits included "Teenage Boogie," "Tupelo County Jail" and "Bye Bye Love," later a hit for the Everly Brothers. For many, Pierce, with his flamboyant Nudie suits, twin silver dollar-lined convertibles and guitar-shaped pool became the most recognizable face of country music of the era. Pierce was a one-time member of the Grand Ole Opry, was posthumously inducted into the Country Music Hall of Fame and Cash Box Magazine, a music industry weekly, named him top country male vocalist of the year eight times from 1952 to 1963.
---
Fun Facts
His iconic hit "Teenage Boogie" was covered by British band T. Rex as "I Love to Boogie" in 1974, but credited as being written by the group's lead singer Marc Bolan and not Pierce. The music of Webb was also made popular during the British rockabilly scene in the 1980s and 1990s.
Even after is decline in popularity, Webb still had a devoted fan base that was perhaps drawn to his flamboyant personality. The Nudie Suits, the fact he had Nudie Cohen line a couple Cadillacs he owned with Silver Dollars and the $30,000 swimming pool he had built at his home in the shape of a guitar made him oddly endearing. In the early 1970s he made his home a tourist attraction of sorts where he regularly had shows and charged admission. The attendance peaked at around 3,000 people a week causing his neighbors, led by fellow country singer Ray Stevens, to sue him to stop the shows.
Cemetery Information:
Final Resting Place:
Woodlawn Memorial Park
660 Thompson Lane
Nashville, Tennessee, 37204
USA
North America
Map: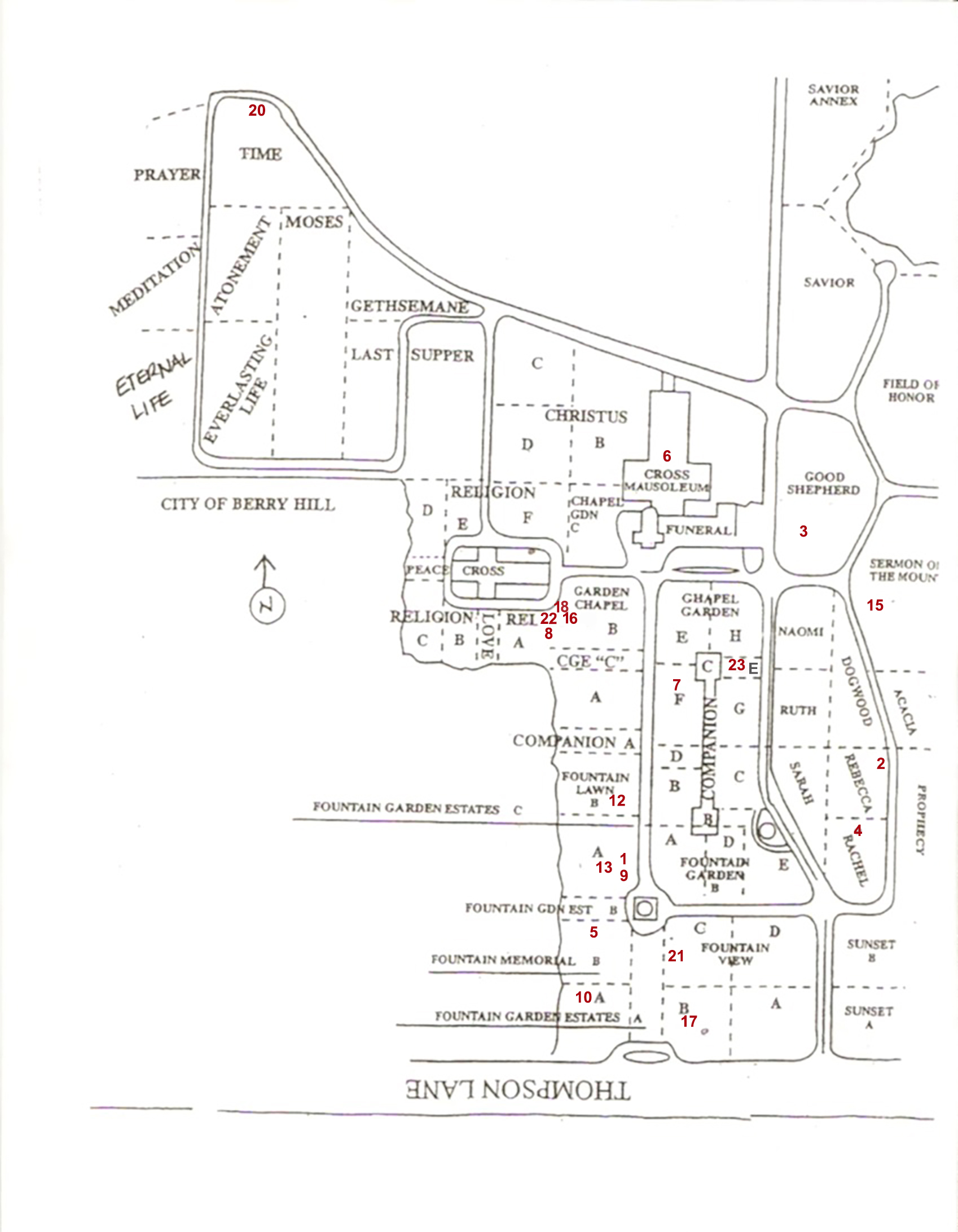 Cemetery map of Woodlawn Memorial Park in Nashville Tennessee
Grave Location:
Garden of Gethsemane, Lot 1-D, Space 1
Grave Location Description
As you enter the cemetery, drive past the office building to the road behind the office. Turn left and drive while staying to the right. Drive past the historic wood house and pond (on your left) and park 100 feet past the pond. Walk 300 feet to the top of the hill on you left and look for his large, flat bronze tablet with the ever-present flowers. You'll either find Marty Robbins or his good friend Webb Pierce who has a monument that looks identical nearby.
Grave Location GPS
36.11859640106694, -86.76429561315317
Photos:
Read More About Webb Pierce:
Videos Featuring Webb Pierce:
See More:
Back to Top