WARNING: EXPLICIT MATERIAL
Whitey Bulger
Birth Name:
James Joseph Bulger Jr.
Birth Date:
September 3, 1929
Birth Place:
Boston, Massachusetts
Death Date:
October 30, 2018
Place of Death:
United States Penitentiary - Hazelton, Preston County, West Virginia
Cause of Death:
Homicide - blunt force trauma
Cemetery Name:
St. Joseph Cemetery
Claim to Fame:
Crime and their Victims
James Joseph "Whitey" Bulger Jr. was an American organized crime boss and FBI informant who led the Winter Hill Gang in the Winter Hill neighborhood of Somerville, Massachusetts, a city directly northwest of Boston. On December 23, 1994, Bulger fled the Boston area and went into hiding after his former FBI handler, John Connolly, tipped him off about a pending RICO indictment against him. Bulger remained at large for sixteen years. Bulger was added to the FBI's Ten Most Wanted Fugitives list in 1999, and was considered the most wanted person on the list behind Osama bin Laden. After his capture, Bulger's trial began on June 12, 2013. He was tried on 32 counts of racketeering, money laundering, extortion and weapons charges, including complicity in nineteen murders. On August 12, Bulger was found guilty on 31 counts, including both racketeering charges, and was found to have been involved in eleven murders. On November 14, he received two consecutive life sentences plus five years for his crimes
---
Not-So-Fun Facts
Whitey Bulger was transferred from the Federal Transfer Center in Oklahoma City to United States Penitentiary, Hazelton, in West Virginia on October 29, 2018. Several hours later the 89-year-old Bulger was found dead. Bulger was in a wheelchair and had been beaten to death by multiple inmates armed with a sock-wrapped padlock and a shiv. His eyes had nearly been gouged out and his tongue almost cut off a law enforcement official described Bulger as "unrecognizable". Massachusetts-based mafia hitman Fotios "Freddy" Geas is the primary suspect in orchestrating the killing of Bulger.
Catherine Greig, 69, was arrested in 2011 after spending 16 years on the run with Bulger when they were captured in Santa Monica, California. She was released from a federal prison in Minnesota in 2019 after spending nearly 8 years there. She spent over a year under home confinement monitored by an ankle bracelet.
Cemetery Information:
Final Resting Place:
St. Joseph Cemetery
990 Lagrange Street
West Roxbury, Massachusetts, 02132
USA
North America
Map: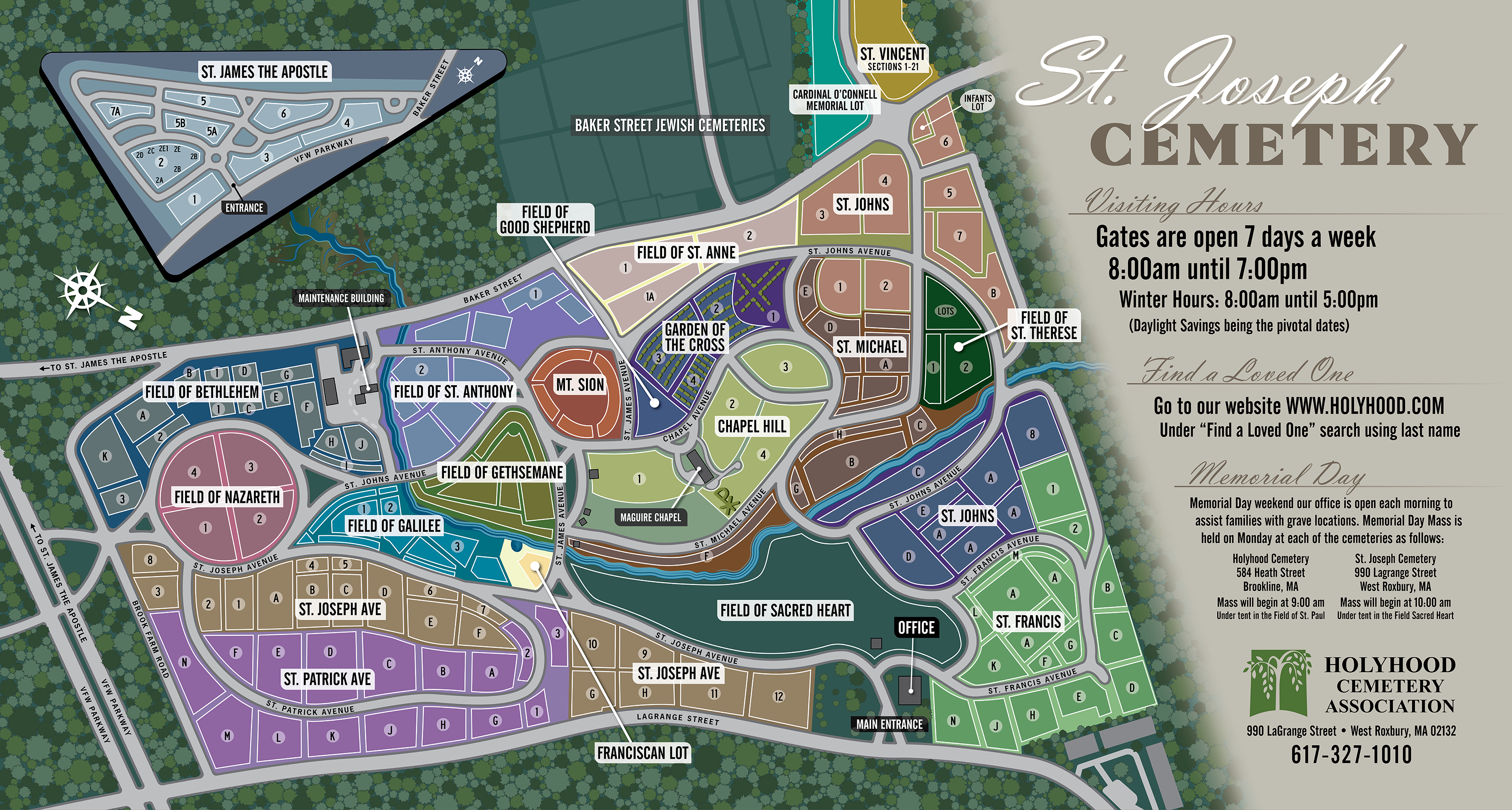 Grave Location:
St. Vincent Section 19, Lot 609, Grave 609
Grave Location Description
If you enter the cemetery through the main entrance, make your way to the back of the cemetery with an exit onto Baker Street (St. Johns Section 4, 5 and 6). Cross the street to St. Vincent Sections 1-19. Drive all the way down and look for the Section 19 sign pole on your left (it will be at the second-to-last turnaround). The Bulger Family plot is 8 graves on the road from the turnaround.
Grave Location GPS
42.2887219367, -71.1848241567
---
Visiting The Grave:
Photos:
Read More About Whitey Bulger:
Videos Featuring Whitey Bulger:
See More:
Back to Top