Woody Hayes
Birth Name:
Wayne Woodrow Hayes
Birth Date:
February 14, 1913
Birth Place:
Clifton, Ohio
Death Date:
March 12, 1987
Place of Death:
1711 Cardiff Road, Upper Arlington, Columbus, Ohio
Cause of Death:
Heart Attack
Cemetery Name:
Union Cemetery
Head Coach of The Ohio State Buckeyes with five national championships during his twenty eight years of coaching. His stellar career came to an abrupt halt when at the 1978 Gator Bowl against Clemson, Coach Hayes punched one of the opposing team players during the game, and was fired the following morning.
---
Fun Fact
Woody Hayes had an intense hatred and rivalry for Michigan, and referred to them as "That School Up North".  Once while returning from a game in Michigan, the team bus was dangerously low on fuel. Coach Hayes refused to allow the driver to stop to refuel in Michigan, stating they would push the bus to Ohio before he would let the state of Michigan get any of his money.
And then there was his dark side. Speaking at a football banquet in 1969, Hayes spoke about the recently revealed My Lai Massacre. He stated that the Vietnamese men in My Lai deserved to die, "and I wouldn't be so sure those women were innocent. The children are obviously innocent – if they are less than five."
On March 11, 1987, Hayes was clearly in failing health when he had someone drive him in his pickup truck to Dayton to introduce Bo Schembechler, who was speaking at a banquet. Organizers had tried to discourage Hayes from attending, but Hayes insisted. He gave a lengthy introduction to Schembechler and then stayed to hear him speak before being driven back home. The next morning, March 12, Hayes's wife Anne found him dead at the couple's home. He died of a heart attack at age 74.
Cemetery Information:
Final Resting Place:
Union Cemetery
3349 Olentangy River Road
Columbus, Ohio, 43202
USA
North America
Map: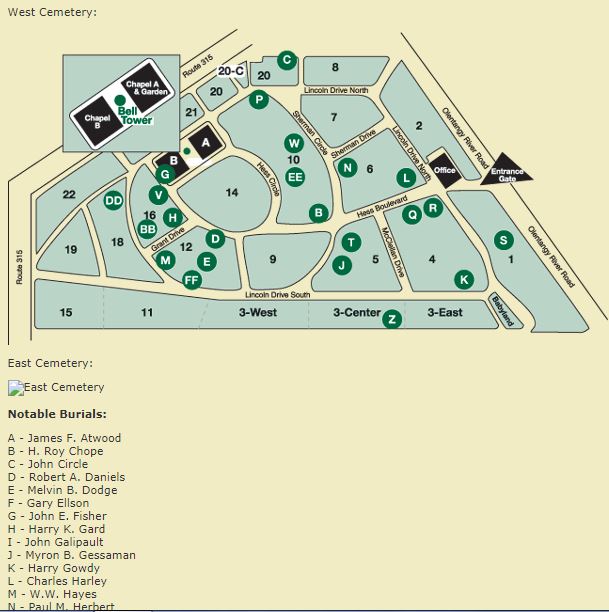 Map of Union Cemetery in Columbus, Ohio
Grave Location:
Section 12, Lot 37, Space 4
Grave Location Description
As you drive into the cemetery take the first left and then the next right onto Lincoln Avenue South. Park at the intersection of Sections 11, 18 and 12. Look to your right into Section 12, 3 rows from the road and to the left of the hedges and you should see the final resting place of the infamous Ohio State football coach Woody Hayes.
Grave Location GPS
40.02681962145, -83.032912216
Photos:
Read More About Woody Hayes:
Videos Featuring Woody Hayes:
See More:
Back to Top