Yves Montand
Birth Date:
October 13, 1921
Birth Place:
Monsummano Terme, Tuscany, Italy
Death Date:
November 9, 1991
Place of Death:
Senlis, France
Cause of Death:
Heart attack
Cemetery Name:
Cimetière du Père Lachaise
Claim to Fame:
Show Business
Yves Montand was an Italian-French actor and singer who began his career in show business as a music-hall singer and, in 1944, he was discovered by Édith Piaf in Paris and she made him part of her act. He is perhaps best known for the films in his later years such as Le Cercle Rouge (2003), Manon of the Spring (1987), Jean de Florette (1987) and Clair de Femme (1980). Actor, singer and music-hall dancer famous throughout the world, Yves Montand is one of France's most emblematic artists. He had a successful career as an actor, and had roles alongside Edith Piaf, Simone Signoret and Marilyn Monroe, as well as working with directors Costa-Gavras and Alain Resnais. Additionally, Montand is often known for being the first singer to perform "Autumn Leaves," a song by Prévert and Kosma, which continues to be a standard throughout the world. Yves Montand died of a heart attack on the set of his final movie, IP5: L'île aux pachydermes, on the very last day of filming and just after his very last shot.
---
And There's More To The Story
Let's Make Love is the title of a movie which, according to commentators at the time, was taken a little too seriously by the two main actors. Marilyn Monroe and Yves Montand started an highly-publicized affair during filming according to the tabloid press at that time. In the private bungalows 20 and 21 of the famous Beverly Hills Hotel, the actors would meet together despite their respective spousal commitments. The affair reportedly shattered the Miller / Monroe couple, but Simone Signoret, and then-wife of Yves Montand, later said she would have liked to tell Marilyn Monroe that she didn't blame her for the affair.
In 2004, Catherine Allégret, Signoret's daughter from her first marriage to director Yves Allégret, alleged in her autobiography Un monde a l'envers (A World Upside Down) that she had been sexually abused by her stepfather from the age of five; his behaviour apparently continuing for many years.
Montand's only child, Valentin, his son by his second wife, Carole Amiel, was born in 1988. In a paternity suit that rocked France, another woman accused Montand of being the father of her daughter and went to court to obtain a DNA sample from him. Montand refused, but the woman persisted even after his death. In a court ruling that made international headlines, the woman won the right to have Montand exhumed and a sample taken. The results indicated that he was not the girl's biological father.
Cemetery Information:
Final Resting Place:
Cimetière du Père Lachaise
16 Rue du Repos, 6ème division, Chemin Lesseps
Paris, , 75020
France
Europe
Map: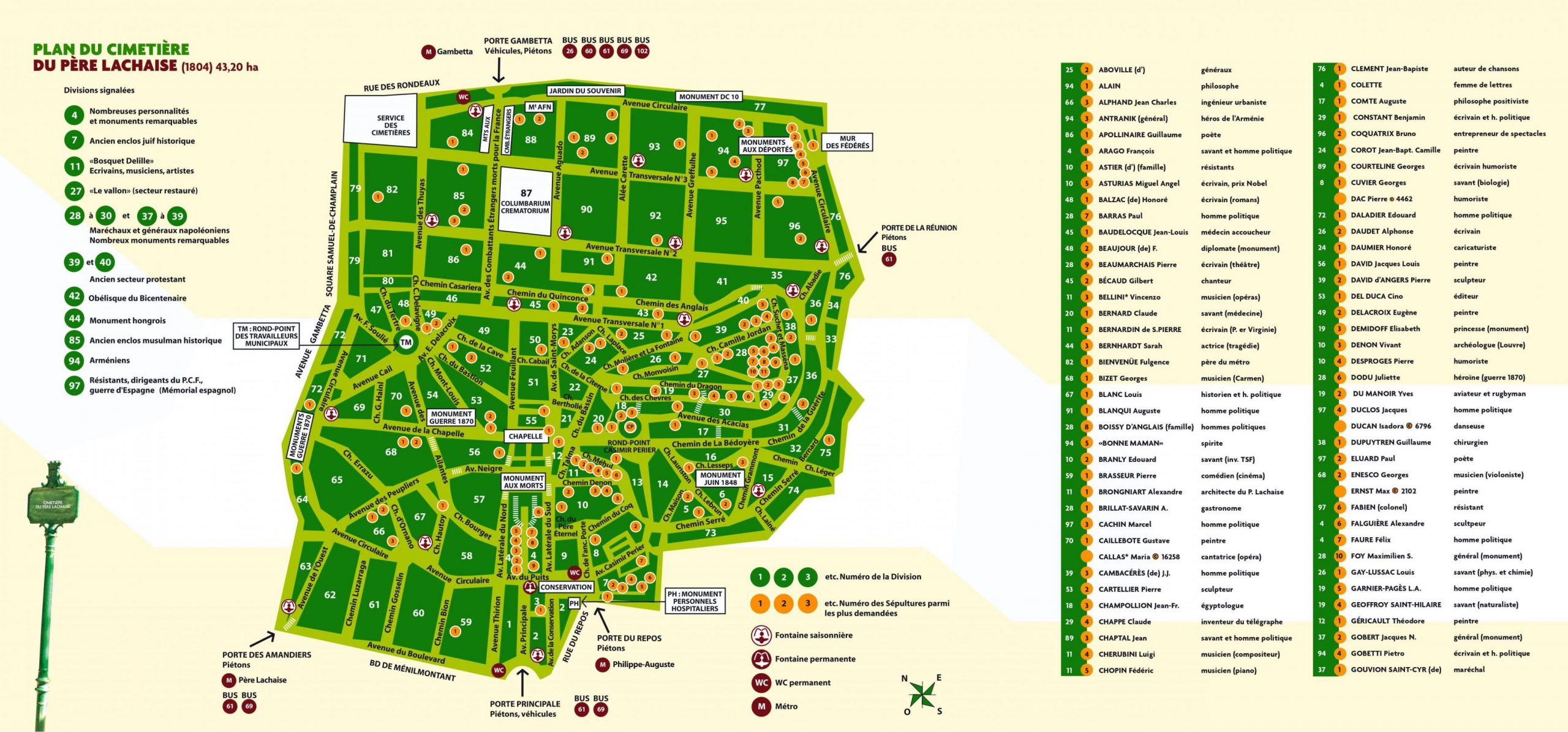 Cemetery map of Cimetière du Père Lachaise in Paris, France.
Grave Location:
Division 44, Avenue Aguado, Line 1
Grave Location Description
As you walk through the cemetery, make your way to the Crèmatorium du Père Lachaise. From here find Avenue Transversale N 2 and Avenue Aguado. The final resting place of Simone Signoret and Yves Montand can be found approximately 20 feet from the intersection of both avenues on Avenue Aguado.
Grave Location GPS
48.8619554218068, 2.3955572835130288
---
Visiting The Grave:
Photos:
Read More About Yves Montand:
Videos Featuring Yves Montand:
See More:
Back to Top