Al Campanis
Birth Name:
Alexander Sebastian Campanis
Birth Date:
November 2, 1916
Birth Place:
Kos, Dodecanese Islands, Greece
Death Date:
June 21, 1998
Place of Death:
Fullerton, California
Cause of Death:
Heart disease and complications from diabetes
Cemetery Name:
Loma Linda Memorial Park
Al Campanis was a baseball player, farm team scout and finally an executive in Major League Baseball (MLB). He'd been a Montreal Royal shortstop in 1946 playing alongside Jackie Robinson at second base, barnstormed off-season with a racially integrated squad, a Brooklyn Dodger scout who unearthed Roberto Clemente and Sandy Koufax, and who reached the apex of his profession as General Manager of the Los Angeles Dodgers and took them to four pennants and one World Series title. Campanis baseball career came to a complete stop after an interview with Ted Koppel. Campanis, who had played alongside Robinson and was known for being close to him, was being interviewed about the subject. Nightline anchorman Ted Koppel asked him why, at the time, there had been few black managers and no black general managers or owners in Major League Baseball. Campanis's reply was: "I truly believe that they may not have some of the necessities to be, let's say, a field manager, or, perhaps, a general manager." Later in the interview, to defend his views when pressed by Koppel, Campanis asked: "Why are black men or black people not good swimmers? Because they don't have the buoyancy." Koppel says he gave Campanis several opportunities to clarify ("Do you really believe that?") or back down from his remarks. Instead, Campanis doubled down on his views, suggesting that African Americans "certainly are short" on individuals with strong decision-making capabilities, asking Koppel: "How many quarterbacks do you have? How many pitchers do you have that are black?" Koppel also pointed out that much of what Campanis was saying "sounds a lot like the garbage we heard 40 years ago." Campanis was fired less than 48 hours later.
---
Fun Fact
In 1968, Al Campanis became the Dodgers' general manager. In one of his first trades as general manager, Campanis traded his own son Jim, to the Kansas City Royals for two minor leaguers. Ouch.
Cemetery Information:
Final Resting Place:
Loma Linda Memorial Park
701 E Bastanchury Road
Fullerton, California, 92835
USA
North America
Map: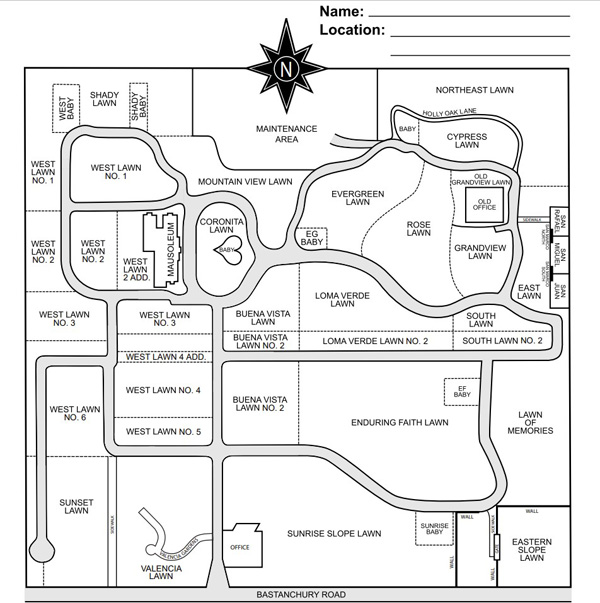 Map of Loma Linda Memorial Park in Fullerton, California
Grave Location:
Mausoleum, Unit 7, Crypt 520
Grave Location Description
As you enter the cemetery drive to the mausoleum. Walk in the main doors, walk past the pews and turn left at the next hallway. Veteran baseball player and executive Al Campanis and his wife are on the left just past the large portrait and desk combo in the first column, fourth row up.
Grave Location GPS
33.9017012,-117.9187473
Photos:
Read More About Al Campanis:
Videos Featuring Al Campanis:
See More:
Back to Top