Tony Conigliaro
Birth Name:
Tony Conigliaro
Birth Date:
January 7, 1945
Birth Place:
Revere, Massachusetts
Death Date:
February 24, 1990
Place of Death:
Salem Hospital, Salem, Massachusetts
Cause of Death:
Pneumonia and kidney failure
Cemetery Name:
Holy Cross Cemetery and Mausoleum
Tony C was a phenomenal baseball player who, in his first at bat for the Boston Red Sox hit a towering home run on the first pitch. During his 1964 rookie season, Conigliaro batted .290 with 24 home runs and 52 RBI in 111 games. At the age of 22, at age 22, he not only reached a career total of 100 home runs, but attained that milestone at the youngest age for an American League player. Sadly his promising career was derailed by a fastball to the face that left him with debilitating injuries.
---
Sadly this whole event that destroyed his career and his quality of life could have been avoided.
Young, aggressive and willing to take chances Tony C was a notorious plate-crowder with numerous injuries, including broken bones, from being hit by pitches. On August 18, 1967 while playing the California Angels, pitcher Jack Hamilton's fourth-inning fastball came in and struck Tony in the face, just missing his temple but hitting him in the left eye and breaking his cheekbone. Out for the season, Tony came back the next year and while the 1970 season was Conigliaro's best at the plate (with 36 homers and 116 RBIs) he was never the same. He ended his career in 1971 complaining of headaches and the inability to see the ball.
Unfortunately, life went downhill for Tony C after his baseball career. While being driven to an airport in 1982, he suffered a debilitating heart attack. Soon after that, he suffered a stroke and went into a coma for eight years. During those eight years, he was sustained at his parents' house in a vegetative state until he eventually died in February, 1990. He was only 45.
This is truly one of the saddest "what if" stories in all of modern sports.
Cemetery Information:
Final Resting Place:
Holy Cross Cemetery and Mausoleum
175 Broadway
Malden, Massachusetts, 02148
USA
North America
Map: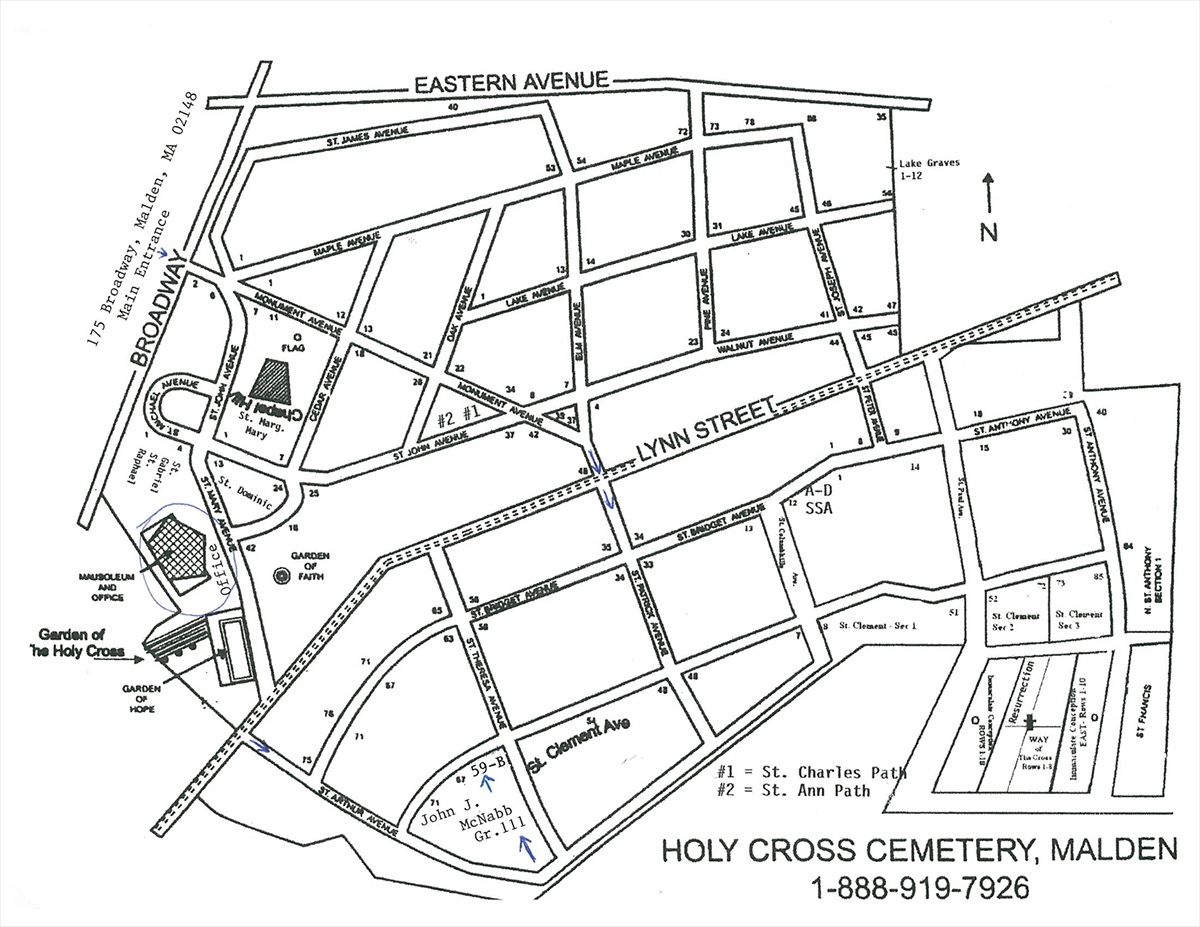 Cemetery map of Holy Cross Cemetery in Malden, Massachusetts.
Grave Location:
Garden of Faith, Section 0, Grave 457
Grave Location Description
The Garden of Faith is directly opposite the cemetery office towards the road that separates this massive cemetery. From the office walk directly to the fence that runs along Lynn Street and Tony C can be found along the black metal fence about 50 feet from the entrance. His upright monument is easy to find with all the baseballs that adorn the grave.
Grave Location GPS
42.42562303, -71.03921052
---
Visiting The Grave:
Photos:
Read More About Tony Conigliaro:
Videos Featuring Tony Conigliaro:
See More:
Back to Top