Armand Hammer
Birth Name:
Armand Hammer
Birth Place:
New York, New York
Death Date:
December 10, 1990
Place of Death:
Los Angeles, California
Cause of Death:
Bone marrow cancer
Cemetery Name:
Pierce Brothers Westwood Village Memorial Park Cemetery
Claim to Fame:
Business and Finance
After earning his medical degree from Columbia University Armand Hammer went on to become a successful entrepreneur before retiring in his 50s. Shortly after he was approached by a friend who suggested that he finance two wildcat oil wells being drilled in Bakersfield, California by the near-bankrupt Occidental Petroleum Corporation. Hammer financed the wells, which unexpectedly struck oil, and he quickly increased his holdings in Occidental, becoming the firm's chief executive officer and chairman of the board in 1957. Within 10 years the company was generating over $2 billion is sales.
---
Fun Facts:
Mr. Hammer was so tired of people asking if he owned Arm & Hammer (the baking soda company) that he finally bought stock in the company just so he could say "yes", he was an owner of the company.
As Honore de Balzac once said, "behind every great fortune lies a great crime." As excerpted from Vanity Fair:
In 1996, Epstein's bombshell biography exposed the late Occidental Petroleum chairman for wide-ranging grifts, including laundering money; using artwork to fund Soviet espionage; bribing his way into the oil business; and knocking off Fabergé eggs. Per Epstein, Armand bugged his office and home, plus his cuff links, to record decades' worth of conversations, had a fixer, and was known to do business with a briefcase full of cash. He also made an illegal contribution to the Nixon reelection campaign which, "in all likelihood," according to The New York Times, "went to help pay for the Watergate cover-up." Though he faced a felony charge for obstructing justice, a Washington lawyer helped him plead guilty to misdemeanor charges, and H. W. Bush later pardoned him.
Armand had multiple mistresses, including Martha Kaufman—a mother of two who divorced her husband after meeting Armand, and whom he put on Occidental's payroll as an art consultant. When Armand's wife, Frances, grew suspicious, Armand had Martha legally change her name to Hilary Gibson—insisting, according to Epstein, that his mistress wear wigs, glasses, and makeup to change her appearance. The affair lasted over a decade, with Armand promising to take care of her and her children after he died, she later told Epstein. Per the biographer, she drove a car with a homing device, used a tapped phone, and submitted to his sexual demands even when they were "extremely humiliating." When Armand died, she learned that he had left her out of his will.
Cemetery Information:
Final Resting Place:
Pierce Brothers Westwood Village Memorial Park Cemetery
1218 Glendon Avenue
Los Angeles, California, 90024
USA
North America
Map: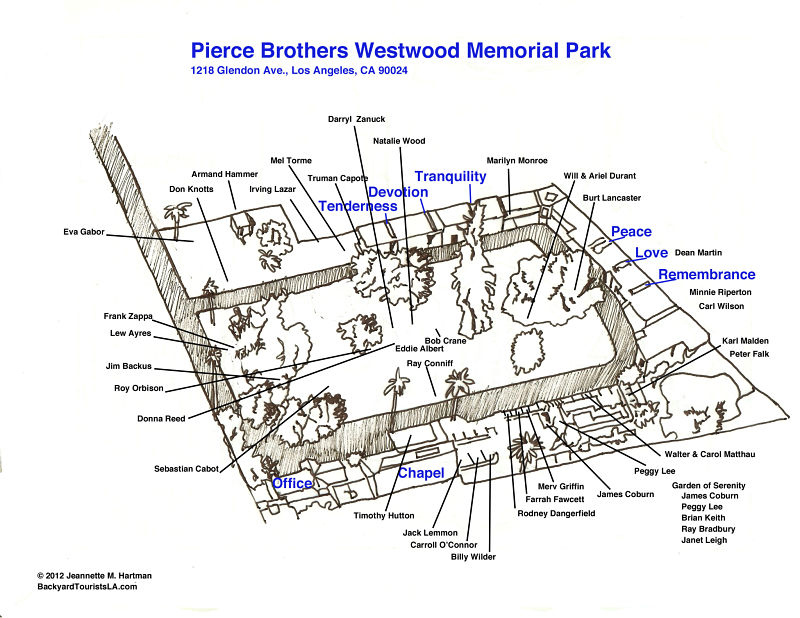 copyright 2012 Jeannette Hartman
Grave Location Description
As you drive through the gates look to your left and you will see his rather large, out-of-place private mausoleum.
Grave Location GPS
34.0585117, -118.4415123
Photos:
Read More About Armand Hammer:
Videos Featuring Armand Hammer:
See More:
Back to Top