Betty Hutton
Birth Name:
Elizabeth June Thornburg; –
Birth Date:
February 26, 1921
Birth Place:
No.12 Stone Avenue, Battle Creek, Michigan
Death Date:
March 12, 2007
Place of Death:
2080 South Camino Real, Palm Springs, California
Cause of Death:
Colon cancer
Cemetery Name:
Desert Memorial Park
Claim to Fame:
Show Business
Betty Hutton was an American stage, screen, and television actress, comedian, dancer, and singer. Unlike other actresses who have been called "blonde bombshells," Hutton had a screen personality that had more to do with energy and humor than sex. Time magazine wrote in 1950: "Betty Hutton, who is not remarkably pretty, by movie standards, nor a remarkably good singer or dancer, has a vividly unique personality in a town that tends to reduce beauty and talent to mass-produced patterns. Watching her in action has some of the fascination of waiting for a wildly sputtering fuse to touch off an alarmingly large firecracker." During her prime she worked with or co-starred with some of the biggest names of the era including Preston Sturges, Fred McMurray, Bob Hope, Fred Astaire, Dorothy Lamour, Eddie Bracken and William Holden. When she dropped out of her contract at Paramount at the top of her game, she never starred in a film again but did well on television, nightclubs and the stage. Her final appearance on screen was on Good Morning America, which led to a 1978 televised reunion with her two daughters.
---
Fun Facts
Betty Hutton's personal life was rocky at times, including four failed marriages, financial problems and difficulties between her and her three daughters. In a 1980 AP interview, Hutton said she had kicked a 20-year addiction to pills. "Uppers, downers, inners, outers, I took everything I could get my hands on," she said.
Those marriages, in order:
Hutton's first marriage was to camera manufacturer Ted Briskin in 1945. The marriage ended in divorce in 1951.
Hutton's second marriage in 1952 was to choreographer Charles O'Curran. They divorced in 1955. He died in 1984.
She married husband Alan W. Livingston in 1955, weeks after her divorce from O'Curran. They divorced in 1960.
Her fourth and final marriage in 1960 was to jazz trumpeter Pete Candoli. They divorced in 1967.
Hutton was once engaged to the head of the Warner Bros. makeup department, makeup artist Perc Westmore, in 1942, but broke off the engagement, saying it was because he bored her.
Cemetery Information:
Final Resting Place:
Desert Memorial Park
31-705 Da Vall Drive
Cathedral City, California, 92262
USA
North America
Map: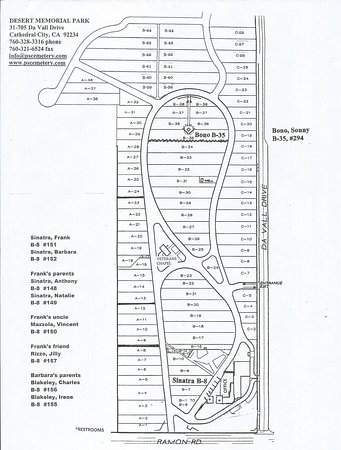 Grave Location:
Section B-35, Grave 503
Grave Location Description
As you enter the cemetery drive straight ahead and when the road begins to veer to the right, park at the tree with the B-35 marker at the base on the right. Walk to the 4th row to the left of the tree, and her marker is the 4th marker into the section.
Grave Location GPS
33.8198033, -116.442315
Photos:
Read More About Betty Hutton:
Videos Featuring Betty Hutton:
See More:
Back to Top