WARNING: EXPLICIT MATERIAL
Big Jim Colosimo
Birth Name:
Vincenzo Colosimo
Birth Date:
February 16, 1878
Birth Place:
Colosimi, Calabria, Italy
Place of Death:
Colosimo Restaurant, 2126 S Wabash Avenue, Chicago, Illinois
Cause of Death:
Homicide - gunshot wounds
Cemetery Name:
Oak Woods Cemetery
Claim to Fame:
Crime and their Victims
James "Big Jim" Colosimo was the first organized crime leader in Chicago who ran a popular restaurant, Colosimo's Cafe, that was a hot spot for vice in Chicago. Colosimo built his empire on gambling, prostitution and load sharking. When Johnny Torrio, his second-in-command, suggested that Colosimo get into bootlegging - Colosimo said emphatically "No!" as he didn't want any attention drawn to the police. Torrio brought in hitman Frankie Yale and had him killed in his own restaurant. Torrio took over and made a then small-time hoodlum named Al Capone his #2 man to build up the bootlegging operation.
---
Fun Fact
Well that didn't last long.
On January 24, 1925, Johnny Torrio was shot several times outside his home by Bugs Moran and Hymie Weiss, associates of the deceased Dion O'Bannion, whose death had been engineered by Torrio and Capone. Torrio survived and went on to serve several months in jail having been convicted of bootlegging (after being set up by O'Bannion). While in jail, Torrio effectively bequeathed Chicago to Capone and then, upon his release, ostensibly retired to Italy. Returning to live in New York, he invested profitably in real estate and helped create a bootlegging combine, becoming a close associate of Lucky Luciano, Meyer Lansky, and other bosses.
Cemetery Information:
Final Resting Place:
Oak Woods Cemetery
1035 E. 67th Street
Chicago, Illinois, 60637
USA
North America
Map: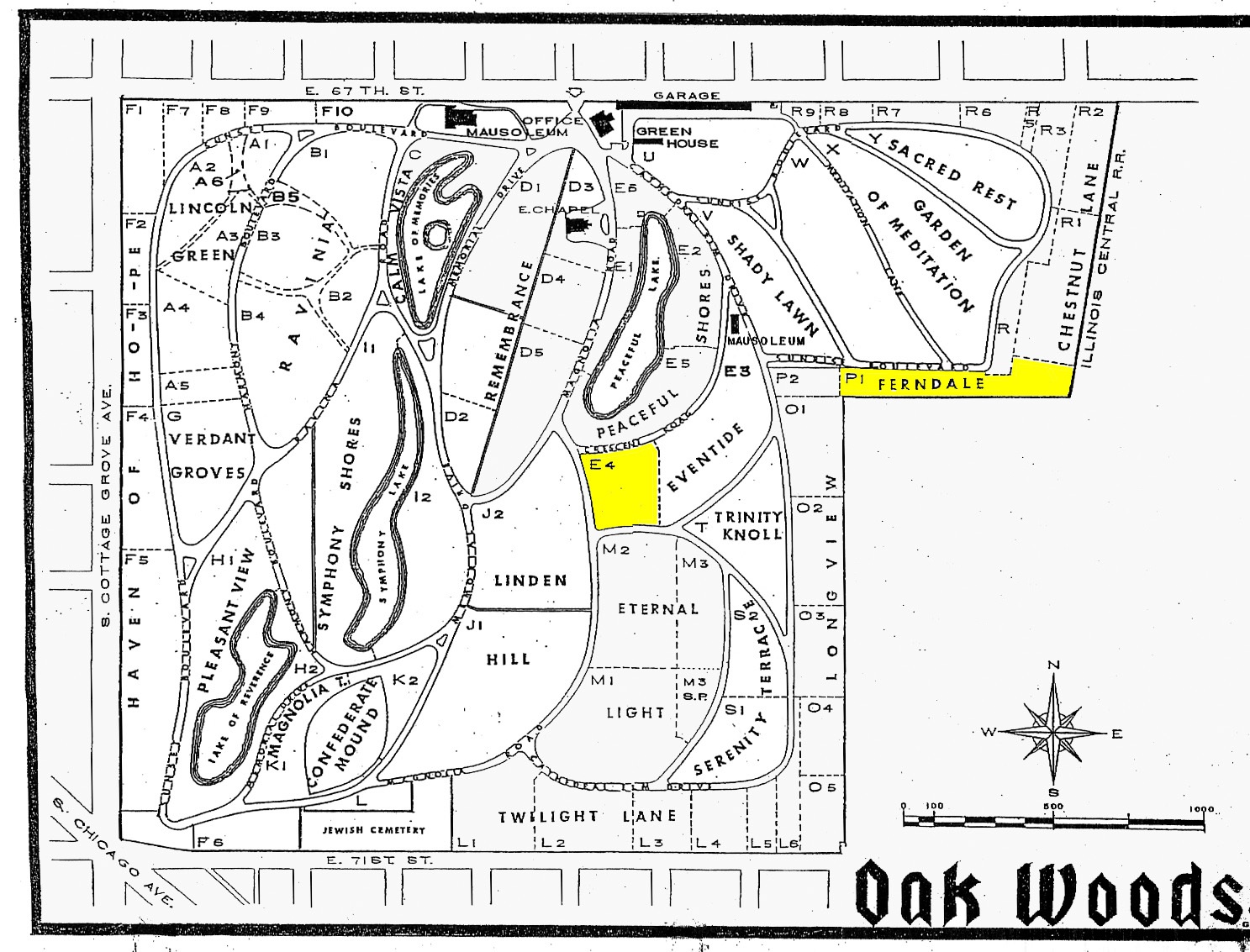 Grave Location:
Section E4
Grave Location Description
His large tomb is located on Magnolia Road on the right as you are driving towards the lake.
Grave Location GPS
41.769446, -87.599257
---
Visiting The Grave:
Photos:
Read More About Big Jim Colosimo:
Videos Featuring Big Jim Colosimo:
See More:
Back to Top