WARNING: EXPLICIT MATERIAL
Bob Crane
Birth Name:
Robert Edward Crane
Birth Date:
July 13, 1928
Birth Place:
Waterbury, Connecticut
Death Date:
June 29, 1978
Place of Death:
Winfield Place Condominiums, Room 132A, Scottsdale, Arizona
Cause of Death:
Homicide - blunt force trauma
Cemetery Name:
Pierce Brothers Westwood Village Memorial Park
Claim to Fame:
Show Business
Robert Edward Crane was an actor, drummer, radio personality, and disc jockey known for starring in the CBS television comedy Hogan's Heroes about the hilarious high jinks of prisoners in a concentration camp during WW II. In the early 1960s, he moved from radio into acting, eventually landing the lead role of Colonel Robert Hogan in Hogan's Heroes. The series aired from 1965 to 1971, and Crane received two Emmy Award nominations. Crane's career declined after Hogan's Heroes. He became frustrated with the bit parts he was offered such as The Love Boat, Ellery Queen, Police Woman and the short-lived The Bob Crane Show. Crane returned to performing in dinner theaters when his body was found bludgeoned to death in his Scottsdale, Arizona, apartment while on tour in June 1978 for a dinner theater production of Beginner's Luck. The murder remains officially unsolved. His previously uncontroversial public image suffered due to the suspicious nature of his death and posthumous revelations about his personal life.
---
Fun Fact
Bob Crane's deviant lifestyle was the worst kept secret in Hollywood back in the early seventies. Know for frequenting strip clubs and adult stores, he was essentially blackballed from the Big 3 television stations. Bob crane was a sex addicted deviant, womanizing amateur pornographer who once told his own wife Sigrid he wished he could push button to make his sexual partners disappear after he was done with them. It has even been said that he showed his homemade porn to everyone including Richard Dawson's son and his own son – both underage at the time. When his body was discovered police found hundreds of Polaroids and video tapes of homemade pornography involving dozens and dozens of different women. "He was carting a couple of videotapes and a Polaroid book," Mark Dawson said many years back. "He went into the other room and then called me in." 'Hey, come on in … you want to take a look at this stuff?'" The "stuff" was scores of nude pictures and pornographic videos, all of them starring Bob Crane.
Cemetery Information:
Final Resting Place:
Pierce Brothers Westwood Village Memorial Park
1218 Glendon Avenue
Los Angeles, California, 90024
USA
North America
Map: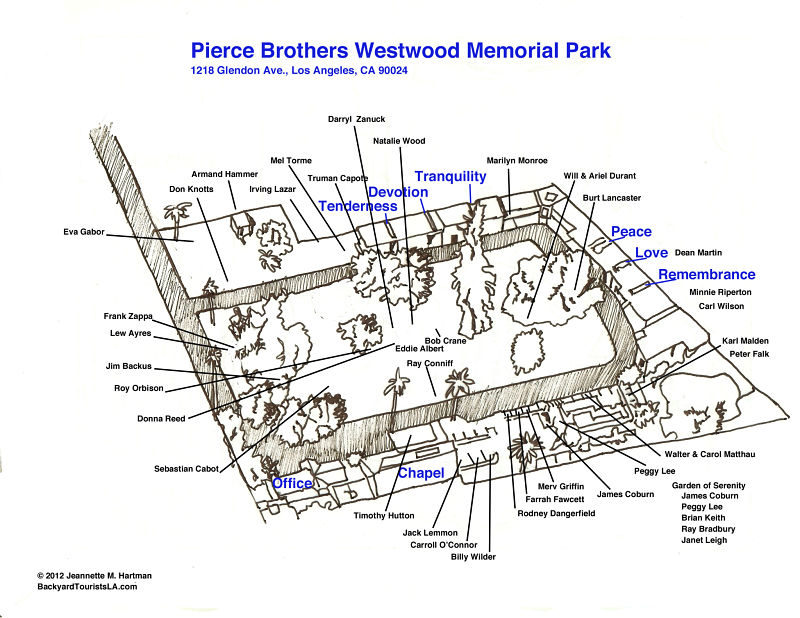 Map of Pierce Brothers Westwood Village Memorial Park in Los Angeles, California. Copyright 2020 Jeannette M. Hartman
Grave Location:
Section D
Grave Location Description
Bob Crane is located in the very middle of the expansive lawn area to the right of Eddie Albert and very close to Natalie Wood.
Grave Location GPS
34.05835,-118.44111
---
Visiting The Grave:
Photos:
Read More About Bob Crane:
Videos Featuring Bob Crane:
See More:
Back to Top