Charles Aznavour
AKA:
The French Frank Sinatra
Birth Name:
Shahnour Vaghinag Aznavouryan
Birth Place:
Paris, France
Death Date:
October 1, 2018
Place of Death:
Quartier des moulards, Rte de Saint-Martin de Crau, 13890, Mouriès, France
Cause of Death:
Cardiorespiratory arrest complicated by an acute pulmonary edema
Cemetery Name:
Cimetière de Montfort-l'Amaury
Charles Aznavour was a French singer of Armenian ancestry, as well as a songwriter, lyricist, actor and diplomat. Aznavour was known for his distinctive vibrato tenor voice: clear and ringing in its upper reaches, with gravelly and profound low notes. In a career as a composer, singer and songwriter spanning over 70 years, he recorded more than 1,200 songs interpreted in 9 languages. Moreover, he wrote or co-wrote more than 1,000 songs for himself and others. Aznavour is regarded as one of the greatest songwriters of all time and an icon of 20th-century pop culture. Between 1974 and 2016, Charles Aznavour received over sixty gold and platinum records around the world. According to his record company, the total sales of the artist's recordings were over 180 million units.
---
Fun Facts
On October 5, 2018, just 4 days ofter his passing, Aznavour was honoured with a state funeral at Les Invalides military complex in Paris, with president Emmanuel Macron lauding him as one of the most important "faces of France". His coffin was lifted away at the end to the sound of his hit song "Emmenez-Moi" (Take Me Along). Dignitaries attending the funeral also included French Prime Minister Édouard Philippe, former presidents Nicolas Sarkozy and François Hollande, as well as Armenian President Armen Sarkissian and Prime Minister Nikol Pashinyan and their wives.
Sting has stated that "To me he [Aznavour] is an icon. Not only as a singer, but as an actor, as a personality, as a master of 'chanson'. Aznavour was also highly regarded by Frank Sinatra, Celine Dion, Edith Piaf, and Liza Minnelli.
Cemetery Information:
Final Resting Place:
Cimetière de Montfort-l'Amaury
25 Rue Saint-Nicolas
Cimetière de Montfort-l'Amaury, , 78490
France
Europe
Map: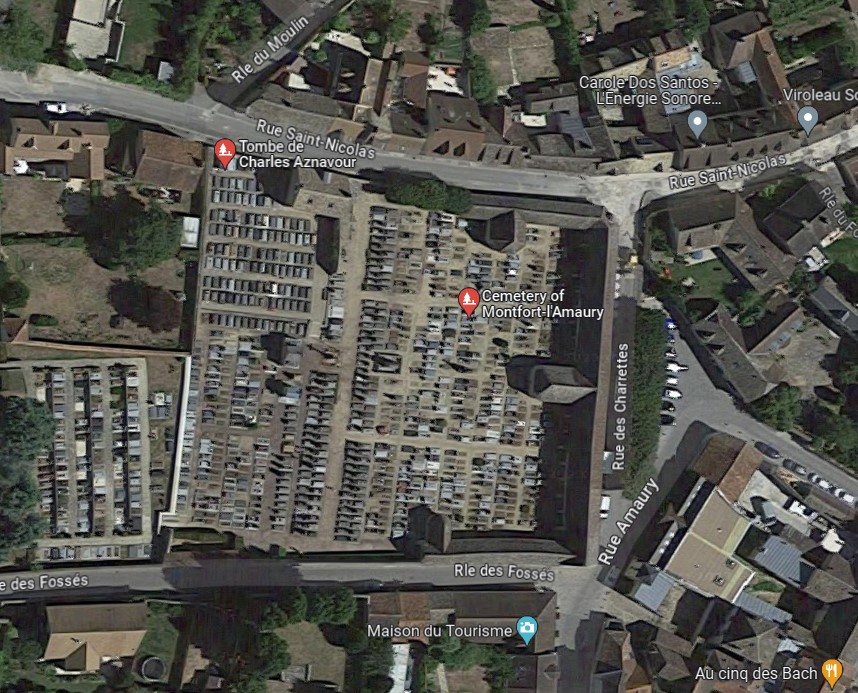 Map of Cimetière de Montfort-l'Amaury in France (© 2023 Google Maps)
Grave Location:
Aznavourian Family Mausoleum
Grave Location Description
As you enter the cemetery follow one of the two galleries that stretch out alongside the walls which suggests the idea of a monastery garden. At the far opposite corner of the cemetery you will find the mausoleum of the Aznavourian family resting comfortably with the legendary Charles Aznavour buried here in 2018.
Grave Location GPS
48.7780381346333, 1.8061265640865714
Photos:
Read More About Charles Aznavour:
Videos Featuring Charles Aznavour:
See More:
Back to Top