Charles Rogers
Birth Name:
Charles Edward Rogers
Birth Date:
August 13, 1904
Birth Place:
Olathe, Kansas
Death Date:
April 21, 1999
Place of Death:
Rancho Mirage, California
Cause of Death:
Natural causes
Cemetery Name:
Forest Lawn Cemetery
Claim to Fame:
Show Business
Charles (or Buddy to his friends) Rogers, was an American actor / handsome leading man and band leader who starred in ''Wings'' (1927), the first film to win an Academy Award, and who later married Mary Pickford, ''America's Sweetheart". Although Rogers had no early interest in acting, his father persuaded him to send in his photo to a Paramount Pictures talent hunt. After bit parts in "So's Your Old Man" with W.C. Fields and "Fascinating Youth", both shot in New York, Rogers was cast as Ronald Colman's brother in Beau Geste, the romantic adventure of the French Foreign Legion. Six feet tall, slim and with brown eyes and black hair, Buddy was a versatile musician whose almost inadvertent screen career catapulted him to immediate stardom. But in some 40 films between 1926 and 1957 -- vehicles with titles like ''Fascinating Youth,'' ''So's Your Old Man,'' ''My Best Girl,'' ''Abie's Irish Rose,'' ''Varsity,'' ''Dance Band,'' ''Golden Hoofs'' and ''Mexican Spitfire's Baby'' -- he never impressed critics as more than a pleasant performer.
---
Fun Facts …
On June 24, 1937, Rogers became the third husband of silent film actress Mary Pickford. Their romance had begun in 1927, when they co-starred in My Best Girl, but the two kept their relationship hidden until Pickford's separation and 1936 divorce from Douglas Fairbanks. The couple adopted two children—Roxanne and Ronald—and remained married for 42 years until Pickford's death in 1979. All in all, Buddy Rogers lived in one of the most historic homes in the world at the time during his marriage to Mary Pickford. Pickfair was a four-story, 18 acre 25-room mansion complete with stables, servants quarters, tennis courts, a large guest wing, and garages in the heart of Beverly Hills, California.
Mary Pickford had always pictured herself becoming a mother so within 7 years after her marriage to Buddy Rogers they adopted a young boy named Ronald "Ronnie" Charles Rogers and a baby girl named Roxanne. To say they were awful parents would be an understatement. Pickford and Rogers treated the children like theatrical props, sending them to boarding schools and posing them in family photographs when they were home on visits. Pickford became critical of their physical imperfections, including Ronnie's small stature and Roxanne's crooked teeth. Both children would later remark that their mother was too self-interested to provide genuine maternal love. One time when Ronnie tried to commit suicide, Pickford went to see him in the hospital, complaining that he had interrupted a well-needed rest she was taking. Both Ron and Roxanne married in their late teens and drifted into odd jobs. In a PBS American Experience documentary about her famous mother, Roxanne appears haggard and died in her 50s from osteoporosis. Ron fared no better. Despite being the son of one of America's wealthiest women, Ron's occupation is noted by the papers as a machinist. According to one of his children, Ron became involved in drug running for a biker gang and did hard time in a federal prison. He died a toothless drifter, never reuniting with his own family.
Cemetery Information:
Final Resting Place:
Forest Lawn Cemetery
69855 Ramon Road
Cathedral City, California, 92234
USA
North America
Map: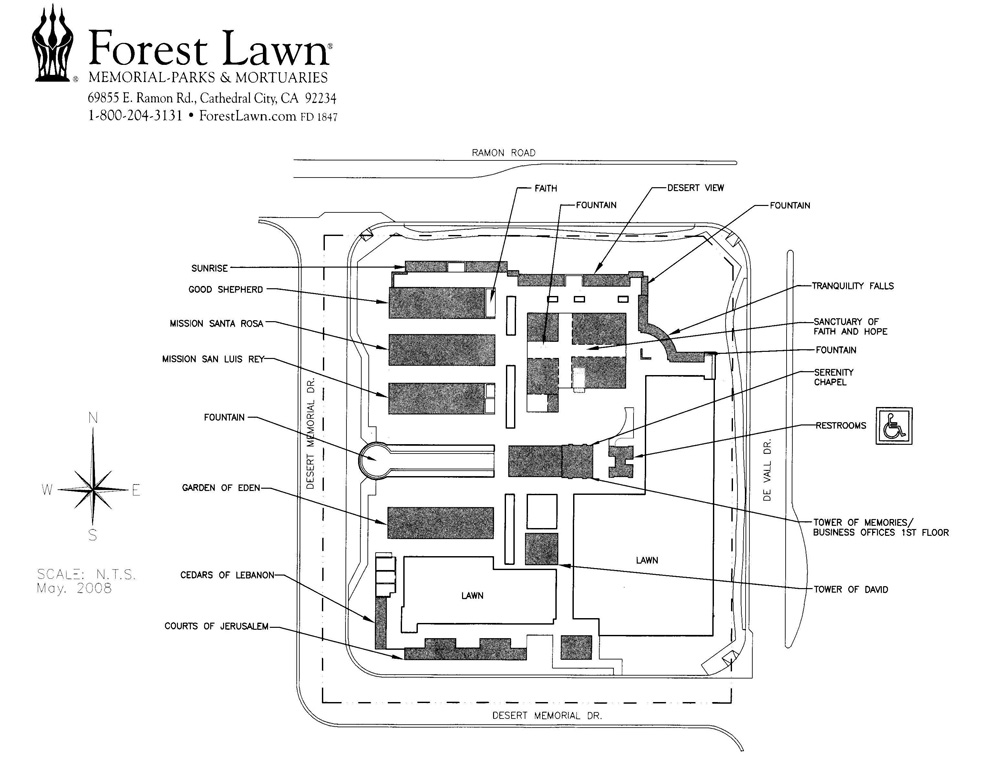 Map of Forest Lawn Cemetery in Cathedral City, California
Grave Location:
Mission Santa Rosa Mausoleum, Lot 0, Crypt 12-C
Grave Location Description
Park on Memorial Drive and walk through the gate to the left of the fountain. Turn left at the end of the fountain and go past Mission San Luis Rey. Look for the next panel on the left and America's Boyfriend Buddy Rogers is resting in the first column, second crypt from the ground.
Grave Location GPS
33.815550, -116.441478
---
Visiting The Grave:
Photos:
Read More About Charles Rogers:
Videos Featuring Charles Rogers:
See More:
Back to Top