Cornelius Vanderbilt
Birth Name:
Cornelius Vanderbilt
Birth Place:
Staten Island, New York
Death Date:
January 4, 1877
Place of Death:
№ 10 Washington Place, Manhattan, New York
Cause of Death:
Exhaustion and chronic health issues
Cemetery Name:
Vanderbilt Mausoleum and Cemetery
Claim to Fame:
Business and Finance
The Vanderbilt name is synonymous with America's Gilded Age. Upon their deaths, "Commodore" Cornelius Vanderbilt, who established the family's fortune, and his son William H., who doubled it in just a few years, were the wealthiest men in the United States, if not the world. The steamboat and railroad companies they founded and led played a major role in the development of New York City and State. When he died in 1877 in his mansion at 10 Washington Place, Vanderbilt left a fortune of $105 million. He willed the bulk of it—$95 million, more than was possessed by the United States Treasury—to his oldest son, William Henry Vanderbilt.
Cemetery Information:
Final Resting Place:
Vanderbilt Mausoleum and Cemetery
2205 Richmond Road
Staten Island, New York, 10306
USA
North America
Map: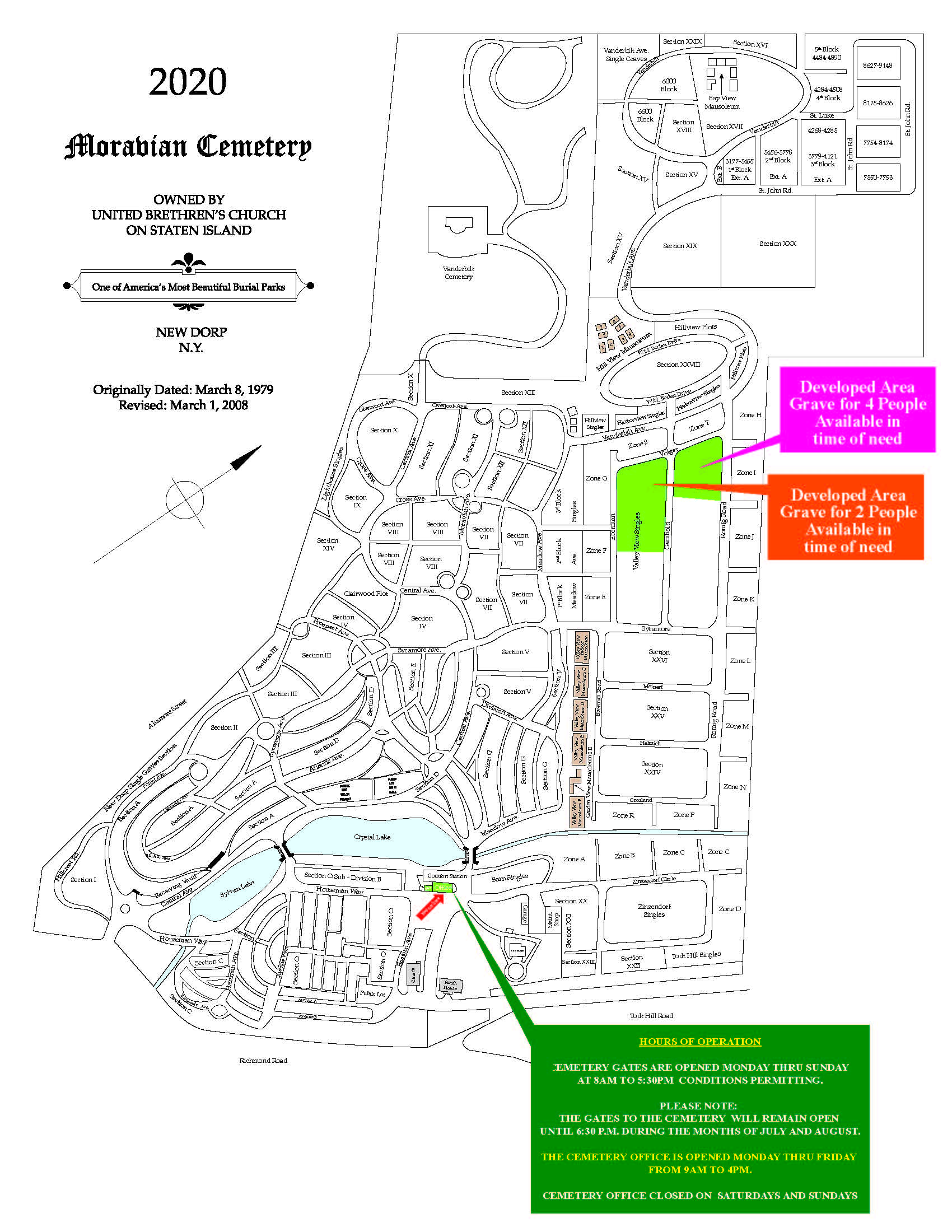 Grave Location:
Vanderbilt Mausoleum, Vanderbilt Private Cemetery
Grave Location Description
As you drive into the entrance of the adjoining Moravian Cemetery stay to your left and make your way through the cemetery until you come to the intersection of Central Avenue and Overlook Avenue. Park your car and you will have to walk up the hill (as the gate is always locked) through the Vanderbilt Cemetery until you come to the Vanderbilt Family Mausoleum. Please note you are now trespassing on private property.
The tomb itself is at least three stories high and while it's part of the Moravian cemetery, it's separate from the whole cemetery. There's a locked gate at the entrance to the cemetery, but the area also borders High Rock Park, so it's easier to get in from the woods. The tomb is actually built into the side of a hill, so you can walk up the back path on to the top of it.
The Vanderbilt Mausoleum resembles a small church with three sets of doors at the front and small vaulted windows above them.  At one time the doors were iron gates, but in 1969 a woman pulled on the gates trying to get inside the tomb and the gates fell on her and killed her.  So, the gates have been replaced with gray steel industrial doors with padlocks.  The windows above the doors have been stopped up with concrete blocks.
Oh did I mention, the mausoleum and surrounding woods are haunted?
Grave Location GPS
40.5843000,-74.1216000
---
Visiting The Grave:
Photos:
Read More About Cornelius Vanderbilt:
Videos Featuring Cornelius Vanderbilt:
See More:
Back to Top