Dalida
Birth Name:
Iolanda Cristina Gigliotti
Birth Date:
January 17, 1933
Birth Place:
Cairo, Kingdom of Egypt
Place of Death:
118 Rue d'Orchampt, 18th arrondissement, Paris, France
Cause of Death:
Suicide - drug overdose (barbiturates)
Cemetery Name:
Cimetière de Montmartre
Dalida (aka Yolande Christina Gigliotti) was born in Shoudra, a district of Cairo the child of Italian immigrants from Calabria. Her father played the violin at Cairo Opera House. In 1950 she won the beauty contest Miss Ondina, but her career really started when in 1955 21-year-old Yolande was selected as Miss Egypt. Dalida sang in 11 languages and sold nearly 2 million records internationally. Her best known songs are "Bambino", Les enfants du Pirée" "Le temps des fleurs", "Darla dirladada", "J'attendrai", and "Paroles, paroles" featuring spoken word by Alain Delon. After a successful career marred by personal tragedies, by 1987 Dalida was entering into severe depression while trying to overcome it. Although no new songs had been recorded, she toured internationally from Los Angeles to the Middle East. Being part of the music spotlight in 1978, many of her songs appeared daily on TV, as well as many notable TV appearances on talk shows from 1986 to 1987. Her last live TV appearance was hosting the Nuit des César on March 7, 1987. Her last live performance took place in Antalya, Turkey from April 27-29, 1987, just before her suicide. Sadly those performances were not recorded by the national television of Turkey which was the only TV channel in the country.
---
Not-So-Fun Facts
On April 8, 1961 Dalida married her discoverer and mentor Lucien Morisse, but three months later she met painter Jean Sobieski in Cannes, fell head over heels in love and decided to elope with him. The French press turned against her choosing Morisse's side in the matter. The marriage broke up a few months later and in 1970 Lucien would commit suicide. By this time Dalida was now primarily making headlines with her private life as her record sales almost completely disappeared for a time.
In December 1967, she became pregnant by a 22-year-old Italian student, Lucio. She had an abortion that left her infertile.
On the night of  May 2, 1987, Dalida committed suicide by overdosing on barbiturates. She left behind a note which read, "La vie m'est insupportable. Pardonnez-moi." ("Life is unbearable for me. Forgive me.")
Cemetery Information:
Final Resting Place:
Cimetière de Montmartre
20 Avenue Rachel
Paris, , 75018
France
Europe
Map: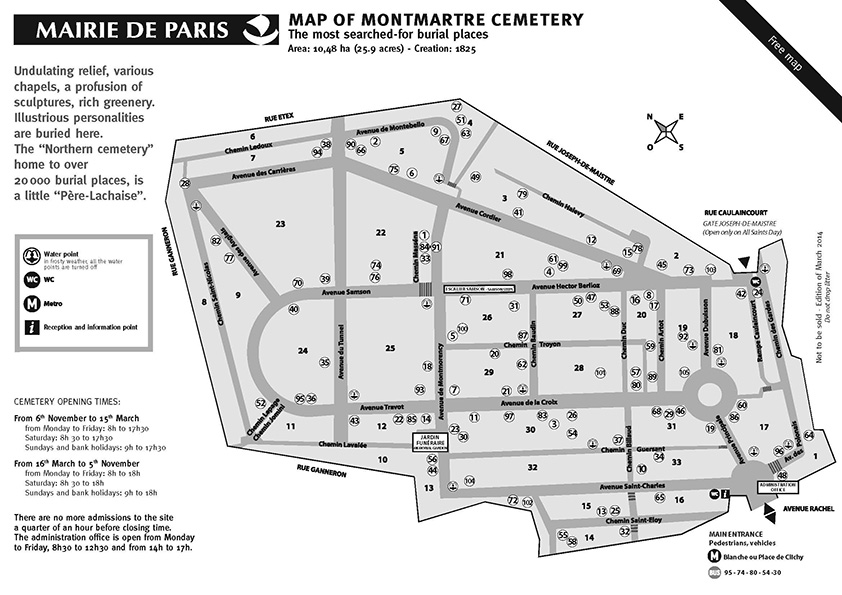 Map of Cimetière de Montmartre in Paris, France
Grave Location:
Division 18
Grave Location Description
As you enter the cemetery off Avenue Rachel, take an immediate right at the administration building, walking up the stairs onto Avenue de Polonais. Continue down this path until it turns into Chemin des Gardes. The beautiful white statue is situated in Division 18 by the metallic bridge of Caulaincourt on Chemin des Gardes.
Grave Location GPS
48.886249044278216, 2.3324432249164517
---
Visiting The Grave:
Photos:
Read More About Dalida:
Videos Featuring Dalida:
See More:
Back to Top