Dean O'Banion
Birth Name:
Charles Dean O'Banion
Birth Place:
Maroa, Illinois
Death Date:
November 10, 1924
Place of Death:
Schofield's Flowers, 738 N. State Street, Chicago, Illinois
Cause of Death:
Homicide - gunshot wounds
Cemetery Name:
Mount Carmel Catholic Cemetery
Claim to Fame:
Crime and their Victims
As the leader of the North Side Gang in the early 1920s, Dean O'Banion was a feared Chicago mobster who was the main rival of Johnny Torrio and Al Capone during the bloody and violent Chicago bootlegging wars of the 1920s. He was gunned down in his flower shop allegedly by John Torrio's gang members (with the help of Genna Brothers) including Frankie Yale, John Scalise and Albert Anselmi (which is still in dispute to this day). The O'Banion killing would spark a brutal five-year gang war between the North Side Gang and the Chicago Outfit that culminated in the killing of seven North Side gang members in the St. Valentine's Day Massacre in 1929.
---
Fun Fact
The confusion over the actual hitmen that murdered O'Banion in his flower shop can be traced back to the actual eyewitness to the killing – O'Banion's personal porter William Crutchfield. In order to stay alive, Crutchfield's  description of the killers given to police and reporters was quite different than the description he gave the North Side Gang. The Northsiders then kept Crutchfield hidden while they plotted their revenge. Some mob historians look to Angelo Genna and Salvatore Ammatuna as the actual killers in the flower shop. There is some merit to this version given that Genna and Ammatuna were hunted and gunned down in retaliation by the Northsiders the next year following the O'Banion murder. Ammatuna was shot exactly on the one-year anniversary of Dean O'Banion death.
Cemetery Information:
Final Resting Place:
Mount Carmel Catholic Cemetery
1400 S. Wolf Road
Hillside, Illinois, 60162
USA
North America
Map: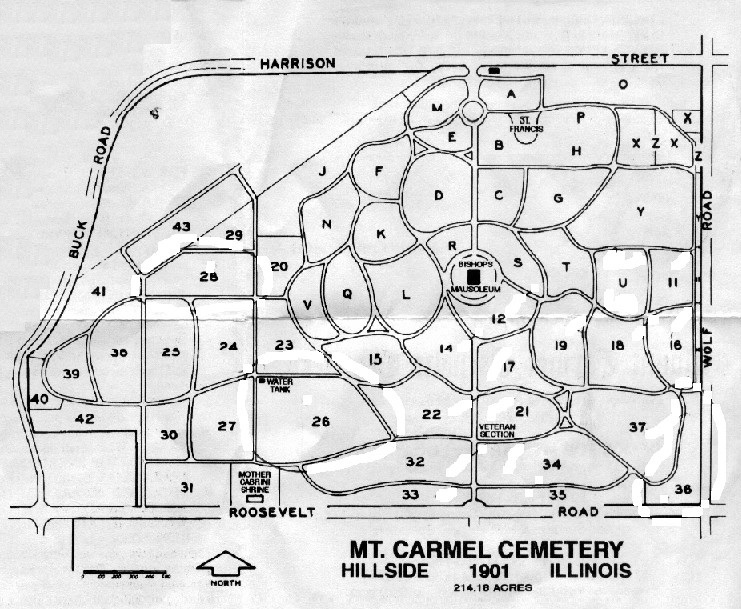 Grave Location:
Section L, Block 1, Lot S 7
Grave Location Description
Across from Section R on the road in the center of the cemetery.
Grave Location GPS
41.8665205, -87.9079619
Photos:
Read More About Dean O'Banion:
Videos Featuring Dean O'Banion:
See More:
Back to Top