WARNING: EXPLICIT MATERIAL
Hymie Weiss
Birth Name:
Henry Earl J. Wojciechowski
Birth Date:
December 25, 1898
Birth Place:
Chicago, Illinois
Death Date:
October 11, 1926
Place of Death:
Hillside, Illinois
Cause of Death:
Homicide - gunshot wounds
Cemetery Name:
Mount Carmel Catholic Cemetery
Claim to Fame:
Crime and their Victims
Chicago mobster and a tough rival of legendary mobster Al Capone. Hymie Weiss was thought to be the first to use the infamous words 'Lets take him for a ride' when planning a hit on someone. Folklore has it that Weiss was the only mob rival that Capone was truly afraid of. Hymie died in a hail of machine gun bullets known as the "Holy Name Cathedral Massacre" seeking further revenge by Capone after the killing of his boss, Dean O'Banion.
---
Fun Fact
James Cagney based his character and speech patterns after both Hymie Weiss and Dean O'Banion in the classic gangster movie The Public Enemy.
And although "Hymie Weiss" sounds like a Jewish name, Weiss was a God-fear Catholic (hence his burial at Mount Carmel Catholic Cemetery).
Cemetery Information:
Final Resting Place:
Mount Carmel Catholic Cemetery
1400 South Wolf Road
Hillside, Illinois, 60162
North America
Map: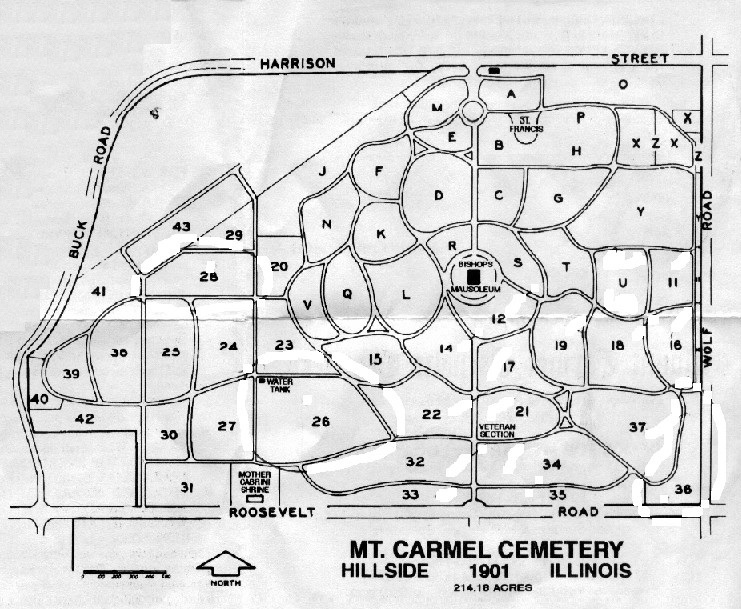 Grave Location:
Section K, Block 4, Lot 6
Grave Location Description
Just down the street from Dean O'Banion at the intersection of Section K and Section F on the road about 25 feet from the corner.
Grave Location GPS
41.86739370, -87.9088667
---
Visiting The Grave:
Photos:
Read More About Hymie Weiss:
Videos Featuring Hymie Weiss:
See More:
Back to Top