Eddie Cochran
Birth Name:
Ray Edward Cochran
Birth Date:
October 3, 1938
Birth Place:
Naeve Hospital, Albert Lea, Minnesota
Death Date:
April 17, 1960
Place of Death:
St Martin's Hospital, Bath, Somerset, England
Cause of Death:
Automobile accident
Cemetery Name:
Forest Lawn Memorial Park
Eddie Cochran was an American rock and roll musician and songwriter with such hits as "Twenty Flight Rock", "Summertime Blues", "C'mon Everybody" and "Somethin' Else", captured teenage frustration and desire in the mid-1950s and early 1960s. He was one of the first musicians to experiment with multitrack recording, distortion techniques, and overdubbing even on his earliest singles. His image as a sharply dressed young man with a rebellious attitude epitomized the stance of the 1950s rocker and with only one album during his lifetime and passing at the age of 21, in death he achieved iconic status.
---
Fun Facts
For those who wonder if Eddie Cochran left any sort of legacy since his death 60+ years ago, it is enough to say that it is impossible to listen to Teenage Cutie and not think about John Fogerty and Creedence Clearwater Revival, with that swampy guitar sound, while Bowie copied the riff of Three Steps To Heaven for Queen Bitch and Pete Townshend used it in Tommy's Overture. Jimi Hendrix expressed his wish that Cochran's music be played at his funeral, and Led Zeppelin did several covers of his songs, Marc Bolan customized his Les Paul to look like Cochran's Gretsch, Brian Setzer revitalized the rockabilly scene using a 6120 like Cochran's and, as is well known, Paul McCartney achieved his place in the Quarrymen when he impressed the group leader, one John Lennon, by playing and singing to perfection Twenty Flight Rock.
Upon arrival in Albert Lea, Minnisota the Cochran family lived at 108 Shell Rock Road, not far from the Wilson & Company processing plant where Frank worked as a "Houseman". In 1938, the family moved to 909 Marshall Road, a few blocks to the north of Shell Rock. Eddie's birth certificate shows that his mother Alice was a housewife and his father Frank was employed as a mechanic, probably at Wilson & Co. The Cochrans lived on Marshall for about three years before moving to a small two-story wooden house at 230 ½ Charles Street. All the homes in Alberta Lea associated with Eddie Cochran have been since demolished.
Cemetery Information:
Final Resting Place:
Forest Lawn Memorial Park
4471 Lincoln Avenue
Cypress, California, 90630
USA
North America
Map: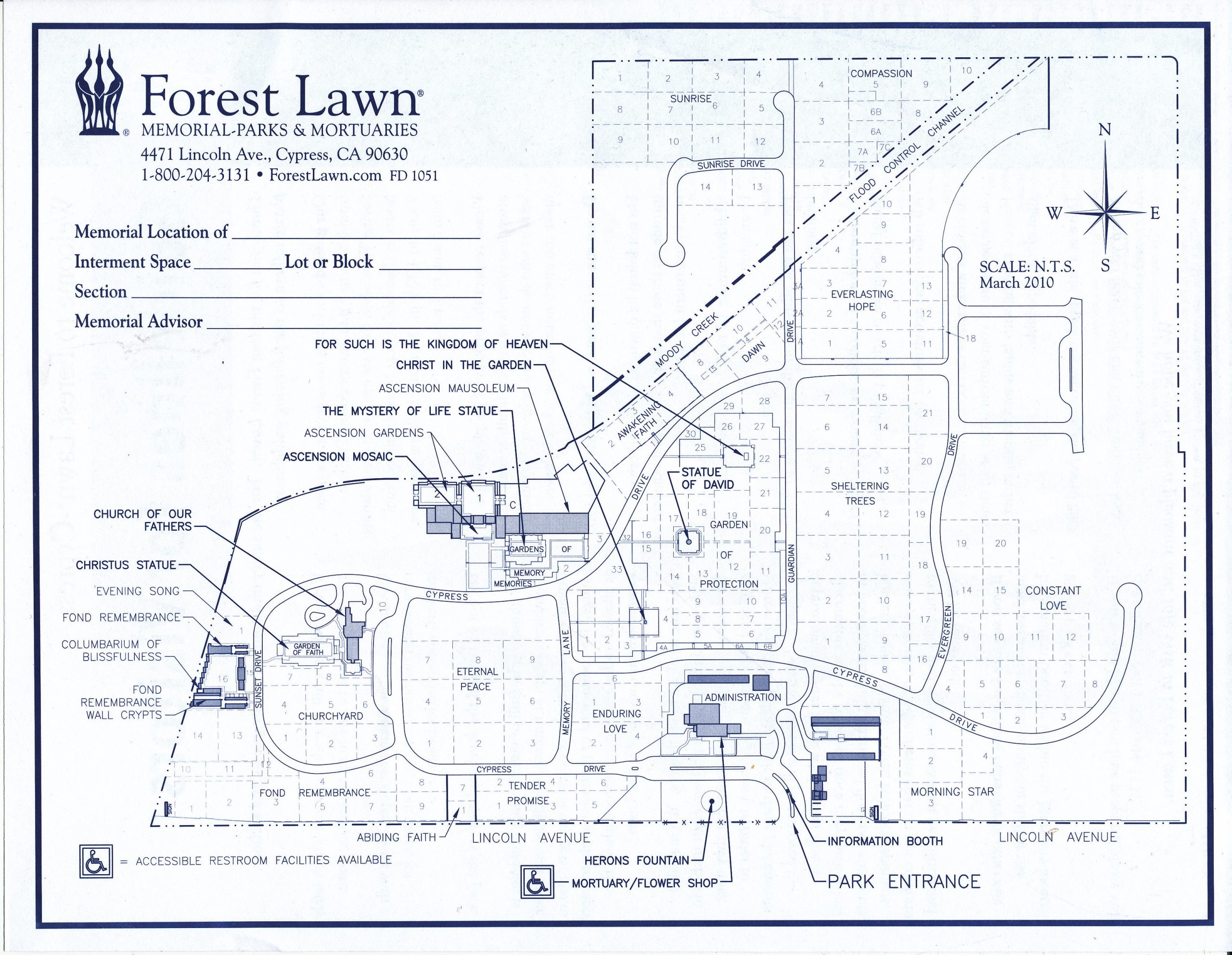 Map of Forest Lawn Memorial Park in Cypress, California
Grave Location:
Tender Promise, Plot 104/105
Grave Location Description
As you enter the cemetery continue straight and look for the first statue on your left. Park and walk towards the statue for 15 rows towards the wall. Now walk 16 plots to your left for the final resting place of the great Eddie Cochran. Note that a cenotaph for his fiancé at the time of the crash Sharon Sheeley is one row away.
Grave Location GPS
33.8319376, -118.0581309
Photos:
Read More About Eddie Cochran:
Videos Featuring Eddie Cochran:
See More:
Back to Top