Elvis Presley
AKA:
King of Rock and Roll
Birth Name:
Elvis Aaron Presley
Birth Date:
January 8, 1935
Birth Place:
306 Elvis Presley Drive, Tupelo, MS 38801
Death Date:
August 16, 1977
Place of Death:
Baptist Memorial Hospital-Memphis, 6019 Walnut Grove Road, Memphis, Tennessee
Cause of Death:
Heart attack
Elvis Presley was an American singer, musician and actor. He is regarded as one of the most significant cultural icons of the 20th century and is often referred to as the "King of Rock and Roll". He is the best-selling solo music artist of all time, and was commercially successful in many genres, including pop, country, R&B, adult contemporary, and gospel. He won three Grammy Awards, received the Grammy Lifetime Achievement Award at age 36, and has been inducted into multiple music halls of fame. Presley made his film debut in "Love Me Tender". After touring and starring in films, by 1973 Elvis's health was in major and serious decline. Twice during that year, he overdosed on barbiturates, spending three days in a coma in his hotel suite after the first incident. On the evening of Tuesday, August 16, 1977, Presley was scheduled to fly out of Memphis to begin another tour. That afternoon, Ginger Alden discovered him in an unresponsive state on a bathroom floor. According to her eyewitness account, "Elvis looked as if his entire body had completely frozen in a seated position while using the toilet and then had fallen forward, in that fixed position, directly in front of it. ... It was clear that, from the time whatever hit him to the moment he had landed on the floor, Elvis hadn't moved."
---
Fun Facts
The very last song Elvis Presley sang was Unchained Melody on the toilet just before he died.
On the day Elvis died, his entire estate was only worth about $7 million. Conversely John Lennon, who recorded less often, toured less than Elvis and split his earnings 4 ways, was worth in excess of $210 million.
Manager Colonel Tom Parker received 50% of the gross proceeds of all income derived from Elvis. In addition the William Morris Agency received another 10% (industry standard is 15% total representation fees). Parker also negotiated the notoriously horrible contract with RCA that only paid Elvis $0.05 per album in royalties. Colonel Tom Parker is considered the single worst artist manager of all times.
Despite PR claims to the contrary, Priscilla Presley did not rescue the Presley Estate from almost certain bankruptcy. After the death of Vernon Presley, Priscilla was about to renew the contract with Parker when Probate Judge Joseph Evans and Memphis attorney Blanchard Tual (representing Lisa Marie Presley) terminated the contract with Parker.
Upon his death Elvis weighed 350 lbs. and suffered from an enlarged heart, glaucoma, hypertension, chronic water retention, constipation and a 20-year drug dependency including Placydil, valmid, Valium, Dilaudid, Dexedrine, morphine, Quaaludes and 25 different types of barbiturates. The reason he looks so thin in the coffin was that doctors removed 170 lbs. of organs and water during the autopsy.
Elvis wore a diaper.
Elvis called his penis "Little Elvis".
Cemetery Information:
Final Resting Place:
Graceland
3764 Elvis Presley Blvd
Memphis, Tennessee, 38116
USA
North America
Map: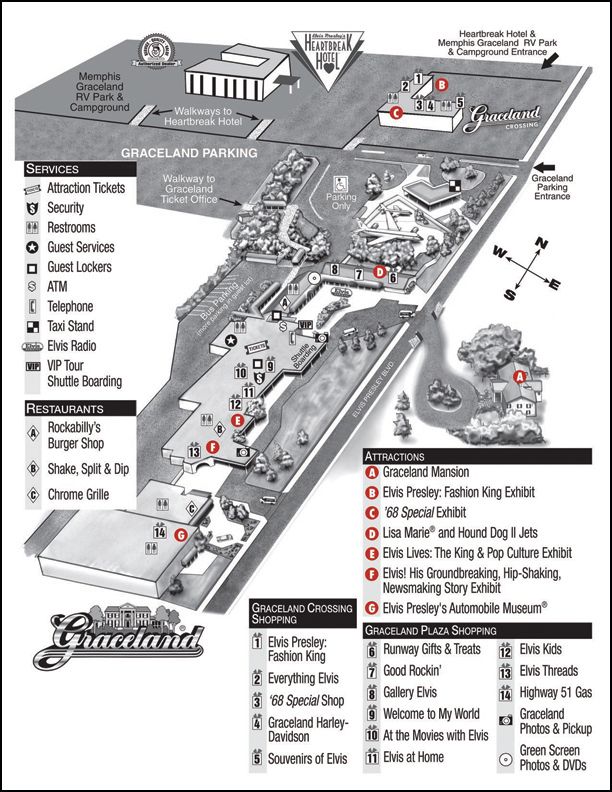 Grave Location:
Meditation Garden
Grave Location Description
Elvis's grave is located in the Meditation Garden which is behind the Graceland mansion. Follow the pathway around the mansion that is labeled with arrows directing you to the Mediation Garden.
Of course be prepared to shell out at least $50.00. I mean … really … you didn't think you could just walk right up to his grave and snap a photo?
Grave Location GPS
35.045265, -90.022812
---
Visiting The Grave:
Photos:
Read More About Elvis Presley:
Videos Featuring Elvis Presley:
See More:
Back to Top