WARNING: EXPLICIT MATERIAL
Ernie Kovacs
Birth Name:
Ernest Edward Kovacs
Birth Date:
January 23, 1919
Birth Place:
Trenton, New Jersey
Death Date:
January 13, 1962
Place of Death:
Corner of Beverly Glen and Santa Monica Boulevards, Los Angeles, California
Cause of Death:
Automobile accident
Cemetery Name:
Forest Lawn Memorial Park – Hollywood Hills
Claim to Fame:
Show Business
Ernest Kovacs was a American comedian, actor and writer whose visually experimental and often spontaneous comedic style influenced numerous television comedy programs for years after his death. Kovacs has been credited as an influence by many individuals and shows including Johnny Carson, Rowan and Martin's Laugh-In, Saturday Night Live, Monty Python's Flying Circus, Jim Henson, Conan O'Brien, Pee-wee's Playhouse and dozens more. During his short career Kovacs created the television comedy variety show The Ernie Kovacs Show (1952–53, 1956) and became noted for his zany slapstick sketches. He later hosted the quiz show Take a Good Look (1959–61) and acted in such films as Operation Mad Ball (1957) and Our Man in Havana (1960). Sadly he was killed instantly in a single-car accident just after leaving a party given earlier by Wilder for the adopted baby of Mr. and Mrs. Milton Berle.
---
Fun Facts
Ernie was chosen originally to play the character of Melville Crump in It's a Mad Mad Mad Mad World (1963), but he died in a one-car accident before principal shooting. In real life he was married to Edie Adams, who played Melville Crump's newlywed wife, Monica Crump, in the movie. The role of Melville Crump was finally played by Sid Caesar.
When Ernie died, he owed the IRS several hundred thousand dollars in back taxes (he felt the tax system was unfair, and simply refused to pay it). His widow, Edie Adams, made television commercials and did other work to finally pay the back taxes, refusing help from her celebrity friends. Also during her lifetime Edie accumulated and owned all the rights to all of Ernie Kovacs' surviving television work.
Cemetery Information:
Final Resting Place:
Forest Lawn Memorial Park – Hollywood Hills
6300 Forest Lawn Drive
Los Angeles, California, 90068
USA
North America
Map: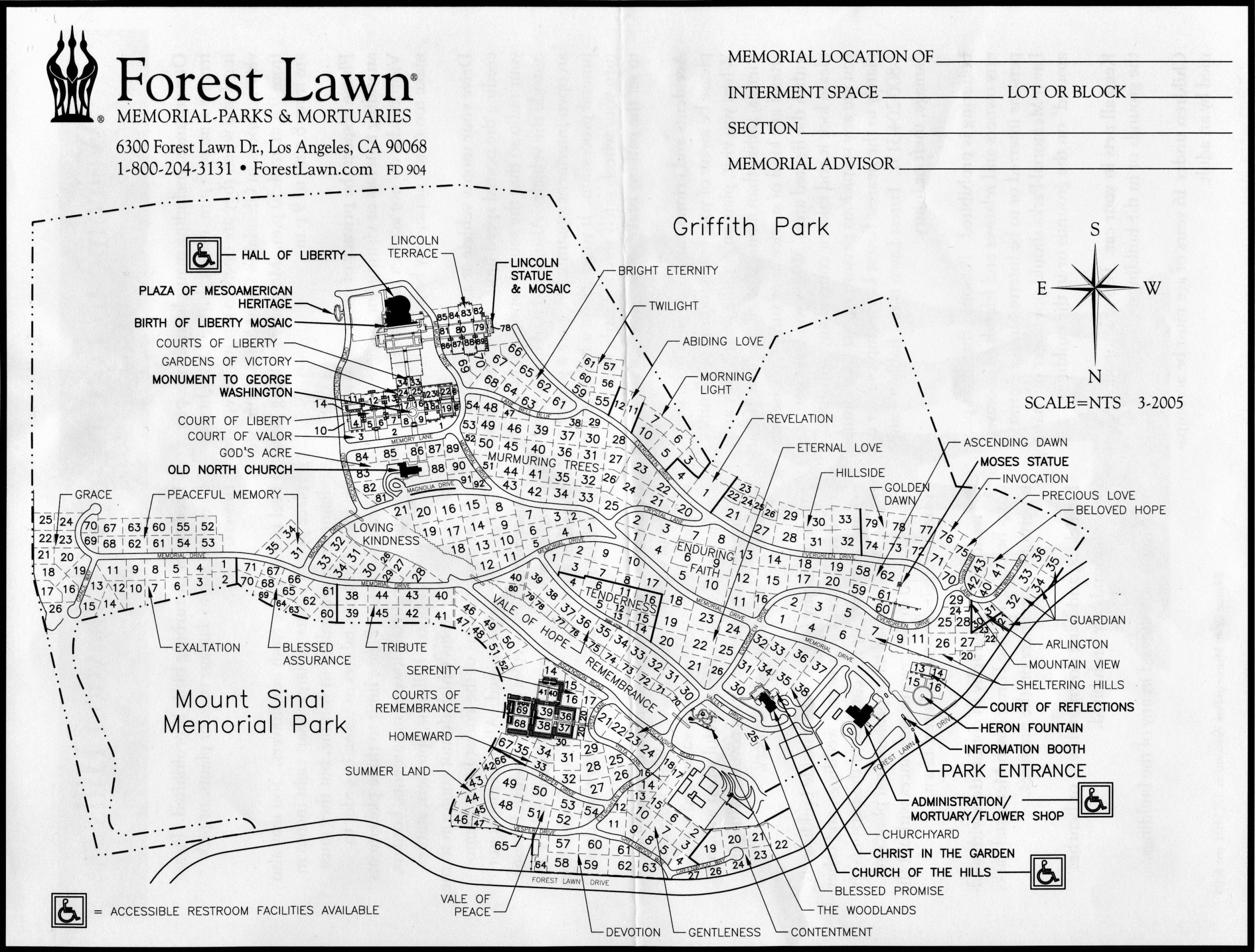 Map of Forest Lawn Memorial Park in Hollywood Hills, Los Angeles, California
Grave Location:
Remembrance Lawn, Lot 1041, Space 1
Grave Location Description
As you turn into the main entrance, drive straight ahead and turn left on Evergreen Drive. Drive through one intersection and then turn right on Memorial Drive. Drive a short distance and turn left on to Vista Lane. Drive past the Courts of Remembrance on your right and park exactly halfway from the Court of Remembrance and Evergreen Drive. Look for the street drain on your left and walk 16 spaces from the road for the final resting places of Ernie Kovacs and his wife and two children.
Grave Location GPS
34.1502027,-118.3219316
---
Visiting The Grave:
Photos:
Read More About Ernie Kovacs:
Videos Featuring Ernie Kovacs:
See More:
Back to Top