Falco
Birth Name:
Johann Hölzel
Birth Date:
February 19, 1957
Birth Place:
Vienna, Austria
Death Date:
February 6, 1998
Place of Death:
Centro Medico Dr Bournigal, Puerto Plata, Dominican Republic
Cause of Death:
Automobile accident
Cemetery Name:
Der Wiener Zentralfriedhof
His name was Falco, and the image of sharp suit and slick-back hair already set him apart from the glam rockers and post-punks of the late 80s. He was a musician; a singer; a rapper. A gentleman, a womanizer; he hated garden gnomes and loved chaos. He was honest, plain, but one in a million. With the hit song (and matching music video) "Rock Me Amadeus" etched into our very brains, the infectious chorus of 1986 hit went on to become the only number one on the Billboard Hot 100 spoken in German. It became an international hit, climbing the charts of countless nations. Proving that he was no one-hit wonder, Falco had several international hits including "Der Kommissar" (1981), "Vienna Calling", "Jeanny", "The Sound of Musik", "Coming Home (Jeanny Part II, One Year Later)", and posthumously "Out of the Dark". But it was "Rock Me Amadeus" that reached No. 1 on the Billboard charts in 1986, making Falco the only artist in history whose principal language was German, to score a vocal number-one hit in the United States. According to his estate, he has sold 20 million albums and 40 million singles, which makes him the best-selling Austrian singer of all time. Sadly his life was cut short when his rental car collided with a bus outside of the resort town of Villa Montellano.
---
The Accident
Falco was leaving the nightclub Tipico Azuca in the afternoon where he had a party the night before. At the time of his departure it was said to be raining heavily. As he pulled out of the parking lot a bus collided with his car and hit him in driver's side. Falco was rushed to the hospital with a broken left leg and severe head injuries. He died in Puerto Plata's hospital around 4:00 pm local time. Austrian media reported he had 1,5 promille alcohol in his blood at the time of his death.
Earlier that day Falco called his guitarist, Milan Polak, and asked him if he wanted to come over to the Dominican Republic to record some songs. It was one of the last phone calls Falco ever made.
Cemetery Information:
Final Resting Place:
Der Wiener Zentralfriedhof
1110 Wien
Simmeringer Hauptstraße 234, Vienna,
Austria
Europe
Map: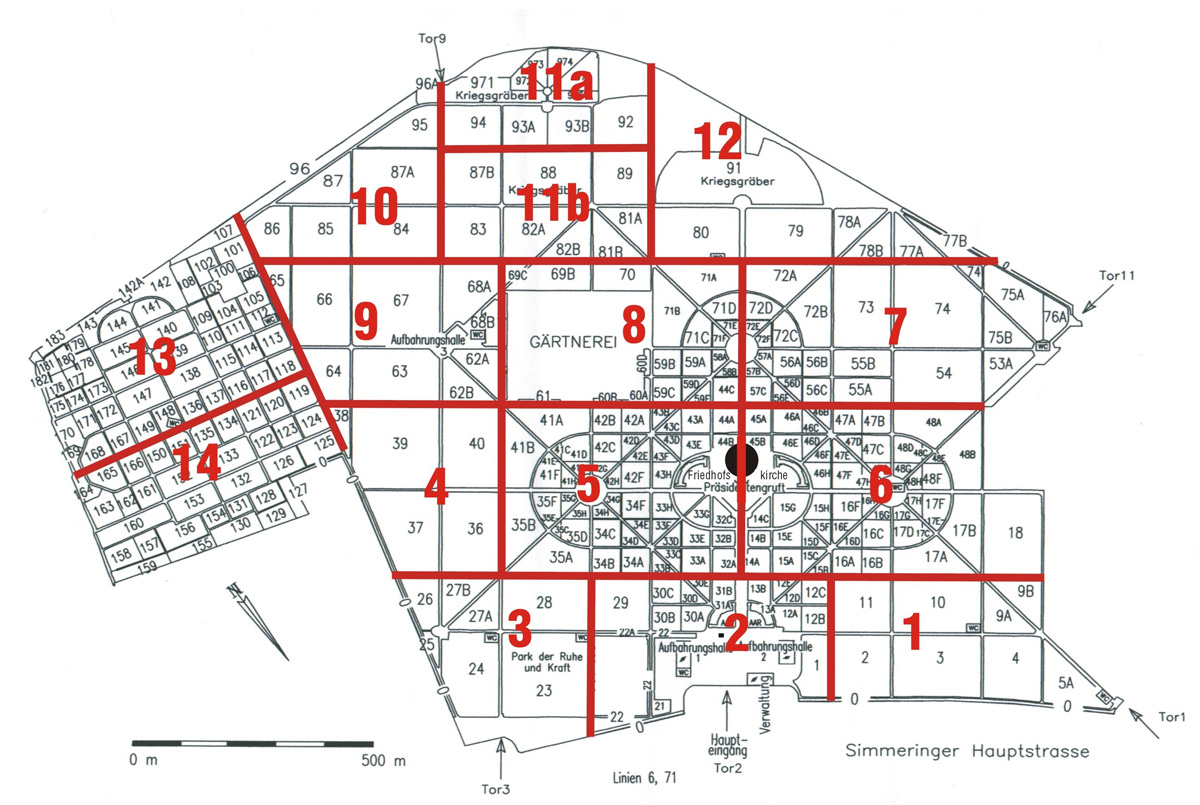 Map of der Wiener Zentralfriedhof in Vienna, Austria
Grave Location:
Gruppe 40, Grab Nr. 64
Grave Location Description
Ok, I'm not going to lie to you – at 590 acres and 330,000 memorials there is virtually no way you will be able to find the final resting place of Falco without the cemetery map and GPS location. Interesting to note he is buried on the road that surrounds Gruppe 40 and next to Supermax founder Kurt Hauenstein.
Grave Location GPS
8.1476033,16.4437001
---
Visiting The Grave:
Photos:
Read More About Falco:
Videos Featuring Falco:
See More:
Back to Top