Frankie Lymon
Birth Name:
Franklin Joseph Lymon
Birth Date:
September 30, 1942
Birth Place:
Harlem, New York
Death Date:
February 27, 1968
Place of Death:
470 W 165th Street, New York, New York
Cause of Death:
Heroin overdose
Cemetery Name:
Saint Raymond's Cemetery
Frankie Lymon and the Teenagers were five kids from Washington Heights, just north of Harlem where they sang doo-wop under the streetlight on the corner of 165th and Amsterdam. After just a few months of rehearsal they cut their first record, "Why Do Fools Fall in Love?" which made it to the top of the national charts. It was 1956 and overnight Frankie Lymon was the hottest singer in America, off on a world tour. At 13-years old he was the hottest singer on the charts, at 14 he quit to go solo, at 16 he was a has-been and at age 25 he was dead of a heroin overdose.
---
Fun Fact
In 1981 a major controversy concerning Lymon's estate ensued. Zola Taylor, Elizabeth Waters and Emira Eagle each approached Morris Levy, the producer, label owner and mobbed-up self- described music impresario who retained possession of Lymon's copyrights and his royalties (and stole from hundreds of other artists). Problem was that each of the women were claiming to be Lymon's rightful widow and … (wait for it) … Lymon had neglected to divorce any of them. The complex issue resulted in lawsuits and counter-lawsuits, and in 1986 the first of several court cases concerning the ownership of Lymon's estate began. Watch the movie Why Do Fools Fall In Love to understand the entire mess.
Cemetery Information:
Final Resting Place:
Saint Raymond's Cemetery
2600 Lafayette Avenue
The Bronx, New York, 10465
USA
North America
Map: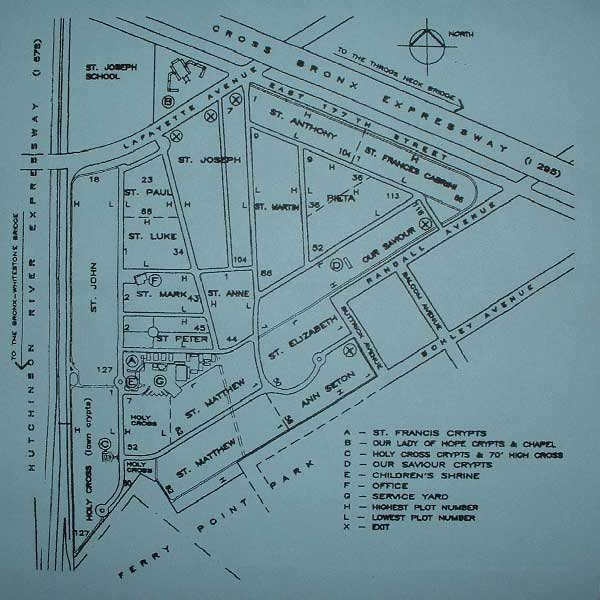 Grave Location:
St. Anthony, Range 13, Grave 70
Grave Location Description
He grave is located about 3/4 the way down the row of monuments on the right (about 30 monuments from the road).
Grave Location GPS
40.826132, -73.831109
---
Visiting The Grave:
Photos:
Read More About Frankie Lymon:
Videos Featuring Frankie Lymon:
See More:
Back to Top