Franz Schubert
Birth Name:
Franz Peter Schubert
Birth Date:
January 31, 1797
Birth Place:
Nußdorfer Straße 54, 1090 Vienna, Austria
Death Date:
November 19, 1828
Place of Death:
Kettenbrückengasse 6, Vienna, Austria
Cause of Death:
Bacterial typhoid infection brought on by tertiary syphilis
Cemetery Name:
Der Wiener Zentralfriedhof
Franz Schubert was an Austrian composer of the late Classical and early Romantic eras. Despite his short life, Schubert left behind a vast oeuvre, including more than 600 secular vocal works (mainly lieder), seven complete symphonies, sacred music, operas, incidental music, and a large body of piano and chamber music. His major works include "Erlkönig" (D. 328), the Piano Quintet in A major, D. 667 (Trout Quintet), the Symphony No. 8 in B minor, D. 759 (Unfinished Symphony), the "Great" Symphony No. 9 in C major, D. 944, the String Quintet (D. 956), the three last piano sonatas (D. 958–960), the opera Fierrabras (D. 796), the incidental music to the play Rosamunde (D. 797), and the song cycles Die schöne Müllerin (D. 795) and Winterreise (D. 911). He gave a concert of his works to critical acclaim in March 1828, the only time he did so in his career. He died eight months later at the age of 31, the cause officially attributed to typhoid fever caused by a long-standing infection of tertiary syphilis. Appreciation of Schubert's music while he was alive was limited to a relatively small circle of admirers in Vienna, but interest in his work increased greatly in the decades following his death. Felix Mendelssohn, Robert Schumann, Franz Liszt, Johannes Brahms and other 19th-century composers discovered and championed his works. Today, Schubert is ranked among the greatest composers in the history of Western classical music.
---
Fun Fact
It was near the grave of Beethoven, whom he had admired all his life, that Schubert was buried at his own request, in the village cemetery of Währing on the edge of the Vienna Woods. A year earlier Schubert had served as a torchbearer at Beethoven's funeral. In 1872, a memorial to Franz Schubert was erected in Vienna's Stadtpark. In 1888, both Schubert's and Beethoven's graves were moved to the Zentralfriedhof where they can now be found next to those of Johann Strauss II and Johannes Brahms. Anton Bruckner was present at both exhumations, and he reached into both coffins and held the revered skulls in his hands. The cemetery in Währing was converted into a park in 1925, called the Schubert Park, and his former grave site was marked by a bust.
Cemetery Information:
Final Resting Place:
Der Wiener Zentralfriedhof
1110 Wien
Simmeringer Hauptstraße 234, Vienna,
Austria
Europe
Map: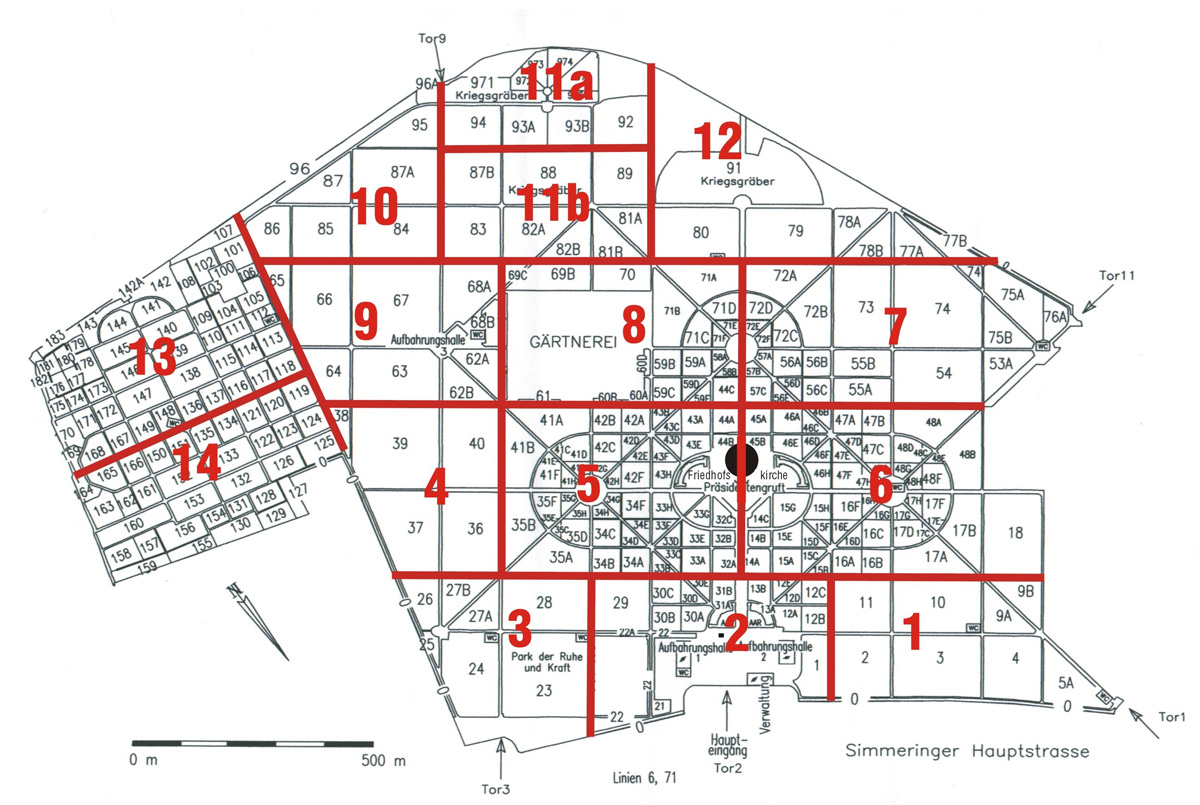 Map of Der Wiener Zentralfriedhof in Vienna, Austria
Grave Location:
Gruppe 32 A, Grab Nr. 29
Grave Location Description
You can find the grave very easily if you enter the cemetery through that main entrance, which is called Tor (Gate) 2. Once inside, go straight on, through the middle of the stone arcade ahead of you, towards the large Jugendstil church in the distance. Just keep your eyes on the left hand side to eventually spot the grave of the legendary composer about 100 feet off the road. Nearby neighbors include Beethoven, Brahms, and various members of the Strauss family. Across the paved path is a memorial to some guy named Mozart.
Grave Location GPS
48.15202259130885, 16.440121648713845
---
Visiting The Grave:
Photos:
Read More About Franz Schubert:
Videos Featuring Franz Schubert:
See More:
Back to Top