George Peabody
AKA:
The Father of Modern Philanthropy
Birth Name:
George Peabody
Birth Date:
February 18, 1795
Birth Place:
South Parish, Danvers, Massachusetts
Death Date:
November 4, 1869
Place of Death:
80 Eaton Square, Belgravia, London, England
Cause of Death:
Pneumonia
Cemetery Name:
Harmony Grove Cemetery
Claim to Fame:
Business and Finance
George Peabody was an American financier and philanthropist and is widely regarded as the father of modern philanthropy. Born into a poor family in Massachusetts, Peabody went into business in dry goods and later into banking. In 1837 he moved to London (which was then the capital of world finance) where he became the most noted American banker and helped to establish the young country's international credit. Having no son of his own to whom he could pass on his business, Peabody took on Junius Spencer Morgan as a partner in 1854 and their joint business would go on to become J.P. Morgan & Co. after Peabody's 1864 retirement. In his old age, Peabody won worldwide acclaim for his philanthropy. He founded the Peabody Trust in Britain and the Peabody Institute and George Peabody Library in Baltimore, and was responsible for many other charitable initiatives. Peabody would have been the first American buried in Westminster Abbey in London had his will not stipulated that his final resting place would be near his boyhood home.
---
George Peabody provided benefactions of well over $8 million ($158,000,000 in 2017 dollars), most of them in his own lifetime. Among the list are:
1852 The Peabody Institute (now the Peabody Institute Library), Peabody, Mass: $217,000
1856 The Peabody Institute, Danvers, Mass (now the Peabody Institute Library of Danvers): $100,000
1857 The Peabody Institute (now the Peabody Institute of the Johns Hopkins University), Baltimore: $1,400,000. By including a complex involving a library, an academy of music, and an art gallery, his goal was to promote the moral, intellectual and artistic opportunities for the People of Baltimore.
1862 The Peabody Donation Fund, London: $2,500,000
1866 The Peabody Museum of Archaeology and Ethnology, Harvard University: $150,000
1866 The Peabody Museum of Natural History, Yale University: $150,000 (at the suggestion of his nephew Othniel Charles Marsh, son of his younger sister Mary Peabody and America's first professor of paleontology)
1867 The Peabody Academy of Science, Salem, Mass: $140,000 (now the Peabody Essex Museum)    1866 The Georgetown Peabody Library, the public library of Georgetown, Massachusetts
1866 The Thetford Public Library, the public library of Thetford, Vermont: $5,000
1901 The Peabody Memorial Library, Sam Houston State University, Texas
1913 George Peabody Building, University of Mississippi
Cemetery Information:
Final Resting Place:
Harmony Grove Cemetery
30 Grove Street
Salem, Massachusetts, 01970
USA
North America
Map: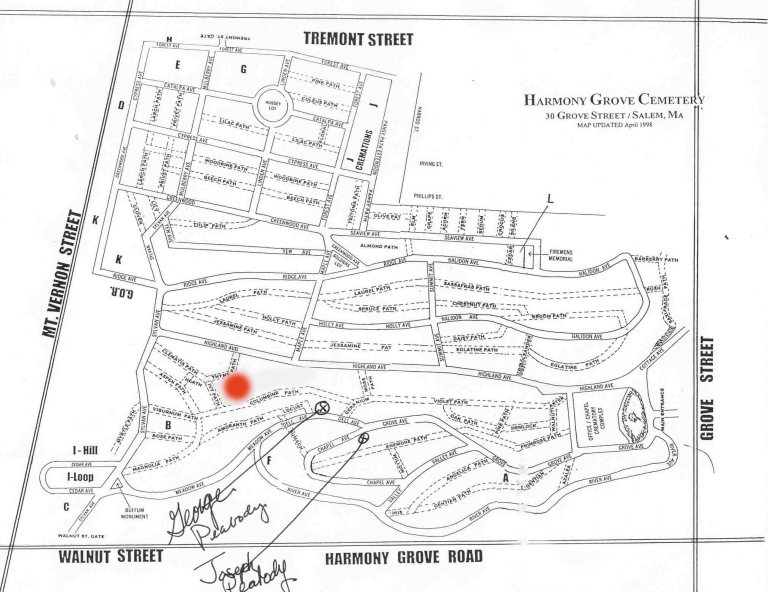 Grave Location:
Peabody Family Plot
Grave Location Description
As you enter the cemetery turn left at the chapel and follow it around making the second right. His grave can be found up the step hill on your right 200 feet after making the right turn.
And despite numerous claims on other "grave-oriented" websites – this is not a cenotaph. George Peabody and some of his family members are really, truly buried here.
Grave Location GPS
42.5253488, -70.915622676
---
Visiting The Grave:
Photos:
Read More About George Peabody:
Videos Featuring George Peabody:
See More:
Back to Top