Gilbert F. Heublein
Birth Name:
Gilbert F. Heublein
Birth Date:
December 28, 1849
Birth Place:
Suhl, Bavaria, Germany
Death Date:
March 21, 1937
Place of Death:
739 Prospect Avenue, West Hartford, Connecticut
Cause of Death:
Arteriosclerosis
Cemetery Name:
Cedar Hill Cemetery
Claim to Fame:
Business and Finance
German-born Gilbert F. Heublein was a prominent hotelier, restaurateur, food and liquor distributor in Hartford, Connecticut. While most people remember Gilbert for securing the license and distribution rights of A-1 Steak Sauce to the United States, his real claim to fame should be his discovery and marketing of pre-made cocktails. As the legend goes, Gilbert and his brother Louis had prepared a quantity of premixed cocktails for a large annual picnic. It rained and the event was canceled. A few days later a employee of the Heubleins was told to dispose of the unused beverages. Deciding to taste them first, he found that the drinks had suffered no deterioration and announced the discovery to his bosses. The Heubleins took note and began selling the premixed libations in their saloon and restaurant. The cocktails proved very popular with customers and increasingly became the focus of the family's attention. With Gilbert now running the business, the new firm concentrated on the premixed cocktails such as Martinis and Manhattans, advertising them widely as Club Cocktails. Upon the enactment of Prohibition in 1920, Heublein's "secondary sideline" of A.1. Sauce served as a fortunate savior, when the production, transportation and sale of all other Heublein products became illegal in the US for the next thirteen years. Upon Gilbert's death, the company was taken over by John G. Martin, the son of Alice Heublein and Percy Martin, Gilbert Heublein's grandson. Through Martin's business savvy, G.F. Heublein & Bro. acquired the rights to sell Smirnoff vodka, Don Q rum, and Jose Cuervo tequila. In 1969, Heublein, Inc. began to package pre-mixed cocktails in 8-ounce cans, such as the 'Brass Monkey'. The company also made acquisitions outside the liquor industry with the purchase of Grey Poupon mustard in 1936 and Kentucky Fried Chicken in 1971. In 1982, Heublein, Inc was sold to R.J. Reynolds Tobacco Company for 1.4 billion dollars.
---
Fun Facts
In 1875 the Heublein Family created the first premixed cocktails, advertising them widely as Club Cocktails. While nearly every biography in print today states that the ready-made cocktails were so popular that Heublein built a distillery just to satisfy the demand. There is no evidence that the Heublein's ever owned or built a distillery. What they did do was operate a "rectifying" operation –  compounding and blending spirits to achieve the cocktails. The Heubleins also were issuing their own whiskey, a primary house brand being Federal Club. They labeled it prominently as a "blend." As its liquor business thrived, G. F. Heublein & Bro. opened a sales office in New York City and in 1915 incorporated the company.
It has also been said that Gilbert drove the company into financial difficulties during Prohibition and bought Smirnoff vodka only to have his grandson step in and save the company. This is false. John Martin was named president of Heublein Inc. after Gilbert passed away. Two years later John purchased Smirnoff vodka and grew the spirit part of the business over the course of 50 years with spectacular success.
In 1875, Heublein proposed to Louise M. Gundlach who was the daughter of a prominent Hartford German American businessman. During a hiking excursion on Talcott Mountain, Heublein promised his soon-to-be bride that he would one day build her a German-style mansion atop the mountain. As promised, in 1914 Heublein built a six-story, German-style mansion atop Talcott Mountain. Known now as Heublein Tower, the home served as a summer retreat and entertainment venue for weekend guests. The Tower was state-of-the-art, built to withstand winds gusts of more than 100 miles per hour. It included a five passenger elevator considered to be the first home elevator in Connecticut. Today it is a popular tourist destination.
Cemetery Information:
Final Resting Place:
Cedar Hill Cemetery
453 Fairfield Avenue
Hartford, Connecticut, 06114
USA
North America
Map: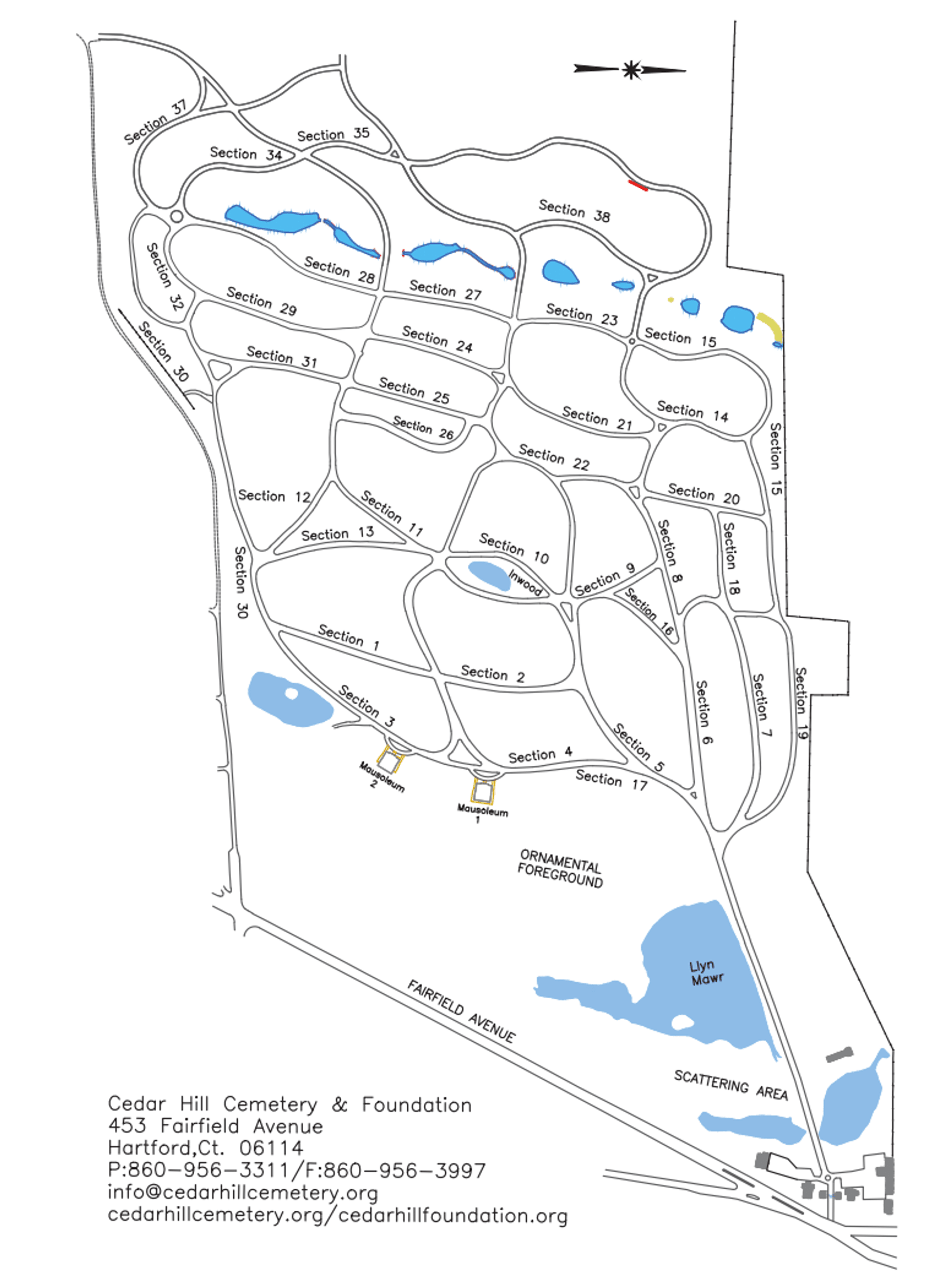 Map of Cedar Hill Cemetery in Hartford, Connecticut
Grave Location:
Section 12, Lot 32
Grave Location Description
As you enter the cemetery stay to the hard left past the mausoleums until you get to the intersection of Sections 12 and 30. Walk towards the large Heublein Angel towards the center of the Section 12 where you will find the graves of the Heublein Family.
Grave Location GPS
41.7200133,-72.7011662
---
Visiting The Grave:
Photos:
Read More About Gilbert F. Heublein:
Videos Featuring Gilbert F. Heublein:
See More:
Back to Top